Hartford Art School Hosts National Portfolio Day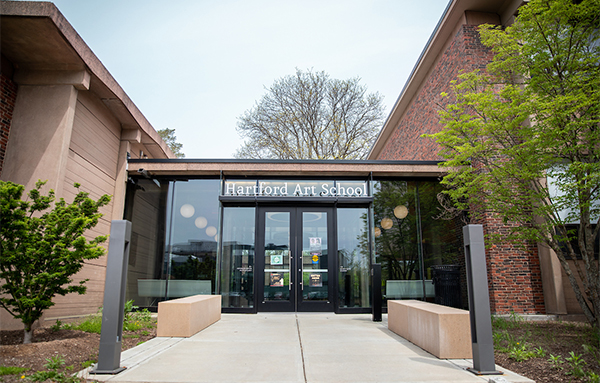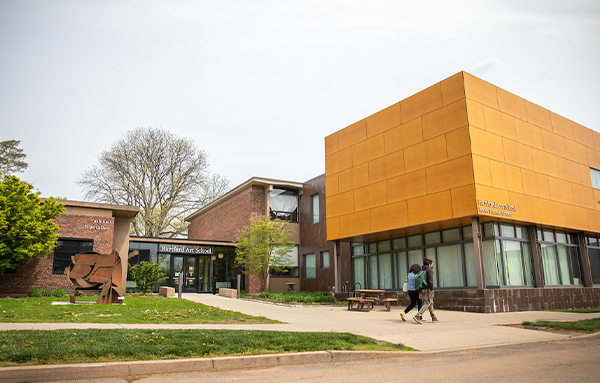 Hartford Art School Hosts National Portfolio Day on Saturday, October 22, 2022
The Hartford Art School invites high school students to the University of Hartford on Saturday, October 22 from noon to 4 p.m. 37 art schools and colleges will be represented during this four-hour portfolio review opportunity. Bring your best and most recent artwork, up to 20 pieces, to receive advice and guidance on applying to art school programs. 
Are you a high school student interested in attending National Portfolio Day?
Here is what you need to know.
WHAT IS A NATIONAL PORTFOLIO DAY?
National Portfolio Days (NPD) serve a variety of purposes. Most importantly, they help further the development of young artists by bringing together experienced college representatives to review artwork and offer critique. As a student, you'll hear many different opinions about your work. Do not hesitate to explain how you develop your ideas, and where you want to go with them.
A National Portfolio Day may be the first time you see so many people in one place who share a powerful commitment to the arts. This experience is a small taste of what attending a professional art program can be like. No admission decisions or scholarship awards will be offered at National Portfolio Days. Some college and university representatives may accept your portfolio as the visual portion of your application. Others have restrictions that prohibit them from making a definitive portfolio decision at the time of your review.
National Portfolio Days are also about the exchange of information—information about your work, yourself, your college plans, and your concerns. They are not an examination or a competition. The colleges represented are pleased to discuss their programs with you. Of course, they can be most helpful when discussing your work. Your portfolio should include the best work you are making now; but it can also include work in progress, sketchbooks, and tear sheets. Do not spend an inordinate amount of time matting or framing your work or worrying about presentation. The work itself is what is of interest.
WHAT IS THE NATIONAL PORTFOLIO DAY ASSOCIATION?
The National Portfolio Day Association (NPDA) was created solely for the organization and planning of National Portfolio Day events. Since 1978, NPDA members have been hosting portfolio days throughout the country. The association consists of regionally accredited art colleges that are members of the National Association of Schools of Art and Design. It is the only organization of its kind, and its membership represents the highest standard of visual arts education in the United States.
ABOUT HARTFORD ART SCHOOL
Hartford Art School was founded in 1877 by a group of prominent Hartford women which includes Harriet Beecher Stowe, Olivia Clemens, Elizabeth Colt, Susan Warner, and Mary Bushnell Cheney. In 1957, the Hartford Art School merged with The Hartt College of Music and Hillyer College to form the University of Hartford. Today the University has seven schools and colleges, more than 4,000 undergraduate students, a total enrollment of 6,000 students, and includes graduate and professional programs. Learn more about Hartford Art School.
COVID SAFETY GUIDELINES
We must continue to keep safety at the forefront of our minds so that everyone can make the most of this year, both inside the classroom and around campus.

Masks that cover the face and nose will be required in classrooms and personal office spaces, unless otherwise specified by the faculty or staff member. They will also be required in Health Services, at COVID-19 testing locations, and in all performance spaces, including theaters. Approved masks are detailed in our face covering policy. Be sure to carry a mask with you at all times.
PARTICIPATING SCHOOLS
Alfred University
California College of the Arts
College for Creative Studies
Drexel University - Westphal College of Media Arts & Design
Fashion Institute of Technology
FIDM / Fashion Institute of Design & Merchandising
Hartford Art School, University of Hartford
Kean University
Laguna College of Art and Design
Lesley University Undergraduate Admissions
Maine College of Art & Design
Massachusetts College of Art and Design
MICA / Maryland Institute College of Art 
Montserrat College of Art
Moore College of Art & Design
New York Academy of Art
New York School of Interior Design
Parsons School of Design/Parsons Paris at The New School
Pennsylvania Academy of the Fine Arts
Ringling College of Art & Design
RISD / Rhode Island School of Design
Rochester Institute of Technology
Salve Regina University
School of the Art Institute of Chicago
School of the Museum of Fine Arts at Tufts University 
School of Visual Arts
Suffolk University
SUNY Purchase College School of Art + Design
Syracuse University College of Visual and Performing Arts
The Cooper Union
University of Connecticut Department of Art & Art History
University of Massachusetts Dartmouth CVPA
University of New Haven
The University of the Arts
VCUarts / Virginia Commonwealth University
Washington University in St. Louis
QUESTIONS?
Please contact artschool@hartford.edu if you have questions about the October 22 event.