Puzzle Competition Aids Professors' Research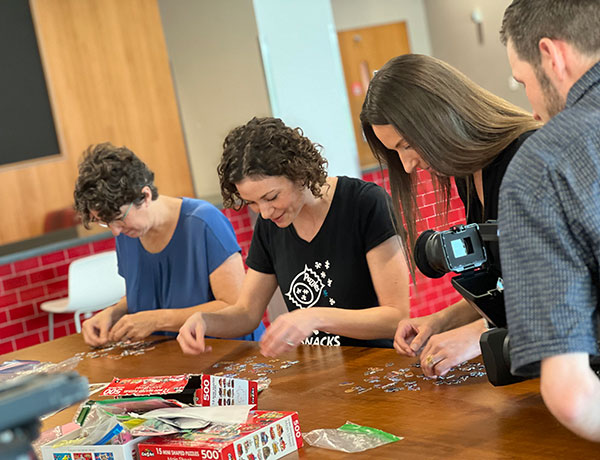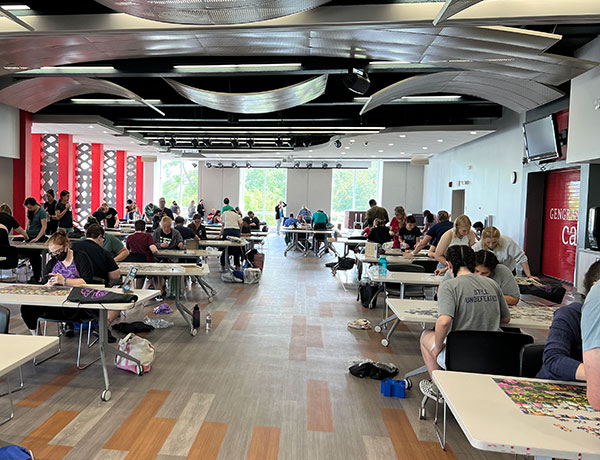 Puzzles are all fun and games…most of the time. On a Saturday morning in August, they were also about team spirit, victory, new personal records, and research at the Northeast Regional Puzzle Competition held at the University of Hartford. 
Assistant Professor of Psychology EB Caron helped bring the event to campus, having competed in many others herself and having used puzzling data in her statistics classes. Fox 61 previewed the event and dove deeper into the competitive puzzling world with Caron, a fellow event organizer, and local puzzler Julia Winer '05.
Dozens of solo and team participants gathered Aug. 12 in the Gengras Student Union to vie for the title of fastest puzzlers, which was exciting for Caron, as well as Margaret Tarampi, Natasha Segool, and Wednesday Bushong, all fellow professors in the psychology department—they have joined Caron in research related to puzzling. The event gave them the chance to collect data and recruit participants for their work.
Together, the group is studying cognitive abilities of puzzlers. With the help of Arts & Sciences Deans Funds, they've purchased puzzles and will send them around the country, and the competition offered an opportunity to collect additional data. Tarampi has previously done research on spatial cognition in dancers and architects, and wanted to expand this line of research with a new group that has a special area of expertise.
"Speed puzzling ability appears to be trainable, where consistent practice can increase puzzling speed," said Tarampi. "Expertise has been associated with greater cognitive abilities as I have found in my previous research. Understanding how cognitive ability may differ across people with varying experience speed puzzling could have practical implications on training interventions for all individuals."
Caron has brought her passion for puzzles into her classroom as well. Her statistics students have tried speed puzzling in teams, comparing their results with data from past speed puzzling competitions, and studying relationships between practice and completion times. These exercises aided in strengthening their analytic skills needed for research. 
In this month's competition, Caron came in 3rd in the solo competition. In the teams round, her group competed with only three members (compared with teams of 4), and finished third (finishing a 1,000-piece puzzle in 55:20). She now has her sights set on the world championships Sept. 21-24 in Valladolid, Spain, which will be livestreamed on YouTube.