Students Take Physical Therapy Skills Across the Globe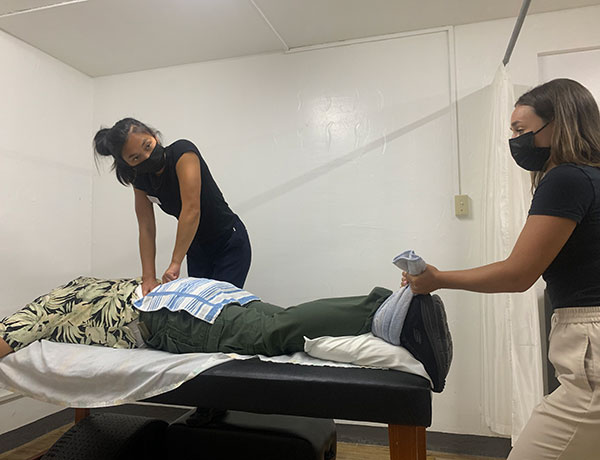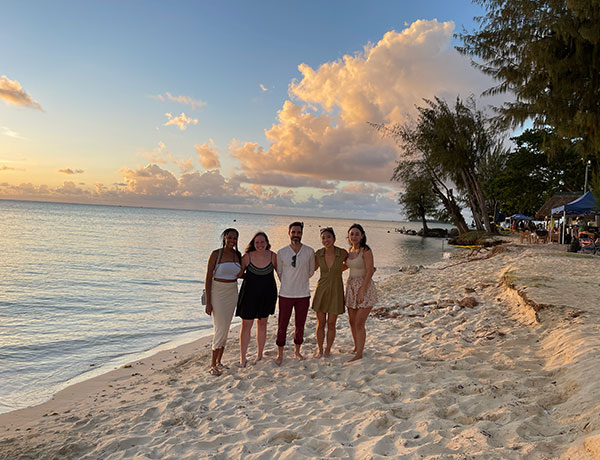 There's classroom learning. Then there are clinical rotations. And then there's the kind of experience University of Hartford physical therapy graduate students had this summer.
Four students pursuing their doctorate of physical therapy, along with Assistant Professor TJ Bellama, traveled across the globe to Saipan in the Northern Mariana Islands to help fill the gap in physical therapy care by treating patients of all ages while living in their community for a month. Residents of the under-resourced region often have unique needs compared to those in the United States, and lack access to many types of medical treatment.
"The fact that we even got to be in a different part of the world and work with diagnoses you wouldn't typically see, or probably never would see in the U.S., that's incredible," said Emily Steele DPT'24, who traveled with fellow students Jasmine Streeter DPT'24, Tricia Hamilton DPT'24, and Rachel Card DPT'24. "We had a lot of autonomy and Dr. Bellama gave advice as we went along."
Bellama has ties to the islands and knew how beneficial the trip could be for both students and residents. So while logistics took some time (flights that take multiple days, housing, scheduling), the group knew the work would be well worth it.
Students worked in a small private health clinic aiding patients' musculoskeletal conditions, as well as other issues based on need, and visited the local hospital and other nearby clinics to observe. The students followed the same patients for the duration of their visit, giving them a chance to see progress and healing—both emotionally and physically.
I worked with a man who came in feeling pretty defeated. You see that all the time, but this was a different level," Steele said. "By the end, he was so positive. He was walking on the treadmill and moving up his pace bit by bit. He's like, 'My mind is so strong, my body is so strong.' The gratitude he had by end of our sessions was unmatched.
Emily Steele DPT'24, UHart Doctorate of physical therapy student
Streeter had a chance to work with children who were siblings, which she valued as someone hoping to go into pediatric care after graduation.
"It was a good feeling to be able to assist people who don't have access to the same standard of care we have here in the states," she says. "And it was amazing to see how many people were grateful and experienced relief in the short amount of time we were there." 
UHart students saw differences in their Saipan patients, compared to those in the U.S.: They arrived with multiple conditions that were often more complex. That meant students also spent a great deal of time learning from Bellama in addition to providing treatment.
"Dr. Bellama was a great resource throughout the entirety of the trip. His clinical expertise provided great guidance in evaluating and treating patients, and created an optimal learning environment," says Hamilton.
Bellama hopes to organize future trips as course electives within the physical therapy program at UHart, and noted that many programs often only allow for observation, rather than hands-on clinical experience when traveling.
"There are opportunities for expansion that we will very slowly be exploring. We are entirely unique in the way this is set up," he says. "The islands also work under a U.S.-style health-care system, so the skills our students develop in terms of documentation and interacting with insurance and Medicaid are all transferable to clinical skills stateside, and we're serving a population that needs it."