Comfort Dog Teddy Joins UHart Community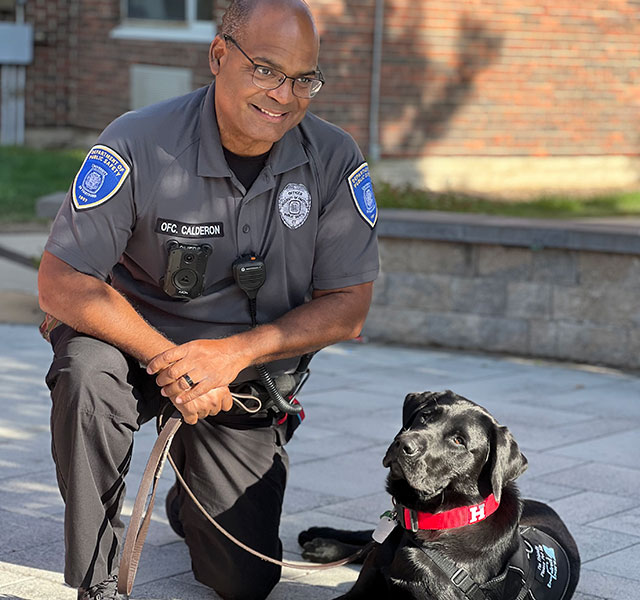 Teddy always does his job with a smile. And a wag. Well, if you consider it "work" to bask in attention, belly rubs, chin scratches, and compliments all day long. 
The 2-year-old Labrador retriever has joined the pack at UHart's Department of Public Safety as a campus comfort canine. An unconventional life for any pup, but one that brings him—and all his new student pals—immense joy. He recently visited Channel 3's news station to give a TV interview.
His upbringing was even more unique. Teddy grew up in a corrections institute with incarcerated individuals serving as his trainers and first fan club. He was born into the Puppies Behind Bars program, which raises service dogs for veterans, first responders, and public safety organizations, and trained for nearly two years.
Until a few months ago, the pup was working daily with members of the PBB program in New York, learning 90 different commands (from basics like sit, down, stay, and high-five, to "lay on feet" and "tell me a story," which encourage rapt attention). But he also learned the ins and outs of being a friend to everyone, especially those who could really use an unconditionally loving buddy in a time of need. Now he's the working partner and family member of Public Safety Officer Michael Calderon, who takes him home after each shift for the more typical part of his doggie days.
"The students absolutely love Teddy. It takes me a while to get from point A to point B now when I'm on campus! Many students have asked to pet him, and say they miss their dog—and I tell them, 'He's your dog now, too.'"
Michael Calderon, Public Safety Officer
Teddy been raised to be the epitome of a "people person" who will roll over as soon as you kneel to greet him, and then likely fall asleep as you marvel at his relaxed demeanor. 
"We're both looking forward to working with the students and the faculty and staff," Calderon said. "We know how much a dog can help as far as wellness is concerned. He is amazing at connecting with the students."
Public Safety had long hoped for a comfort dog who could respond to mental health calls and visit with students who missed their pets at home, but also attend events, assist in the counseling center, and simply provide a "moment of Zen" for anyone passing by. 
Being selected for a PBB pup was no easy feat. Hundreds of applications come in to PBB each year, and only a small number of handlers are selected, says Public Safety Chief Michael Kaselouskas.
Kaselouskas, Calderon, and Calderon's family were all interviewed, and plans for a comfort dog, as well as various logistics, needed to be presented over a period of months. After being selected for the program, Calderon had to match with a dog. He quickly knew Teddy was the one, and spent two weeks training with him in New York.
Together, they work out of Public Safety's community office in the rear of B complex. But most of the time, their "office" will be the entire campus. When a few students felt homesick on Teddy's first weekend, he visited their residence hall and offered up the kind of companionship and support that only a furry friend could give.
On another day, he could be found on the Harry Jack Gray quad running through the grass (although his favorite spot for fetch is outside the Village Apartments). When he's off the clock, Teddy enjoys swimming, napping, carrying sticks, and bonding with Calderon.
When you see them out and about, be sure to say hi, and, of course, give Teddy a nice scratch behind the ears.
To schedule time with Teddy, email pubsafety@hartford.edu.