Catholic Campus Ministry provides the University of Hartford campus community religious, educational, cultural, and social experiences based on the Roman Catholic tradition. We strive to help students, faculty and staff to live and grow in their faith. We hope to accomplish this through various opportunities:
Sunday Mass and dinner (during the academic year)
Weekday and Holy Day Mass (during the academic year)
Sacraments and preparation
Newman Choristers (student led musical group)
Small faith groups
Scripture study
Retreats
Service opportunities
Travel abroad opportunities
Although all the above programs follow the Catholic tradition, students of all faiths are welcome to participate in any of our programs.
Newman Club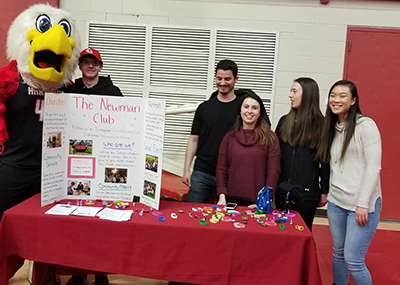 The Newman Club is a registered student organization at the University of Hartford. Our goal is to promote and uphold the Catholic faith at the University and in the Greater Hartford community. We also strive to enlighten fellow students in the truth of God as presented through the ideals of the Holy Roman Catholic Church.
Visit us online:
Get Involved
Newman Choristers
If you would like to join the music group either as a singer or instrumentalist, please contact Catholic Campus Ministry.
Contact
The Newman Club
The Newman Club organizes social events, spiritual events, social justice activities, and more. For more information visit the Newman Club page.
Learn more
Liturgy Committee
If you would like to be involved in liturgy (Sunday Mass, Holy Day Mass, Evening Prayer Services).
Contact