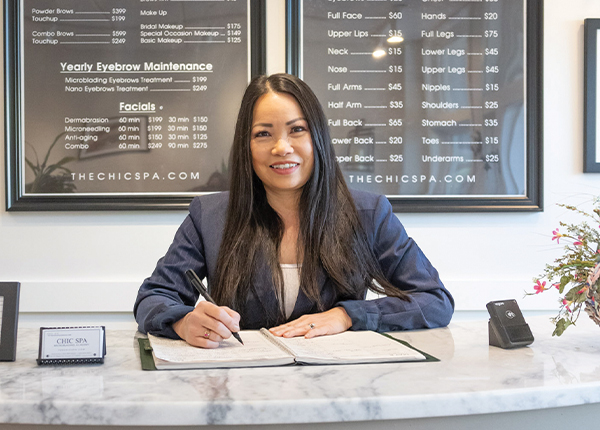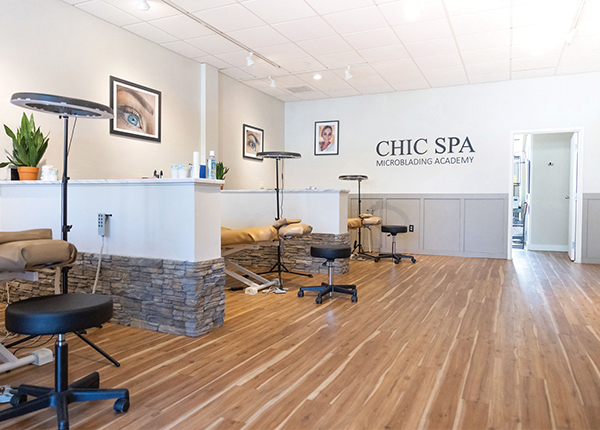 Devanney Do '98 credits a positive attitude and a UHart scholarship in helping her prosper in America.
For Devanney Do '98, the tranquil and picturesque campus at the University of Hartford was not only an oasis of calm after a harrowing journey to get to America from her native Vietnam, but also a beacon of hope and optimism. Devanney—known as Dev to her friends and close associates—was given a math scholarship to UHart after proving her natural ability in mathematics at Hartford High School, which she entered shortly after arriving in Connecticut. This was despite her struggles with English, which neither she nor her parents or six siblings spoke back home.
"I ended up studying engineering because my language skills were not very good but my math skills were excellent," Dev says with understated modesty. When she left the University, she joined technology giant Pratt & Whitney as a quality supervisor and material engineer. More recently, she decided to explore one of her other interests, semipermanent makeup, and opened a salon and training institute in Avon, Connecticut, called Chic Spa Microblading Academy.
Between continuing to assist Pratt & Whitney in many quality initiatives on a part-time basis, running her successful spa, and raising her 13-year-old son and 12-year-old daughter, Dev can proclaim that she has established a successful work-life balance—and what's more, she can now proclaim it in perfect English.
"When you walk and fall down, you get up and keep walking," she says, recalling one of the many personal mottos that followed her from planting fields in Southeast Asia to engineering laboratories in Connecticut.
It was Dev's parents, both farmers, who insisted that she leave communist Vietnam for a better life. They saved their money to finance an escape. Dev left home by boat when she was 14, but was turned back. Two years later, she tried again, and this time got lost in the ocean for more than a week with a small group of similarly desperate strangers. The passengers were without food and drink for most of those harrowing days at sea. The boat struck an oil rig, and the oil workers fed them and led the vessel to Malaysia, where she lived for a year. From Malaysia, Dev was finally able to fly to the United States. "Once I got here," she says, "I wanted more than anything to become something respectable so that my parents would know their hard earned money was well spent. I wanted them to be proud of me."
It became clear soon after Dev's arrival that such a goal was attainable. High school calculus came to her easily, and her math SAT scores were exemplary. She went on to receive a scholarship to study at UHart's College of Engineering, Technology, and Architecture. There, she was involved in many projects that garnered the attention not just of her professors, but also executives at Pratt & Whitney, the aviation and aeronautics engineering leader based in East Hartford, Connecticut, known for its proactive stance in supporting future engineers through events, sponsorships, and internships.
Although still struggling with English, Dev's UHart professors, advisors, and classmates were patient and supportive, which helped her move through her academic track with few, if any, issues. She credits the engineering department for helping her navigate her way through a student project that ultimately led to a Pratt & Whitney internship.
After Dev graduated, Pratt & Whitney supported her decision to work towards a master's degree in engineering and management at Rensselaer Polytechnic Institute's Hartford campus.
I've always been one to keep trying, to be assertive, and to network with people who can help. I've always focused on the positive and considered myself a glass-half-full kind of person.
Devanney Do '98, The University of Hartford
"I had to work twice as hard because of the language," she recalls, "but I've always been one to keep trying, to be assertive, and to network with people who can help. I've always focused on the positive and considered myself a glass-half-full kind of person."
It's that attitude that not only sparked Dev's success at Pratt & Whitney for the last 23 years, but also enabled her to launch a business of her own that's based on her longtime interest in semipermanent makeup, particularly microblading eyebrows and eyeliner.
It's a specialized field in which Dev is trained and licensed, and she brings the same level of detail and accuracy to her clients that she brings to each of the jet engine components she still works on at Pratt & Whitney. "My customers love the fact that I'm an engineer, because they know that I'll do their eyebrows, for example, with complete precision," Dev says.
She also teaches many aspiring artists how to become experts in the process.
The spa started small, but word of mouth, referrals, and social media helped its reputation expand rapidly and impressively. It's still growing exponentially.
Several relatives help Dev out in this entrepreneurial venture, and many clients have become friends. About 15 miles east, more than a handful of colleagues at Pratt & Whitney maintain the greatest respect for her engineering expertise. With all that in her corner, it's easy for Dev to look back on her earlier days—alone on a ship lost at sea, and then on an American campus knowing virtually no English—with wonder and pride.
"When you're determined, and when you put your heart and your mind into your work, you will succeed," she proudly says.
Dev readily credits the many influences that helped bring it all about, including her family, her colleagues, and her clients. What's more, she never forgets to acknowledge her professors and classmates from the University of Hartford, Rensselaer Polytechnic Institute, and Phibrows (microblading training) for helping to make her story such a special one.