Gala Flagello Aaron Price
Making Beautiful Music at Connecticut Summerfest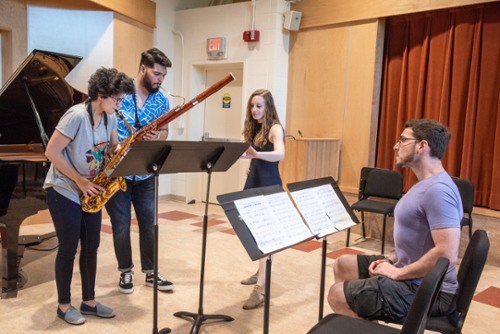 Two Hartt School grads have created a learning haven for composers from all over the world
Article by Cheryl Rice
Photos by Shana Sureck
Gala Flagello and Aaron Price met while studying composition at the Hartt School of Music, and like many of their fellow students, they spent a lot of time travelling around looking for music festivals where they could practice their craft and meet other musicians. "Festivals are an important way for musicians to network in a really meaningful way," said Gala. "But Aaron and I weren't finding festivals that offered everything we wanted. So we jokingly said we should just start our own festival."
Aaron realized that they were on to something important—a need that they could fill. "There are so many great schools around here, but no real summer festivals close by," he said. "We have so many great artists in Connecticut. Why don't we make something local?"
The pair set out to create the kind of festival they were imagining, with all the features they were having trouble finding in one event. They knew they wanted to incorporate both educational and performance aspects, and they wanted to attract top talent in order to create the most impact for attendees. In other words, they needed to build a business. That's when they turned to the University of Hartford's Entrepreneurial Center & Women's Business Center.
"I am a composer, and while composition is an art, composers are also themselves entrepreneurs, promoting and propagating their compositions," said Aaron, who holds a master's degree in composition from the Hartt School. "My mother is a financial planner, so she helped us get started with our initial plan along with a consultant we turned to. We took that plan to Milena Erwin, Program Manager of the Women's Business Center, and she helped us to fill in the gaps and figure out what to do next. She also helped us get the word out. Milena has great connections, and she still serves on our advisory board."
"Milena was amazing!" added Gala, who completed her bachelor's degree in composition at the same time that Aaron completed his master's. "She is a great mentor, especially in the marketing area. She was always available for us whenever we had questions."
Aaron and Gala decided that marketing was where they needed the most guidance as they got their nascent festival off the ground. Once they established Summerfest as a non-profit 501(c)(3), they took a marketing course at the Center that educated them in differentiating their advertising and public relations efforts and helped them to define two key target audiences. According to the pair, they learned how to utilize the right kind of language to communicate to specific targets. "We focus on emerging composers during application season in the fall, and then we switch to marketing to potential audience members in the spring," said Gala.
And thus Connecticut Summerfest, now entering its third season, was born. It is a weeklong contemporary music festival for the education and career advancement of emerging composers and performers, comprised of seminars, lessons, rehearsals, and recording sessions for participants, as well as a free concert series open to the public. It is held in June at the Hartt School.
Connecticut Summerfest has grown exponentially in just three seasons, and they now receive applications from composers all over the world. They've had musicians from Australia, Asia, and Europe in their program. "These are unique voices that the people in the Greater Hartford area might not otherwise have the chance to experience," said Aaron. More than 50 composers applied this year for the nine available slots.
Each composer chosen for the festival is paired with experienced professional chamber ensembles, and they are provided with a studio-quality recording of their work in addition to their live premieres. According to Gala, several of the festival's past composers have received professional commissions for their work as a direct result of Connecticut Summerfest.
"People don't always think about music as an entrepreneurial field, but it absolutely is," said Aaron. "Every composer, for example, really needs a website with samples of their music, contact information, and a bio. It is extremely competitive."
Connecticut Summerfest is now a year-round business enterprise for these two young composers. They say they are proud of their effort to build something that helps their fellow musicians right at the Hartt School, a place they know and love. They credit the Entrepreneurial Center & Women's Business Center with helping to make it a reality.
"Milena Erwin has been a dream!" said Gala enthusiastically. "She's been an amazing sounding board and she's been so supportive. It was nice to find out that kind of care and attention didn't go away when I graduated."
Aaron encourages other young entrepreneurs who have a dream to take the plunge, too. "Everything is changing in the job market. If you want to start a business, now is the time to do it. The Center has the resources you need to help you get it off the ground."