Cinema Alumnus Turns Movie Idea Into Reality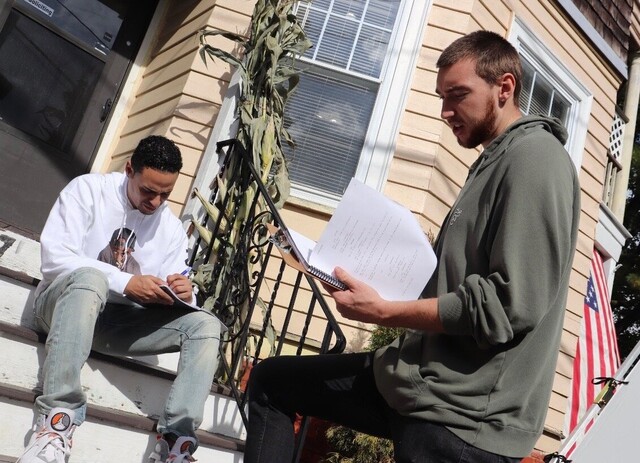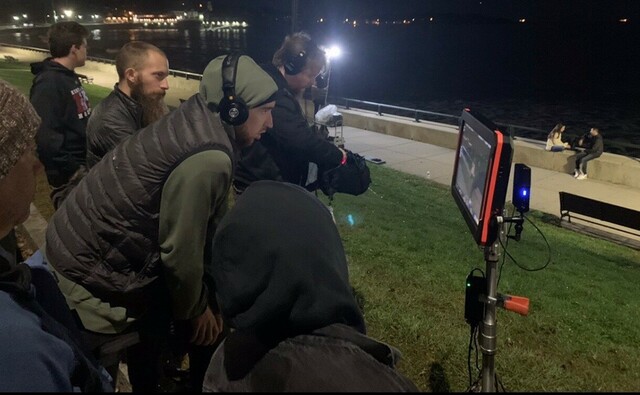 Jake Fay '16 started writing the screenplay for his first feature film, The Process, during his senior year as a cinema student in UHart's College of Arts and Sciences. Featuring 35 speaking roles and 50 extras, the film is Fay's directorial debut and took just 11 days to shoot on location in his hometown of Lynn, Massachusetts, in October 2019.
Fay says the inspiration for The Process came from his close friends who had dreams of making it big in the rap music industry. "I always believed in their music. I knew I wanted to tell a story, a realistic story about what it is like to be a local rapper with the dreams of making it big."
Working alongside Fay were UHart Cinema classmates Kyle Rodgers '14, editor, John Patrick-White '18, script advisor, and Tristan Parillo '18, second assistant. "All three played such a strong and vital role in my crew. John and Tristan spent two weeks at my childhood home while we were on set. The bedroom that I once shared with my brothers housed UHart Cinema alums."
The film has earned notoriety from the Urban Film Festival in Miami, Florida, where it was nominated for Best Urban Feature, and the Massachusetts Independent Film Festival where it was nominated for Best Feature Film, Best New England Film, Best Cinematography, Best Directing, and Best Actor. It has also been selected by the Orlando Film Festival and Urban Mediamakers Festival in Atlanta, Georgia.
Fay says his inspiration for filmmaking came from his UHart cinema professors who allowed him to showcase his unique style. He credits Professor Michael Walsh's German Cinema course with introducing him to a new style and way to tell a story. "So many of these German films were edgy, dark, and realistic, and mostly shot on location. I knew watching films like Head On, The Lives of Others, Barbara, Phoenix, and so many others that these are the sort of films and stories I wanted to tell." Fay says he was able to try out this style of filmmaking in courses taught by Associate Professor Lauren Cook and by former faculty member and award-winning Hartford filmmaker Pedro Bermudez '07.
After graduation from UHart and earning an MBA from the University of the Virgin Islands, Fay moved to Wyoming where he began pre-production on the film. To finance his dream, he worked as a paraprofessional by day at a social emotional program within a public-school system, was a line cook at night, and on the weekend, he was a youth basketball referee. When Fay returned to Lynn in July 2019, he drove for Uber all while fitting in table reads with actors, renting equipment, and creating the film's production schedule. "I'd sometimes spend 12 hours in my car telling my passengers all about my life and my upcoming film. Many didn't believe a kid with an MBA would be driving Uber. That was okay because I was on a mission. Each one of these jobs allowed me to develop skills and traits to be a better person and director/producer/writer." 
Fay is currently working on his next two feature films and a documentary. His advice to UHart cinema students is, "Try to challenge yourself and make some sort of video/film every month. Make as much content as possible in film school and get very comfortable with all the equipment."
Watch the film's official trailer