Teaming Up: UHart students from different disciplines work with manufacturing giant
Regardless of our major, we all had the same task: calling different distributors, electrical contractors, and property managers to ask what product they are using, why they chose that brand, and whether they were having any issues.
Chelsea Chaves 20', Marketing, Barney School of Business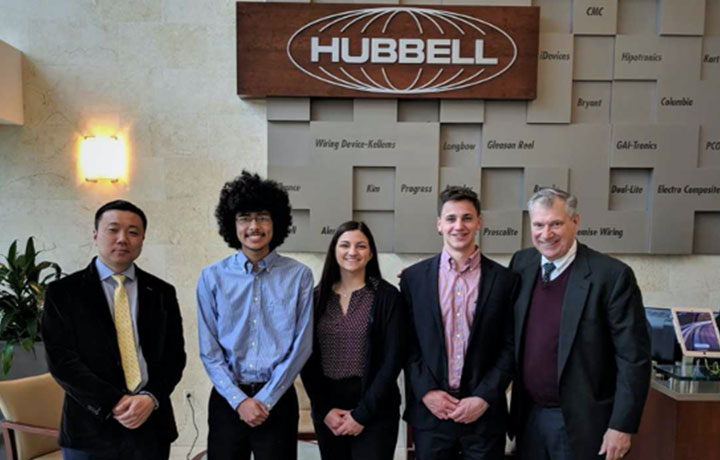 At the University of Hartford, hands–on learning to prepare students for the future takes place in class and through job shadowing, internships, and independent study. Last spring, Chelsea Chaves '20 was one of four students in an interdisciplinary independent study working with Hubbell Incorporated conducting market research on Arc Fault Current Interrupters (AFCI), a circuit breaker that breaks the circuit when it detects an electric arc in an effort to prevent electrical fires.
Chaves is a marketing major in the Barney School of Business. She worked alongside Lauren Zarbis '20, a Barney economics major; Leonardo Pegeas '20, a math major in the College of Arts and Sciences; and Justin Simko '19, an electrical engineering major in the College of Engineering, Technology, and Architecture.

"One of the issues we were researching was nuisance tripping. That's when the AFCI breaks the circuit when a false arc is detected. After gathering all of the information, we put together a big in–person presentation for Hubbell officials and followed thatup with a written report. Hubbell said it was very helpful in determining what type of customers they are attracting for this product.

"This was a great lesson in learning one method of conducting market research," Chaves concludes. "I gained experience working with a group, in making a presentation in front of professionals, and in writing a formal end–of–project report. Not only will it look good on my résumé, it was fun."

The AFCI project was the latest done by UHart students with Hubbell Incorporated. During the fall semester of 2018, a different group of students conducted research on a prototype Hubbell device– charging station to determine how well it worked, where it might be most useful, and how it could be promoted. Hubbell's latest portable charger station, the JumpChargeTM, can be found in the new Hubbell ConneCT space in Auerbach Hall.