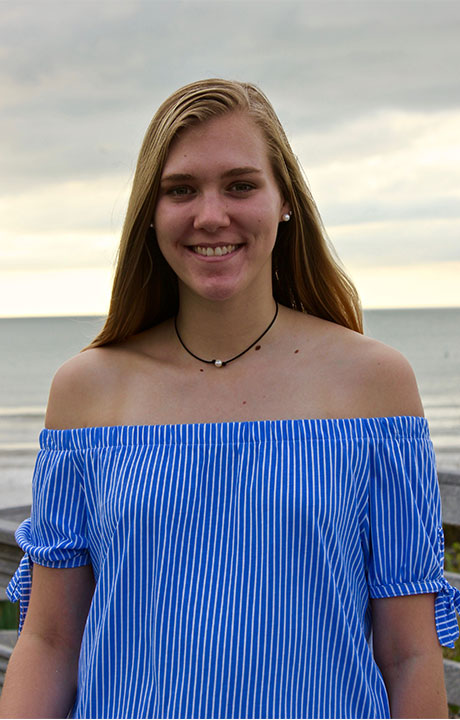 Next stop: Pursuing a master's degree in occupational therapy
As a Health Sciences major in the College of Education, Nursing and Health Professions (ENHP) and member of the Honors Program, Lydia Farmer was able to use the knowledge and skills she learned in and out of the classroom to form a connection with faculty and students that eventually led to her taking the next step in her academic career, going to graduate school.
The academic and extracurricular experiences she had during her undergraduate career helped her stand out when it came time to apply for graduate school. Lydia will be attending the University of New England for a master of science in occupational therapy.
According to Lydia, "There are great resources on campus that allowed me to form connections with other students, faculty, and staff. These connections influenced and motivated me to achieve things I did not imagine ever doing."
Working with her mentors, Dr. Doug Dix and Dr. Claudia Oakes, she was able to consult both of them on her classwork, honors thesis, and general life advice. She says, "It is clear they really care about all their students and want everyone to succeed."
Lydia also credits Career and Professional Development with helping her to create a cover letter and resume that made her stand out. They prepared her for the interview and made sure she had all the resources she needed during the entire application process.
One of Lydia's favorite things about UHart is its size because classes are smaller and professors have time to explain things one on one. During her four years as an undergraduate, she has been able to form meaningful connections with her professors because they know her name and her learning style.
Excited to begin her new adventure in graduate school, Lydia offers future students the following advice:
"My experience at UHart was filled with friends, academics and experiences. Every day I was surprised by the opportunities available to me through events, clubs and organizations, residential life and student government. I found myself getting involved in things I never would have done before."
Get involved, go to programs, events, sports games, etc. Being an RA, an athlete, a peer tutor and more allowed me to meet so many new people that will be my friends for life."
Lydia Farmer, Health Sciences, '20