A Q&A with Mikaela Papasodero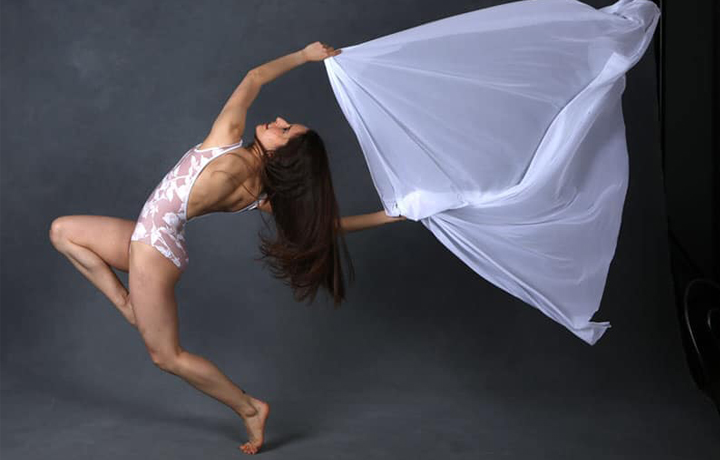 Q: Please tell us a little bit about yourself, including your hometown and what drew you to The Hartt School.
I'm originally from Middleboro, MA. It's a little town between Boston and Cape Cod. I trained at The Gold School in Brockton, MA and was a member of Project Moves Dance Company. I had the opportunity to work with artists like Tyce Diorio, Teddy Forance, Katie Kozul, Rennie Gold, Kelllie Grant, and many more. While there I was exposed to contemporary, modern, and ballet. I was also a member of Boston Community Dance Project in Boston. I loved working with that company because I had to the opportunity to gain professional experience, perform, and choreograph for their summer season.
When I was deciding between schools I was torn between three very amazing programs at different colleges. I remember I really wanted to go to one school and my mom really wanted me to go to The Hartt School. We had watched classes at all three colleges and my mom noticed how hard working and determined the students at The Hartt School were (my mom is also a physical therapist so she knows when people are doing something correct, and when their alignment is good). I think the main reason I was drawn to The Hartt School was for its small program. Some colleges have anywhere from 30-90 students in a class and the dance program at Hartt had about 15 in each class. I loved that because you receive so much individual attention, and are really able to prosper and grow much faster as a dancer. Also the faculty and students at Hartt were so welcoming and friendly when I went. I felt like it was a very close family, not a college program. I also loved how it was a conservatory program but you could also take classes in other fields and potentially get a minor. Another great aspect was the pedagogy program. Ultimately Hartt had everything I needed for my dance training, and I could really see myself being happy, and growing tremendously as a dancer.
Q: What were your involvements at The Hartt School?
While at The Hartt School I had some amazing opportunities. I was constantly busy with the Dance Program so I did not have much time to do a ton of other activities but there was opportunity in the program to work in other departments. My senior year I had the opportunity to collaborate with someone from the composition department at Hartt to create the music for my senior piece. I absolutely loved working with him, and we still work together post-Hartt. It was an amazing opportunity that has continued to prosper. My sophomore, junior, and senior year I also performed in Collage, which is a production where members from each department in The Hartt School come together and put on a show for incoming students, and sometimes we do the Gala the same night. I loved being asked to perform in the show because it was so wonderful to see the other departments and amazing talent at Hartt.
I also had the chance to perform a lot with other schools at The University of Hartford. I remember one time performing for The Hartford Art School. There were other shows even outside of The University of Hartford that we got to perform in. I remember performing at Connecticut College my junior year, and some of the students performed at The Joyce Theater my freshman and junior year. That's also one reason I loved Hartt. There were so many performance opportunities, and I know some schools have programs where you might not perform at all.
Q: What is your favorite memory created at Hartt?
I have so many favorite memories from Hartt. I was extremely close with my class, and still talk to all of them everyday. They're my family, and they always will be. If I had to pick I think it would be my senior year, before our senior seminar class, we all made up a dance that we would do at eachother's weddings, and the music would just come on and we'd all start doing it. We filmed the dance so we'd never forget, and I am VERY eager for someone to get married so we can do that dance at the reception.

Another great memory was getting to work with the Paul Taylor American Dance Company 2 my senior year. They came and taught class with their director at the time, Ruthie. After class we would rehearse the Taylor piece we were performing in our Hartt Dances show that semester. That was such an amazing opportunity and memory I will never forget.
Q: What is your proudest Hartt accomplishment?
That's a hard one, because there were so many! I think my proudest moment at Hartt was my sophomore year. I was cast in a piece with all juniors and seniors, and no other sophomores or freshman. I was so nervous, excited, and intimidated. I remember thinking about how amazing the upperclassmen were, and I knew I would have to work hard. We worked with this amazing choreographer for two weeks over winter term, and the process was probably the most difficult one I have ever experienced. It was also difficult because it was in pointe shoes I had very minimal pointe training before coming to Hartt. But with the help and support from the faculty, I was able to perform the piece to the best of my ability. I will never forget how proud I was of myself taking the bow after performing the piece every time. Having the choreographer run back stage jumping and screaming because he was so happy with the outcome was an amazing feeling.
That semester I also had the opportunity to perform a solo in another piece that I remember learning and being awful at freshman year. Only a year later I performed the piece with guidance from my amazing teacher, Nina Watt, and her only note by tech week was, "keep killing the game". I remember being so proud hearing that. There were so many more proud moments, such as getting to perform the adagio duet from the Doris Humphrey piece, Inventions. I remember being specifically proud of that one because I was always pegged as the fast, energetic little dancer but I got to show that I could do adagio movement too. Another moment was getting to perform a work choreographed by Martha Graham and Paul Taylor. There were just so many I will never forget!
Q: What is your proudest post-Hartt accomplishment?
My proudest accomplishment actually comes from having my senior piece, Spectrum, performed at so many different festivals and shows. After the piece was performed my senior year at Hartt, I got the video from my professor Katie Stevinson-Nollet and took her (and the rest of my teachers') advice and started submitting it for different festivals. It was performed at the Ailey Citigroup Theater, the Boston Contemporary Dance Festival, and the Versatility Dance Festival in Boudler, CO (I was one of five choreographers asked to present work… I was very honored). I was also recently asked to perform the work for a show at Rioult Dance Center. I got to present work alongside some AMAZING artists like Jenn Freeman, Maleek Washington, Jon Lehrer, Pascal Rioult, and Hannah Cullen. I got to sit up on a panel with them too, and trust me I was freaking out on the inside. It was such an honor to share my work next to them, and talk on a Q&A panel with them.
I was also asked to present my work for Nuvu Festival alongside more amazing artists (it has unfortunately been postponed due to COVID-19).
Q: What are you up to now?
I've been very lucky and successful so far post-grad. A lot of it is thanks to my amazing teachers at Hartt who helped me out so much. I'm currently working with two professional dance companies in NYC–Amirov Dance Theater and Rioult Repertory Project. I rehearse and perform with both companies. I have also been performing other places too. I performed in a show for a jazz musician in CT, and recently traveled out to Salt Lake City, UT to guest perform in Repertory Dance Theatre's show, Emerge. I also teach dance to children with special needs for an organization called Sparkidz. 
Q: Is there anything else that you think we should know about you?
Along with taking class, rehearsing, and performing, I also teach dance. When I was at Hartt I actually worked for two dance studios nearby teaching their students. I also guest taught for a lot of studios in CT and MA. This was great because I got a ton of teaching experience in college so now when I talk to studios about teaching for them they always tell me how impressed they are with my resume. I have also taught for Boston Childrens Theater's summer program, Project Contemporary Competitiveness music and movement class, and The Children's Museum in Easton. Now I teach children with special needs in NYC so I have taught kids of all ages, and abilities.