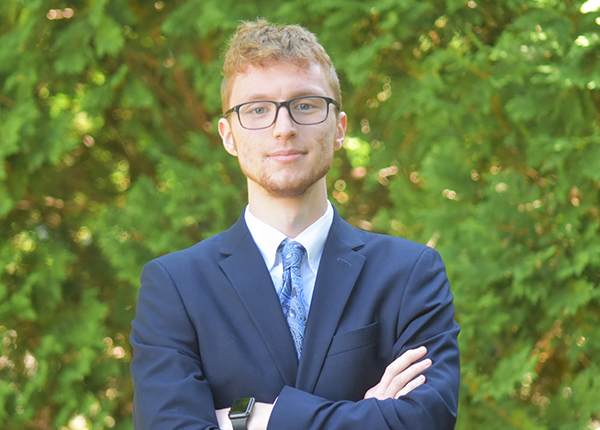 Jack Breton '21, a mechanical engineering major with acoustics concentration, recently accepted a role as a rotational acoustic engineer at Bose Corporation. He will be participating in the internal engineering rotational program, where he will complete several 6-month rotations through different groups and roles in the company, focusing on acoustic engineering. Breton says, "I will rotate through the automotive systems group, consumer electronics group, professional systems group, and the health division. At Bose, I will learn about the application of acoustical theory from my undergraduate studies and understand how to utilize it to become an effective practicing acoustical engineer." The three internships in which he participated proved to be a vital part of Jack's success in landing a job before graduation.
Jack received the job, which was only open to previous interns who were recommended by their supervisors, following an internship last summer at Bose in the Professional Systems Division. There, he learned about the application of acoustical theory, which he had studied in the classroom at UHart, and how it applies to everyday design decisions made within the company. Breton notes that "as a result of my high performance over the summer, my manager recommended me for this rotational program. When the spring came around, I interviewed with several engineers at the company, and then found out the next day that I had been offered the position! I am also currently working on a Capstone project for Bose. Keeping connections to the company by working on a Capstone project also helped me obtain this opportunity."
Breton also previously interned with Cerami & Associates, a consulting firm specializing in architectural acoustics, in the summer of 2019, and the Metropolitan District Commission (MDC), a municipal water and sewer company for the Hartford, Conn. area, in the summer of 2018. At Cerami, he interned alongside fellow classmate Nate Cromie '20, a graduate of the nationally recognized Acoustical Engineering and Music BSE program at UHart, and found the experience nothing short of invaluable.
"Cerami & Associates was an awesome company to work at, partly because so many people had connections to UHart. The CEO, Victoria Cerami, is a UHart alumna. Plus, many associates were once acoustics students here at the University," Breton says. "There, I learned how to identify and recommend solutions for acoustical problems in floor plans, mechanical plans, architectural details, and construction specifications. I also learned how to format recommendations for a client and got to measure and analyze data in the field with industry-standard technology. It was a great experience to be able to apply skills I learned in the classroom to the real world."
During his internship with the Metropolitan District Commission, Breton worked as a maintenance engineering intern. There, he contributed to the logistical and financial planning of several projects related to the maintenance and upkeep of MDC facilities, vehicle fleet, and infrastructure. He also researched historical spending trends to assist in the optimization of capital improvement spending and supported annual budgetary operations for five major cost centers. While not directly related to his inspiring field, the internship taught him invaluable skills in maintenance planning, project management, and budgeting.
Breton chose to attend UHart because of "the unique acoustics program and close faculty-student relationships." He says studying acoustics allowed him to blend his love of music and audio with his passion for science and engineering.
No other undergraduate program in the country came close to providing this. As an admitted student, I recall having the director of the acoustics program, Dr. Bob Celmer (Dr. Bob, as we call him), take the time to show me around the CETA facilities and acoustics labs. This really showed me the personal connection between faculty and students at the University of Hartford, which I have continued to experience to this day. You really do get to know your professors, not only as instructors, but as friendly resources always eager to assist you with internship/job searches, difficult concepts, and research. Because of the small campus size, they know you by name, and you're not just another student to them. This helps immensely in an undergraduate engineering program.
Jack Breton '21, mechanical engineering with acoustics concentration
He credits Celmer and the other faculty who teach acoustics for their tireless efforts in instructing him and his peers on all facets of acoustics. "Without them, I would not have nearly enough knowledge or skills required to intern at companies like Bose and Cerami. I would also like to thank Dr. Bob for helping with my internship and job searches. His tips for writing cover letters and resumes are extremely helpful," he says.
Along with his internships and academics, Breton is highly involved at the University. He served as the 2020–21 president of the Tau Beta Pi Engineering Honor Society, secretary for the Alpha Chi Academic Honor Society, membership chair and mellophone for UHart's Pep Band, and member of the Acoustical Society of America and American Society of Mechanical Engineers UHart chapters. He also participated as an undergraduate research assistant for CETA faculty Ivana Milanovic and Bob Celmer on their research, Optimization of Violin Sound Quality, as well as a student preceptor/assistant for assistant professor of mechanical engineering Ted Diehl.
Among his many accolades includes being part of the team that won first place in the Barney Pitch Competition in the fall 2020 semester and being the only CETA senior this year to receive the Solomon Elsner Award at the 60th Annual Regents' Honor Awards.
Outside of the classroom, Breton loves anything that has to do with designing, building, or driving. Last summer, he built an electric longboard. This summer, he is working on a homemade motorbike. In the future, he wants to design and build his own cabin in Vermont or Colorado.
In terms of his long-term goals, Breton intends to take the Fundamentals of Engineering exam and eventually earn his Professional Engineer license to further progress his engineering career. "I am very passionate about designing the best-sounding buildings and spaces for people to enjoy." At some point, he hopes to return to school to pursue his master's in business administration or a related degree. "This will develop my skills in leadership, business, and economics and help me achieve my goal of one day owning my own company specializing in the acoustics of homes and buildings."