Health Science alumna tackles the challenges of COVID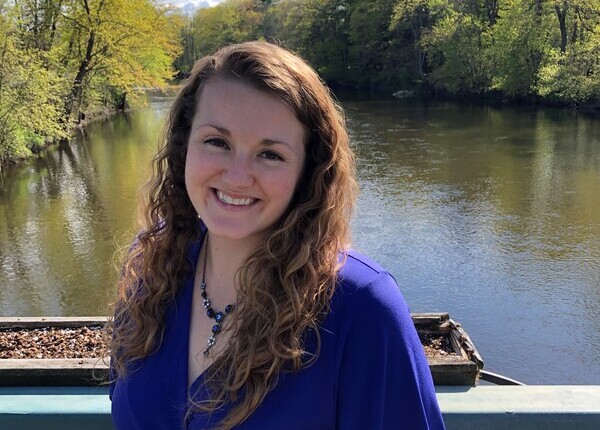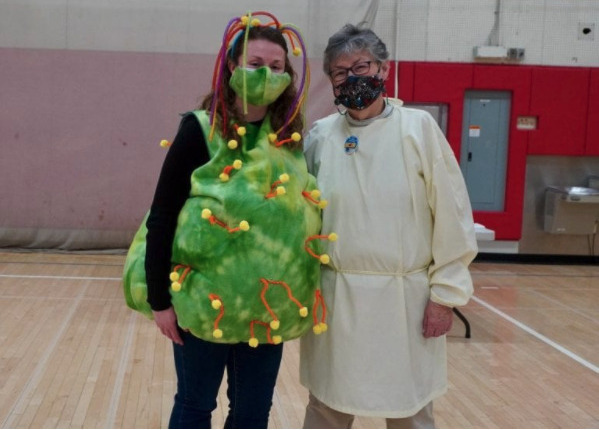 Despite COVID, working in public health is "incredibly rewarding" for Megan Westcott
For Megan Westcott '16, working in public health during the COVID-19 pandemic has been "hectic yet incredibly rewarding." As an epidemiologist for the West Hartford-Bloomfield Health District, her job involves everything from investigating disease outbreaks to organizing COVID vaccination clinics – and even getting dressed up in a COVID costume!
At a vaccination clinic last month, Megan was dressed in a virus costume created by one of her colleagues as part of a Health District mascot contest. Her costume, made of fleece filled with quilt batting, pipe cleaners, pom-poms and a matching green face mask, added to the festive atmosphere at the vaccine clinic for West Hartford teachers. (Read more)
After graduating from UHart with a bachelor's degree in health science and minor in psychology, Megan earned a master's degree in public health at Tulane University. She became interested in public health as a way to help others. "I am driven by solving problems, so putting this passion to work by solving problems which will improve the lives of others and future generations appealed to me," she said.
When she's not wearing costumes, Megan's role as an epidemiologist includes data collection, analysis and reporting, infectious disease surveillance, disease outbreak investigation, grant writing, assisting the district with public health guidance and recommendations, and community outreach. She has also returned to UHart as an adjunct faculty member in the College of ENHP, teaching Introduction to Health Promotion this semester.
While she couldn't't have anticipated how the pandemic would affect her job, Megan believes it's been a great learning experience. "The last year has required constantly adapting to changing scenarios and shifting focus. I have learned more in the first 6 months of my career than I ever could have imagined," she said.
Despite the challenges, she finds that there are many rewards to her profession, including making a positive impact on people's lives. "Especially regarding vaccinations, there are countless people who have expressed so much gratitude and appreciation- it makes it all worth it!" she said.
The last year has required constantly adapting to changing scenarios and shifting focus. I have learned more in the first six months of my career than I ever could have imagined."
Megan Westcott, Epidemiologist for the West Hartford-Bloomfield Health District