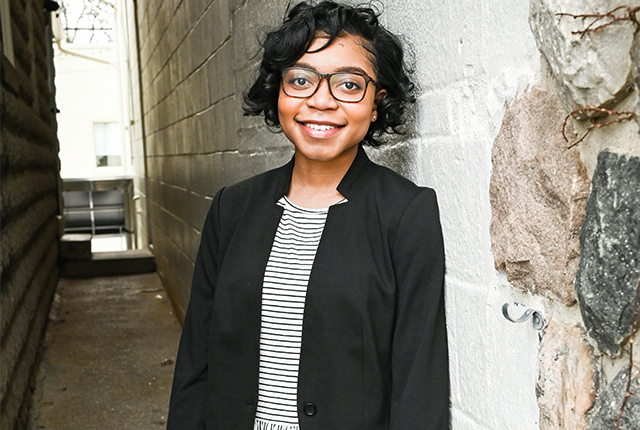 Kenadie Barringer '23, an acoustical engineering and music major, was drawn to UHart's acoustics program because there is, simply put, no other program of its kind in the country. Even being from Michigan, she discovered the program online, had the opportunity to visit campus to meet with faculty, students, and staff, and officially became a Hawk in fall 2019. Barringer ultimately chose UHart because of its small campus size. "I was drawn to CETA's hands-on approach to learning," she says. "By the end of my first semester, I completed a project for the CETA Design Expo that could be added to my resume." 
Since then, Barringer has gained a great level of experience and knowledge that could be applied in the field of acoustics. She landed an exciting internship at Harman International of Novi Michigan over the summer of 2021. The branch she works for primarily enhances car audio systems for companies like Ford and Toyota. They work with these companies to produce high-quality audio systems as well as hands-free and connected car features. "In a typical day, I may be helping the team work on software that improves the sound quality of the audio system by adjusting and validating the Equilizations (bass, middle, treble) in the vehicle," she says. "I have also trained to become a Harman Trained Listener in which I have been coached to identify certain acoustical inconsistencies in audio." This may include listening to faint buzzing, rattling, or identifying certain frequencies that are distorted. Barringer also comments that this internship has allowed her additional networking opportunities with other acoustical and audio engineers on the team.
Barringer says different programs within CETA have taught her the importance of precision and professionalism to best prepared her for this internship and a full-time career. For example, Dr. Bob Celmer, her advisor and former professor, helped her in revising her resume which was complimented by Harman's Talent Team! Furthermore, Dean Hisham Alnajjar's freshman seminar where he discussed where the industry was moving and how to be a proactive engineer helped Barringer zoom out and be more curious about how her degree related to the outside world.
At UHart, I can pursue my passion for playing oboe while building technical skills in engineering that can be applied to spaces all around me. I always enjoyed talking with fellow musicians and seeing what they would like improved in their practice and performance. Now, I am building skills that will help me find solutions to these problems while continuing my love of music.
Kenadie Barringer '23, acoustical engineering and music
Along with its programs, Barringer has also been impressed by many UHart faculty, including Professor of Mathematics Mako Haruta. As Barringer's calculus II professor in the spring 2020 semester, Haruta was not only very organized, but also understanding. "She, like nearly every UHart faculty member I have encountered, cares about her students as a whole," she says. "She was not just concerned with how we did in calculus. At the start of the pandemic, she ensured her students, like me, received a complete learning experience."
When asked about the type of career she would like to have, Barringer says she is using her time now to explore her options in the acoustics field. After taking her first acoustics course sophomore year, as well as attending a few Acoustical Society of America meetings, she says she discovered there are many more areas of acoustical engineering that exist, giving her more options when it comes time to apply for internships and jobs. "Right now, I'm hoping to work on projects that improve people's experience while also being environmentally sustainable," she says. "I am inspired by the work of ARUP Group, an architectural engineering firm based in London. I also stay up to date with the products at Marigaux, an oboe manufacturing company based in France, because I am interested in musical instrument design and repair."
When she's not practicing her oboe in the Hartt School, Barringer stays highly involved on campus. She is the secretary for the National Society of Black Engineers (NSBE) UHart chapter, working on creating volunteer events and getting local youth involved in science, technology, engineering, and mathematics. She also serves as an ambassador for the CETA leadership and ambassador society, helping during admission events and meeting with prospective students. Finally, she is also a member of the UHart Gospel Choir, since another avenue of music she enjoys is singing.