CETA's Biannual Event Showcasing Student Projects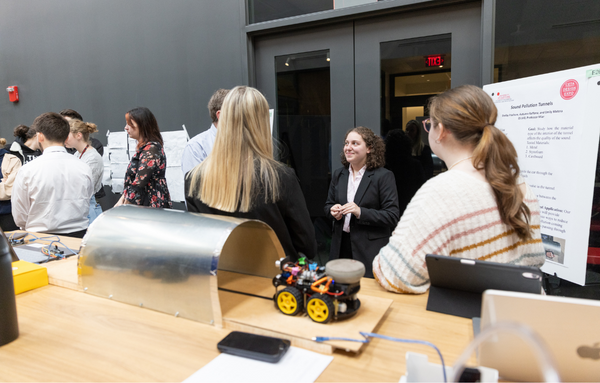 SAVE THE DATE: Spring 2023 CETA Design Expo to be Held on April 28!
The CETA Design Expo is a biannual event, hosted at the end of each semester, where students present their innovative projects. First-year students present after their first semester in the fall, sophomores present at the end of their second year in the spring, and seniors present their Capstone design projects in the spring or fall (depending on when they are graduating).
The Spring 2023 CETA Design Expo will be held on Friday, April 28 in the Hursey Center.
Any questions? Contact us at cetacomm@hartford.edu.
It's interesting seeing how students from different disciplines approach solving the problem and how each of our different ideas were integrated in the final design.
Joel Lawes '21, electrical engineering
Project and Design Challenges
ES 143P: Engineering and Design—Introduction to the fundamentals of engineering, the engineering profession and engineering design with emphasis on guided design and problem-solving methodologies. Students will undertake practice-oriented group design projects.
ES 242: Engineering by Design—An in-depth study of the design process to include problem-solving methodologies, evaluation of alternate solutions, economic analysis, ethical constraints, group dynamics, and presentation techniques. Students undertake design projects specifically chosen to meet the objectives of this course.
Students work on projects in their field of study with faculty mentors or external project sponsors to design, fabricate, and/or test a device, process, or system. This is a major design experience based on applying the knowledge and skills acquired in earlier coursework and incorporating industry appropriate standards and realistic constraints.
Students participating are enrolled in:
ADT 489: 
BE 461P: Biomedical Engineering Capstone II
ECE 483: ECE Capstone Design II
ME 473: Capstone Design Project II
CE 420: Water Quality Engineering I
CE 465: Civil Engineering Design Project II
ECT 481P: Senior Design Project II for Engineering Technology
Poster Evaluation Criteria
The following criteria will be used by judges to evaluate the projects and posters, and to choose the winning designs/posters.
Performance: Successful task completion.
Creativity: How creative is the final product?
Level of Difficulty: How complex is the product?
Experimental Verification: Was the product performance evaluated according to a set of criteria?
Presentation:

Poster: Is the project goal clearly illustrated?

Oral: Are students well-rehearsed/prepared?
Design Expo Archive
The CETA Design Expo was founded in May 2015 when a group of CETA faculty and staff came together to discuss a way for students to present their final projects. It has since grown into a well-known event on campus that many students look forward to participating in. Walk down memory lane and read about our past expo highlights.