CETA Recognizes Graduating Seniors and Sophomores at Virtual Spring 2021 Design Expo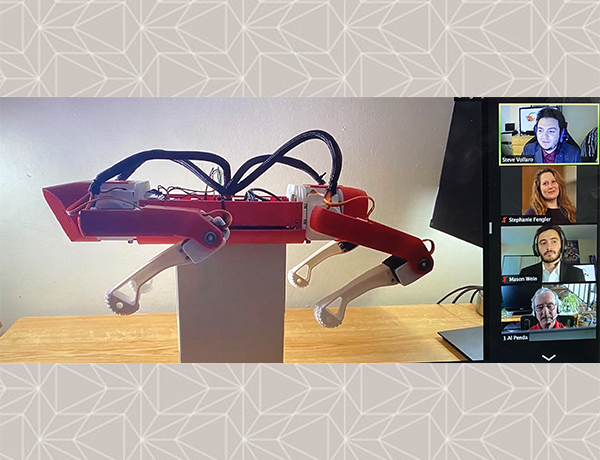 The College of Engineering, Technology, and Architecture (CETA) hosted its third virtual CETA Design Expo on Friday, April 30. The event showcased projects of CETA's talented sophomores enrolled in engineering design courses, as well as graduating seniors presenting their final Capstone projects. Students collaborated in unique ways throughout the semester, both virtually and in person, to meet their design goals. Some also partnered with industry professionals who represented sponsors of the projects from the Connecticut Department of Transportation (ConnDOT), Hartford Steam Boiler, Medtronic, Pratt & Whitney, and Tighe & Bond, Inc. to develop and apply real-world solutions.

Students presented their projects throughout the day in their faculty breakout rooms on Zoom. The event was open to the public, allowing for other students, parents, alumni, and CETA friends, who wouldn't typically be able to attend the in-person event, the opportunity to view from the comfort of their own home.
The event would not have been possible without a group of expert judges who spent part of their day listening to multiple presentations, providing valuable feedback to the students, and joining CETA members in celebrating the students' success.
MaryAnn Haverstock, who serves as an adjunct faculty member for the College, had her high school engineering students at the Frederick Gunn School tune into the civil engineering capstone presentations while she was participating as a judge herself. Haverstock is the Director of IDEAS Lab at the school and was excited to share this opportunity with her students. "My students took away a great deal from watching the expo, from understanding the final projects to how important integrated projects and team collaboration is in engineering."
John Hapkiewicz, PE, Vice President, Design Manager, Transportation for AECOM participated as a judge for the morning session. He says he was extremely impressed with this year's sophomore class and credits the faculty and curriculum at UHart for preparing these students so early on in their college career.
The sophomore design expo presentations, led by Professor Takafumi Asaki, were outstanding. I had to select a winner by the slimmest of margins amongst all teams. The effort that went into these projects shined through and I was thoroughly impressed with the final products and presentations. This is a great 'thermometer' of how UHart is teaching and challenging their students to perform, even as sophomores.
John Hapkiewicz, PE, Vice President, Design Manager, Transportation for AECOM
The day kicked off with the ES 242: Engineering by Design course design challenge with CETA sophomores. This design challenge is focused on using engineering analysis and design principles to address global problems such as hunger, environment/pollution, and infrastructure. The spring 2021 challenge focused on solutions that address some aspect of a global problem with, whenever possible, simple, low-cost solutions that are easy to implement, operate, and maintain, particularly in areas that lack significant infrastructure to support more expensive, high-tech approaches.

The winners of the sophomore design challenge will have the opportunity to join CETA Dean Hisham Alnajjar for lunch during the fall semester. Join us in congratulating the following sophomores on winning this year's design challenge (listed in no particular order):
Sophomore Winners
Poster # SO1-4 | Wireless Dynamic Range Limiter
John Keating '23, acoustical engineering and music; Daniel Lorenzo '23, computer engineering; Brandon Anderson '23, electrical engineering
Led by Ulrich Decher, PhD

Poster # SO2-4 | Anxie-Tee
Hannah Drew '23, civil engineering; Madison Roe '23, mechanical engineering; Katharine Wilson '23, biomedical engineering; Raylene Borges '23, biomedical engineering
Led by Takafumi Asaki, PhD

Poster # SO3-3 | Remote-Control Snow Removal
Ryan Douglas '23, civil engineering; Jake Fernbacher '23, mechanical engineering; Kyle Hilliard '23, civil engineering; Aaron Champagne '23, civil engineering
Led by Todd Brown, MS, PE

Poster # SO4-2 | PRUMS: Pill Reminder Utility Medication System
Emma McClurkin '23, mechanical engineering; Fiona Morrissey '23, computer engineering; Meghan Grassia '23, mechanical engineering
Led by Phil Faraci, MEng

Poster # SO5-3 | Heated Steering Wheel Cover
Daniel Dudaj '23, computer engineering; Brendhon Franco '23, civil engineering; Stefan Erwin '23, mechanical engineering
Led by Akram Abu-aisheh, PhD

Poster # SO6-4 | Automated Growbox
Jonathan Ho '23, computer engineering; William Briegel '23, civil engineering, Leo Caserta '23, electrical engineering; Reema Alotaibi '23, computer science and engineering
Led by Enrico Obst, MEng
---
The senior design/capstone challenge followed in the afternoon, showcasing the culminating experience of CETA's graduating seniors. Students work on projects in their field of study with faculty mentors or external project sponsors to design, fabricate, and/or test a device, process, or system. This is a major design experience based on the knowledge and skills acquired in earlier coursework and incorporating industry-appropriate standards and realistic constraints.

Twelve finalists were chosen (one from each faculty room) to compete in a rapid sales pitch round to their respective judges. Students from audio engineering technology, biomedical engineering, computer engineering, computer and electronic engineering technology, electrical engineering, electromechanical engineering technology, and mechanical engineering competed in a "shark tank" round, while students from architectural design + technology and civil engineering competed in an "infrastructure" round.

Join us in congratulating the following seniors on winning this year's senior design/capstone challenge (listed in no particular order):
Shark Tank Winners
Poster # SR2-2 | Formula SAE Vehicle Dynamics DAQ System
Mason Holt '21, electromechanical engineering technology; Angel Sanango '21, computer and electronic engineering technology; Garrett Gottschall '21, electromechanical engineering technology; Devon Dunn '21, computer and electronic engineering technology
Technical Advisors: Enrico Obst, MEng; Johanna Raphael, MS
Sponsor: LabJack Measurement & Automation

Poster # SR4-2 | Automated Media Dispenser
David Bell '21, biomedical engineering; Maria Loza '21, biomedical engineering; Sanjanaa Sushanth '21, biomedical engineering
Technical Advisors: Mary Arico, PhD; Matthew Bernocco
Sponsor: Medtronic

Poster # SR6-3 | Mini-HARQ Quadruped
Stephen Vollaro '21, mechanical engineering; Mason Wein '21, mechanical engineering
Technical Advisors: Akin Tatoglu, PhD; Kiwon Sohn, PhD
Infrastructure Winners
Poster # SR5-4 | Water Treatment Plant Backwash Recycling System
Fatemah Alkhamees '21, civil engineering; Sebastien Douglas '21, civil engineering; Yawar Khan '21, civil engineering; Robert Terlikowski '21, civil engineering; William Zaimes '21, civil engineering
Technical Advisors: Ryan Fleming, PE; Peter Grandy, PE; Thomas Hoctor
Sponsor: Weston & Sampson, Inc.

Poster # SR12-1 | Dzamija za Bosance - Mosque for Bosnians
Hasan Ramic '21, architectural design + technology
Technical Advisor: James Fuller, AIA NCARB
Honorable Mentions (Additional Finalists):
Poster # SR1-4 | Noise Monitor
Paul Wehbe '21, electrical engineering; Liam Platt '21, audio engineering technology; Rich Patino '21, computer engineering
Technical Advisor: Krista Hill, PhD

Poster # SR3-3 | 4-Channel Mixer
Colin Whitehill '21, audio engineering technology; Andrew Simoneau '21, audio engineering technology; Christopher Iaciofano '21, audio engineering technology;
Technical Advisor: Timothy Britt, MS

Poster # SR7-5 | Design Curves for High Velocity Flow in Fluid Fittings
Nash Bradley '21, mechanical engineering; Sowrya Kumar Gali '21, mechanical engineering
Technical Advisor: Gianna Sabino
Sponsor: Pratt & Whitney

Poster # SR8-1 | Rapid Assembly Fixture Design for Valve Components
Sean Doyle '21, mechanical engineering; Kamil Kus '21, mechanical engineering; Andrew Mackay '21, mechanical engineering
Technical Advisors: Ron Prihar; Charlie Bald
Sponsor: Parker Hannifin Fluid Control Division, New Britain CT

Poster # SR9-2 | Hurley Food Hall & Market
Malik Campbell '21, architectural design + technology
Technical Advisor: David Harlan, AIA

Poster # SR10-2 | Wallingford High School - Wallingford Warriors
Kurtis Nickischer '21, architectural design + technology
Technical Advisor: David Harlan, AIA

Poster # SR11-3 | Special Education Day and Boarding School
Anthony Dalto '21, architectural design + technology
Technical Advisor: James Fuller, AIA NCARB