CETA First-Year Students and Seniors Return in Person for Fall 2021 Design Expo
The College of Engineering, Technology, and Architecture (CETA) hosted its Fall 2021 Design Expo on Friday, December 3 in person at the University of Hartford's Konover Center. At the end of each fall semester, first-year students are placed onto teams and given an Arduino robot kit to program a robot with special features, from sensing motion to picking up objects. The event also featured five senior teams highlight their cumulative Capstone design projects. Students presented their innovative ideas, designs, and projects to various guests and judges—including CETA alumni, faculty, and Board of Visitors.
Students from ES 143P: Engineering and Design and ECT 110P: High Impact Practice: First Year Seminar were tasked with proposing, building, and demonstrating a final project that shows new knowledge and skills pertaining to an Arduino controller. This device is an open-source electronics platform that allows hardware and software to talk to each other (such as detecting the edge of a table and activating a motor sensor to move the device). Teams needed to choose an electronics kit that they must construct, troubleshoot, and demonstrate as a working final product. They were asked to consider several factors in choosing the kit, including components in the kit, tasks involved in construction, ability to customize, and evaluation of its performance.
First-year students were judged on a variety of criteria, including:
Performance (Successful completion of the intended task)
Creativity (How creative is the final product?)
Level of Difficulty (How complex is the new sensor/coding/knowledge?)
Presentation: Poster (Does the poster clearly illustrate the goal of the project?)
Presentation: Oral (Are the students well prepared and rehearsed?)
Students presented to industry professionals from companies including IBM Research, Grogan, Tuccillo & Vanderleeden, LLP, and Eversource Energy.
I was very impressed with the creativity and enthusiasm of the first-year engineering and engineering technology students. It's clear that they have already learned about important engineering design concepts after just one semester, and each team is demonstrating some of the concepts with their own unique hands-on projects. Some of the senior capstone projects are very sophisticated and well done! They are proud to showcase everything they have learned over the four years in projects they have chosen to make a positive social, environmental, and economic impact.
Ying Yu, Department Chair and Associate Professor, Electrical and Computer Engineering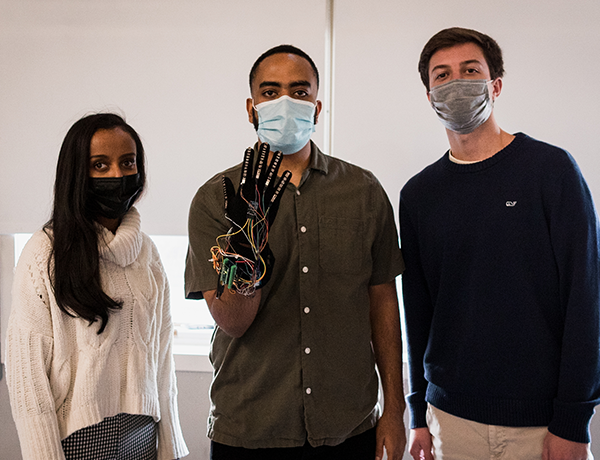 First-year winners included: 
Winners for ECT110P Course
Poster #T2 | Robot Arm Mover
Benjamin Kawalec '25, technology exploratory
James Ponder '25, technology exploratory
Poster #T4 | Smart Robot Car—Wally
Hailey Marcello '25, computer and electronic engineering technology
Edgar Mateo '25, technology exploratory
Sean McKenna '25, technology exploratory

Poster #T6 | Robotic Arm
Ben Bernier '25, technology exploratory
Peter Bateman '25, technology exploratory
Winners for ES 143P Course
Poster #E18 | Eyes Up Glasses
Ali Boushery '25, electrical engineering
Noah Swanson '25, mechanical engineering
Alicia Turton '25, civil engineering
Poster #E26 | Perfect Door Alarm
Noah Barbour '25, mechanical engineering with acoustics concentration
Edward Hart '25, engineering exploratory
Josiah Martin '25, engineering exploratory
Sierra Hill '25, mechanical engineering

Poster #E28 | PH Regulator
Anna Vandeberg '25, acoustical engineering and music
Ivan Herrera '25, mechanical engineering
David Ngethe '25, aerospace engineering
Emil Lisenbee '25, mechanical engineering
---
Select seniors who graduated on Sunday, December 5 also participated in the expo. They were tasked to work on projects in their field of study with faculty mentors or external project sponsors to design, fabricate, and/or test a device, process, or system. Students who participated were enrolled in the following classes:
ECE 483W—Capstone Design II for Computer and Electrical Engineering
ECT 481P—Senior Design Project II for Engineering Technology
ME 473W—Capstone Design Project II for Mechanical Engineering
Seniors were judges on a variety of criteria, including:
Clarity of the poster and oral presentations
Student's overall responses to the questions of the judges.
The completeness of the work.
Quality of the project.
Senior winners included:
Poster #S4 | MINK Aero
Jacob Kral '21, electromechanical engineering technology
Francis Novak '21, electromechanical engineering technology
Nishita Mirchandani '21, electrical engineering
Dominic Iacuone '21, electromechanical engineering technology
Poster #S5 | Sign2Speak
Joseph Pozzi '21, electrical engineering
Barkot Melaku '21, electrical engineering
Natenael Bekele '21, electrical engineering
---
Please join CETA in congratulating all students who participated in this semester's event. Please save the date for our Spring 2022 Design Expo on Friday, April 29, 2022. Any questions or comments, please contact cetacomm@hartford.edu.
Special thanks to Brody Monarca '24, audio engineering technology and electrical engineering double major, for taking photos throughout the event, including the winning teams with Dean Hisham Alnajjar. See more below!