The Future of Innovation: Recap of the Spring 2022 CETA Design Expo
The College of Engineering, Technology, and Architecture (CETA) hosted its Spring 2022 Design Expo on April 29, at the Sports Center.
The CETA Design Expo is a biannual event where student visionaries showcase their innovative projects. First-year students present after their first semester in the fall, sophomores present at the end of their second year in the spring, and seniors present their Capstone design projects in the spring or fall.
Design Evaluation Criteria
Performance: Successful task completion.
Creativity: How creative is the final product?
Level of Difficulty: How complex is the product?
Experimental Verification: Was the product performance evaluated according to a set of criteria?
Presentation:

Poster: Is the project goal clearly illustrated?
Oral: Are students well-rehearsed/prepared?
"It is a source of pride for the CEB faculty to see the professional growth in our students. The quality of the projects at the freshman, sophomore, and senior levels was outstanding. It gives us a great feeling of satisfaction and accomplishment knowing that the hard work of the student and faculty was not in vain."
Dr. Saleh Keshawarz, Professor and Chair Department of Civil, Environmental, and Biomedical Engineering, CETA
Winning Teams and Projects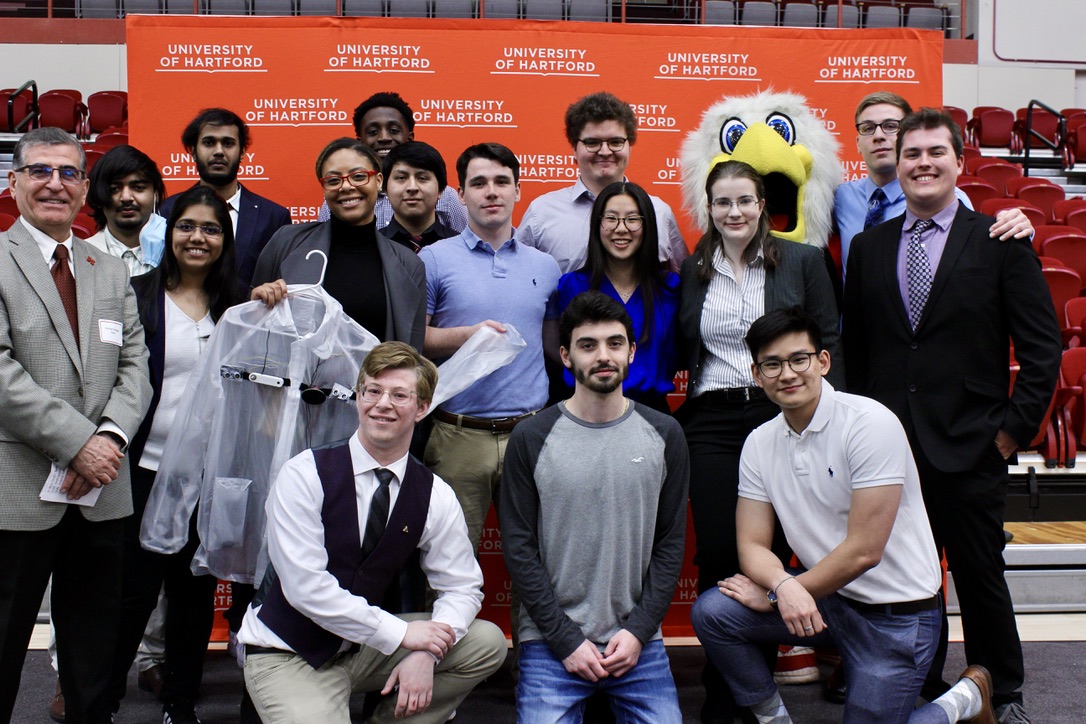 Each project was thoroughly evaluated by a group of judges including industry professionals, faculty/staff, and CETA student ambassadors. Every team demonstrated creativity, resourcefulness, and intentionality. The projects and teams listed here are the overall expo winners for each course and year.
Freshman - ES 143P
Electric Door Opener
Emmanuel Kurinaah
Rashed Alazemi
Saud Alazemi
Sophomore - ES 242P
See-4-Me
Dillon Camarillo
Likit Kannan
Monica Padykula
Thermal Jacket
Abdullah Boushehry
Caroline Hollingsworth
Ian Corn
Peter the Pet Feeder
Daniel Jimenez Gil
Evan Bouchard
Zahrah Alqallaf
Senior - BE 461P, ME 473, ECE 483W, & ADT 489
Medtronic
Jason Addi
Lauren Winters
Spencer Notick
Morphing Wind Turbine
Evan Appell
Kenneth Ong
Pierce Mulholland
Raul Illescas
Sri Kirushna Kannan
Samsundar Saibabu
Method for Automated Rivet Insertion
Grace Sierra
Jason Marshall
Richard Miller
Wearable Echolocator
Aidan Cunnane
Maisha Maliha
Rene Liz
Vanessa Martin
Brooklyn Police Station and Patrole Offices, Brooklyn, CT
Please join CETA in congratulating all students who participated in this semester's event! A special thank you to all of our student volunteers, faculty/staff, and sponsors who helped support this amazing event.
For any questions or comments, please contact cetacomm@hartford.edu.