CETA Celebrates Its Successful Seniors and Sophomores During Virtual Spring 2020 Design Expo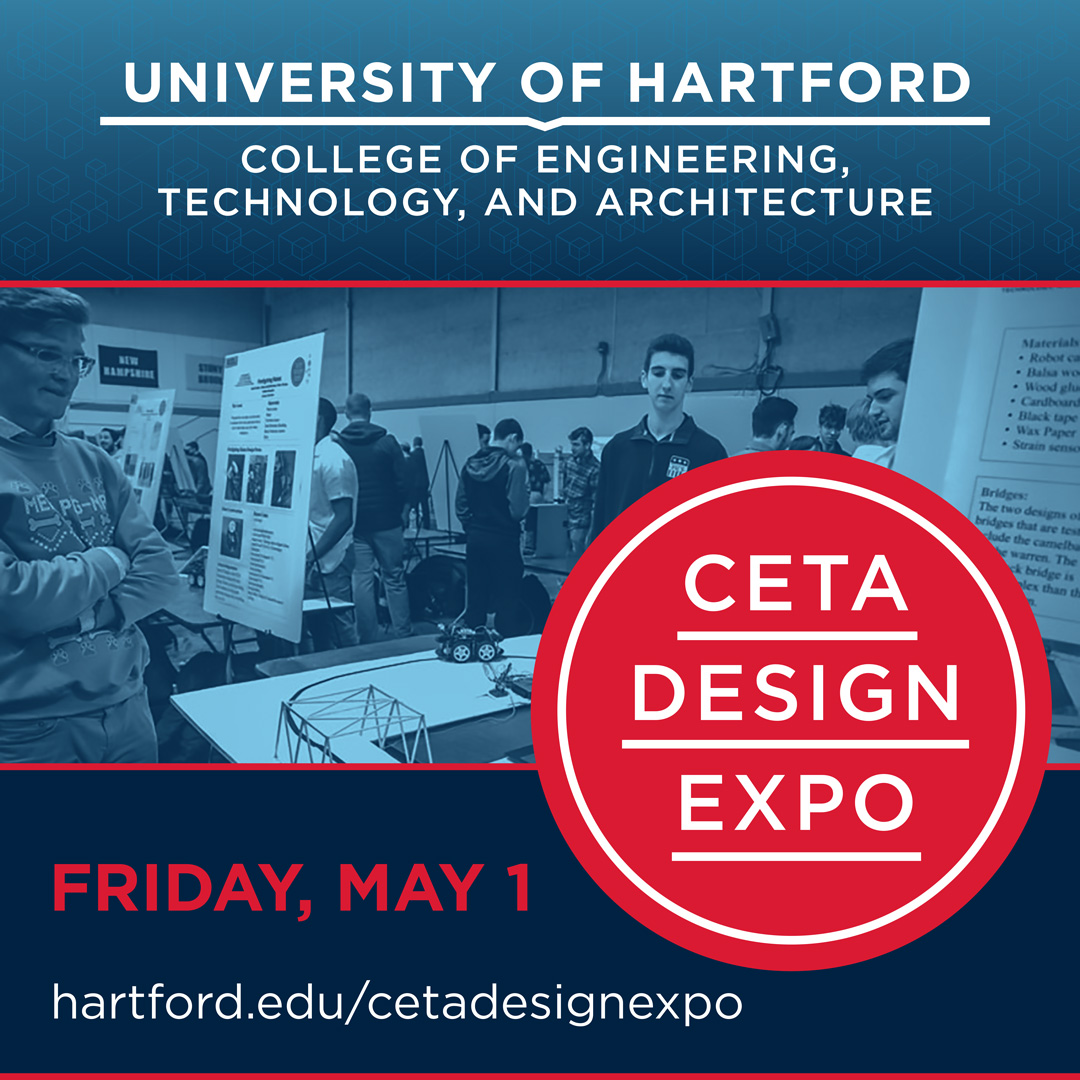 The College of Engineering, Technology, and Architecture (CETA) hosted its first virtual CETA Design Expo on Friday, May 1. Due to the University transitioning to distance learning in March, the spring 2020 CETA Design Expo was hosted as a virtual event. The College typically hosts the expo at the end of each semester, and provides students with the opportunity to showcase their innovative ideas, designs, and projects to various guests and judges. According to Dean Hisham Alnajjar, even though this semester was remote, it was just as important to have an expo as our students had already put in so much work into their projects.
The event showcased projects of some of CETA's talented sophomores enrolled in engineering design courses, as well as seniors presenting their capstone projects. Throughout the semester, students collaborated with each other and for some, industry sponsors, to develop and apply real-world solutions to design challenges. After transitioning to distance learning mid semester, students remained resilient and determined to finish their projects in time for the expo. Many stayed connected with their fellow teammates over the course of the semester remotely and put in additional effort to help the expo still happen. 
"Despite the increased challenge posed by the COVID-19 recess, our group was able to present our design in as much detail as possible," says Michael Wint '22, mechanical engineering major and team member on the Telescoping Cane project. "WebEx allowed the Expo to run smoothly, and we were happy to have our contribution recognized."
Students presented their projects throughout the day in their faculty's online meeting rooms. The event was open to the public, allowing for other students, parents, alumni, and CETA friends, who wouldn't typically be able to attend the in-person event, the opportunity to view from the comfort of their own home. Tina Berrien, human resources service partner in UHart's Human Resources Development office, is a parent of a current CETA student. She and her husband were grateful for the opportunity to see their son present.
Everything was so well organized and my husband I really appreciated being able to watch the poster presentations and awards. The event felt like it was designed to be virtual, rather than a replacement for a physical event; it was thoughtfully created and well done. I agree with Dean Alnajjar that this is the way that many of the students will be collaborating and presenting when they move beyond college."
Tina Berrien, Human Resources Service Partner, University of Hartford
The day kicked off with the ES 242: Engineering by Design course design challenge with CETA sophomores. This design challenge is focused on using engineering analysis and design principles to address global problems such as hunger, environment/pollution, and infrastructure. The spring 2020 challenge focused on solutions that address some aspect of a global problem with, whenever possible, simple, low-cost solutions that are easy to implement, operate, and maintain, particularly in areas that lack significant infrastructure to support more expensive, high-tech approaches.
The winners of the sophomore design challenge will have the opportunity to join CETA Dean Hisham Alnajjar for lunch during the fall semester. Join us in congratulating the following sophomores on winning this year's design challenge (listed in no particular order):
Poster #SO1-1 (led by Ulrich Decher, PhD)
B.A.A.K. Door Counter
Jason Addi '22, biomedical engineering; Abalziz Alyahya '22, mechanical engineering; John Bugay '22, mechanical engineering; and Rasheed Kelly '22, mechanical engineering
Poster #SO2-4 (led by Phil Faraci, MEng)
Telescoping Cane
Vanessa Marin '22, electrical engineering; Hunter Rock '22, civil engineering; and Michael Wint '22, mechanical engineering
Poster #SO3-4 (led by Enrico Obst, MEng)
Portable Electric Device and Hand Sanitizer
Raffaele Di Vita '22, mechanical engineering; Michael Sciancalepore '22, computer engineering; and Philip Mader '22, mechanical engineering
Poster #SO4-1 (led by Todd Brown, MS, PE)
Drip Irrigation to Control Varroa Mites
Sydney Lewis '22, civil engineering with environmental engineering concentration; Kaya Pina '22, computer engineering; and Jonah Berrien '22, architectural design + technology and civil engineering
Poster #SO5-6 (led by Kevin McGivern, DS)
21st Century Alarm Clock
Simon O'Neil '22, electrical engineering and audio engineering technology; and Zamir Primus '22, mechanical engineering
Poster #SO6-2 (led by Takafumi Asaki, PhD)
Magic Mat
Daniel Baqaeen '22, computer science and engineering; Antonio Corrado '22, mechanical engineering; Nishita Mirchandani '22, electrical engineering; and Grace Sierra '22, mechanical engineering
The senior design/capstone challenge followed in the afternoon, showcasing the culminating experience of CETA's graduating seniors. Students work on projects in their field of study with faculty mentors or external project sponsors to design, fabricate, and/or test a device, process, or system. This is a major design experience based on the knowledge and skills acquired in earlier course work and incorporating industry-appropriate standards and realistic constraints. Thirteen finalists were chosen (one from each faculty room) to compete in the senior "shark tank" presentations where they pitched their concepts to all judges and guests. Final winners were chosen from this round. 
Join us in congratulating the following seniors on winning this year's senior design/capstone challenge (listed in no particular order):
Poster#SR1-5 (led by Bruce Plumley, MS)
Thomas Hooker Brewery: IoT
Aurian Emami '20, electromechanical engineering technology; and Tyler Beauregard '20, computer engineering
Technical Advisor: Kiwon Sohn
Sponsor: Thomas Hooker Brewery
Poster#SR4-2 (led by Mary Arico, PhD
Vibrotactile Receptor Testing Device
Jenna Bridges '20, biomedical engineering; and Michael Kohler '20, biomedical engineering
Technical Advisor: Takafumi Asaki
Poster#SR7-3 (led by Akin Tatoglu, PhD)
Breast Cancer Bio-Marker Detection Device
Kaelaan Maynor '20, mechanical engineering; and Mustafa Salman '20, computer engineering 
Poster#SR12-3 (led by James E. Fuller, AIA, NCARB)
Grondalshus
Student(s): Karoline Petersen '20, architectural design + technology
The event would not have been possible without a group of expert judges, many of whom were grateful to have participated in the virtual event and see the fine work that CETA students put together. Kent Schwendy, president/CEO of CIL, has judged the CETA Design Expo several times and was previously a project mentor. He has noticed the growth of our students between their early years to senior years. "This is a testament to the good job being done by the faculty in training and mentoring the students in the intervening years," he says.
Another judge, Jeffrey R. Fournier, senior project manager at Carlin Contracting Co., Inc. was also honored to participate in the event. He, too, has previously judged the CETA Design Expo twice and has joined the College for other career-ready events "Besides incredible projects, the students took away something very special," he says.  "The University continues forward with the best education possible regardless of the times and difficulties. The students had their day, and you made it happen for them. They too, in time, will look at different and difficult times knowing that they can step up when called." 
Please join the College in congratulating all our students who participated in the spring 2020 CETA Design Expo.