From the latest innovative projects being created inside and outside our classrooms, to new faculty research and alumni updates, CETA is busy year-round with exciting news and events. Check back frequently for updates. 
For more news about the University of Hartford, click here.
Subscribe to our quarterly eNewsletter, CETAVIEW, here.
Latest News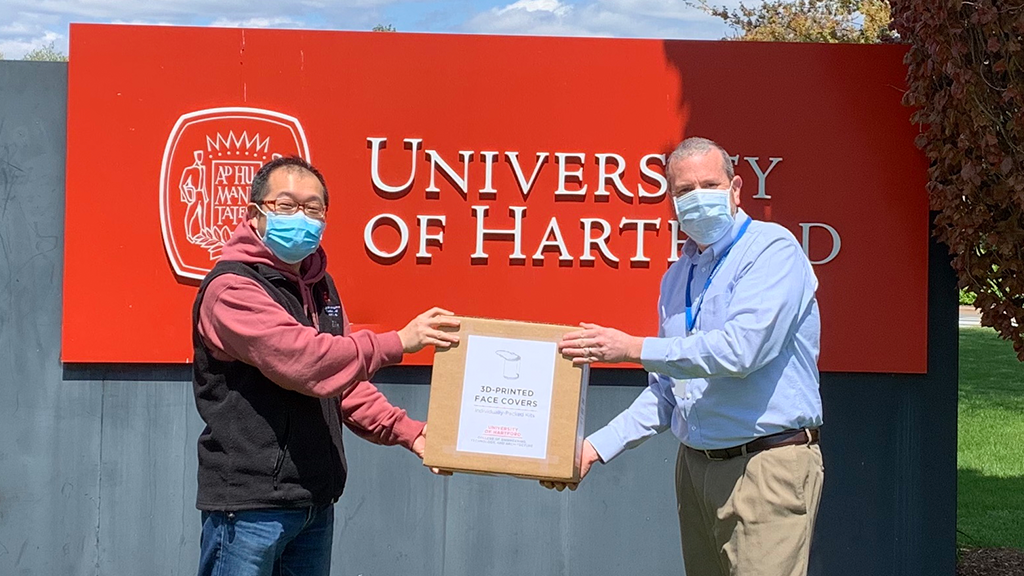 CETA Faculty and Staff Produce 175 3D Printed Face Covers for Local Health Care Professionals
Nine members of the College of Engineering, Technology, and Architecture (CETA) at the University of Hartford saw a problem—the shortage of PPE (Personal Protection Equipment) for health care workers working during the COVID-19 pandemic—and came together to help solve it. In less than a two-week time span, they joined forces; selected and modified a design; gathered and ordered materials; picked up 3D printers from campus; and printed, assembled, and completed for delivery, to date, 175 highly coveted face covers for local health professionals.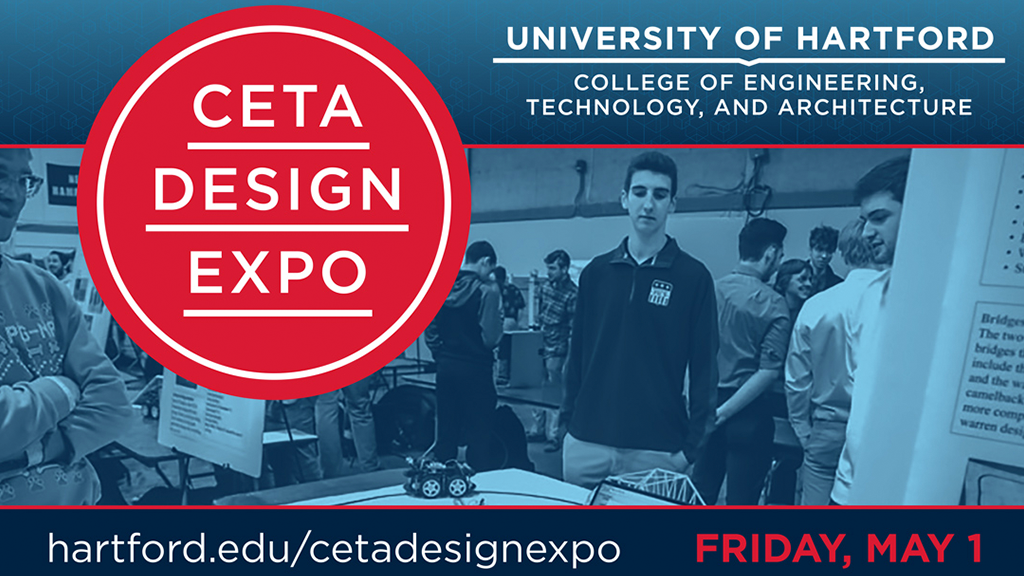 CETA Celebrates Its Successful Seniors and Sophomores During Virtual Spring 2020 Design Expo
CETA hosted its first virtual Design Expo on Friday, May 1. Due to the University transitioning to distance learning in March, the spring 2020 CETA Design Expo was hosted as a virtual event. The College typically hosts the expo at the end of each semester, and provides students with the opportunity to showcase their innovative ideas, designs, and projects to various guests and judges.
More News From CETA
Featured in Spring 2020 CETAVIEW Newsletter
Subscribe to our CETAVIEW eNewsletter here.
Nine Engineering Students Attend BMES Annual Meeting. Read more.
CETA Celebrates First-Year Students at Annual Academic Excellence Luncheon. Read more.
UHart Architecture Students Collaborate with Webb-Deane-Stevens Museum on Architectural Model. Read more.
Audio Engineering Technology Students Tour Telefunken's HQ Through Growing Partnership. Read more.
Allan Penda, Adjunct Professor of Mechanical Engineering, Honored with the University of Hartford's Engineer of the Year Award in February. Read more.
CETA Celebrates 2020 National Engineers Week. Read more.
University Announces Recipients of Regents' Honor Awards for Graduate Students. Read more.
UHart's Society of Women Engineers (SWE) Recognized with Multiple Awards This Spring. Read more.
UHart's Institute of Transportation Engineers (ITE) Student Chapter Recognized at Regional Professional Meeting. Read more.
Department of Architecture Hosts Virtual Student Awards Ceremony. Read more.
Female CETA Students Empower Young Girls at Tech Savvy Conference. Read more.
UHart's Formula Society of Automotive Engineers Team Led by Students from Different Majors. Read more.
Civil Engineering Students and Faculty Take Field Trip to Connecticut Department of Transportation. Read more.
University of Hartford Ranked in Top Quartile of Best Engineering Programs. Read more.
Hisham Alnajjar Named Dean of University of Hartford's College of Engineering, Technology, and Architecture. Read more.
Pratt & Whitney Establishes Scholarships for University of Hartford Mechanical Engineering Students. Read more.
New Robotics Program at the University of Hartford. Read more.
Two Architecture Students Awarded by CT Green Building Council. Read more.
CETA First-Year Students and Seniors Participate in Fall 2019 Design Expo. Read more.
CETA Student Intern, Recent Graduate, and Adjunct Faculty Collaborating in Real World. Read more.
Architecture Graduate Students Participate in Summer International Research Initiatives. Read more.
Share Your News!
If you are a University of Hartford student, faculty/staff member, or alumni and have news to share, we'd like to know!