Ten Outstanding UHart Alumni Honored with Anchor Awards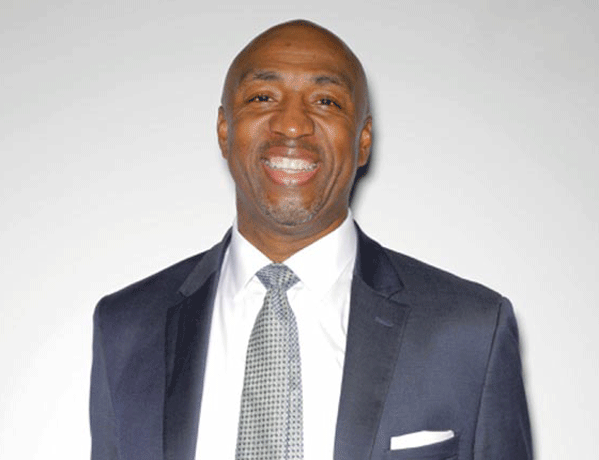 The University of Hartford honored 10 of its top alumni during its annual Anchor Awards ceremony on Thursday, Oct. 14. The Anchor Awards recognize alumni who have distinguished themselves by achieving the highest levels of professional and community accomplishments.
Distinguished Alum Award
Vincent "Vin" Baker '93 (Hillyer, A&S) received the Distinguished Alum Award, awarded annually to an alum who embodies the highest caliber of personal and professional accomplishments, strength of character, and representation of our University values.
Baker is assistant coach of the 2021 NBA champion Milwaukee Bucks. To date, he remains the greatest men's basketball player in the University of Hartford's history. Baker began at the University's Hillyer College before advancing to the College of Arts and Sciences to major in communication. He was drafted into the NBA as the eight overall pick by the Milwaukee Bucks in 1993 and played for seven teams in his 13-year NBA career and was a four-time All-Star. He was also a member of the gold-medal winning 2000 U.S. Men's Olympic Team.

In 2018, Baker founded Bouncing Back: The Vin Baker Foundation, a nonprofit organization dedicated to reducing the impact of addiction and promoting sobriety. The foundation's mission is to treat, educate, and motivate those who are most endangered by addiction with life-saving work that enriches the lives of individuals, families, and communities.
The University of Hartford has always been a special, special place to me. I learned so much about life and so much about myself. I learned about courage, I learned about success, I learned about failures, and I learned how to embrace all of them…all these things gave me the ability to compete, participate, survive, and thrive in the world.
Vin Baker '93, Distinguished Alum Anchor Award Recipient
Meet the Other Award Recipients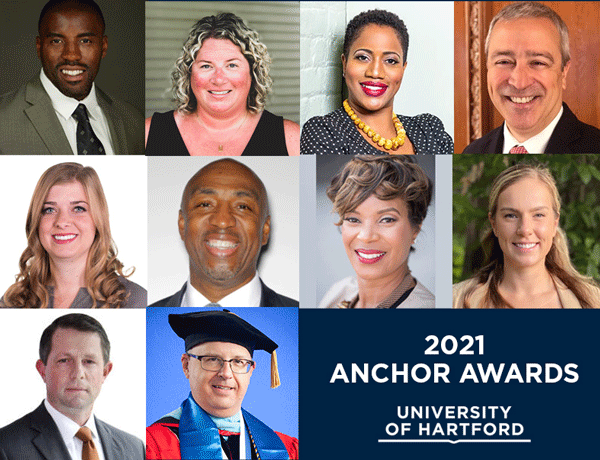 Outstanding Alum: Impact on Social Responsibility/Civic Engagement
Steve Collins '89 (Hartt)
Collins has served as the executive director of the Hartford Symphony Orchestra (HSO) since 2016. Collins previously served as the orchestra's director of artistic operations and administration, helping guide the organization through a radically changing cultural environment, financial landscape, and role as a leading regional arts organization.
Senator Sonya Halpern M'90 (Barney)

Senator Halpern was elected in 2020 and is currently serving in her first term in the Georgia State Senate. Representing neighborhoods in the five cities of Atlanta, City of South Fulton, College Park, East Point, and Union City, District 39 is one of the most socio-economically diverse in the state. With a passion for the arts, politics, and education, Halpern has dedicated her civic and philanthropic engagement in these areas over the past two decades.
Outstanding Alum: Exceptional Early Career Professional
Lauren Fleming '13 (CETA)

Fleming is a rising star in the architecture industry. For the last six years, she has been an architect at Minneapolis-based Miller Dunwiddie, working closely with the project team, consultants, and contractors, collaborating closely to meet each project's design and technical goals. Most notably, she has worked on several projects at the Minneapolis-St. Paul International Airport.
Outstanding Alum: Exceptional Professional Success
Ryan Gardner '01(Barney)
Gardner is a founding partner of Fiducient Advisors, an investment consulting firm and registered investment advisor. Since the firm's inception in 2006, Gardner has played a key role in its growth and development, serving as managing partner, head of defined contribution and member of the firm's executive committee.

Nicole Hughey M'99 (Barney)

Hughey is vice president of diversity, equity, and inclusion at SiriusXM. With more than 25 years of corporate experience, the majority focused on diversity, equity, and inclusion (DE&I) efforts, she previously served as a senior D&I leader at Mass General Brigham, New England's largest health-care organization; and Travelers Insurance Company. In these roles, she played an integral part in developing and executing diversity strategies that impacted more than 75,000 and 30,000 employees, respectively.
Aymsley Mahoney '06 (A&S)
Aymsley Mahoney is the executive director at Alliance Health at Braintree, a not-for-profit corporation that provides nursing and rehabilitation services to a primarily geriatric population. The facility holds 101 residents and employs approximately 200 healthcare personnel.
Mahoney began her career there in 2011 as a licensed clinical social worker before completing the Federal Nursing Home Administrators Board exam and taking on her current role as executive director. This year, she celebrates an impressive 10 years at Alliance Health. The last year and half have been the most challenging of her career—maintaining the dignity, health, safety, and wellbeing of her patients and staff during the pandemic.
Steven Minkler '86 M'00 D'08 (A&S, ENHP)

Minkler is chief executive officer (CEO) of Middlesex Community College in Middletown, Connecticut. He leads an institution with nearly 5,000 students enrolled in associate degree, certificate, and workforce development programs offered at its main campus, a satellite location in Meriden, manufacturing centers at two technical high schools, online, and at numerous dual-enrollment, clinical, and internships sites. Minkler's impressive career in higher education spans 35 years at three of Connecticut's community colleges.
A proud University of Hartford alumnus, Minkler holds three degrees from the University: a bachelor's and master's in communication, and a doctorate in educational leadership.
Outstanding Alum: Impact on the University of Hartford
Alexa Keener '16 M'18 (Barney)
Keener serves as a human resources business partner at CVS Health, a position she took on after the acquisition of Aetna by CVS Health. Keener served in a variety of roles at Aetna, including human resources consultant and financial analyst, and was a founder of the Aetna Hartford Alliance, which has helped grow the University's alumni network at Aetna. 
Outside of the University, Keener lends her skills to a number of local organizations. She is the current selectman and board of public safety candidate for the City of Torrington. In 2020, she became the vice chair of the Torrington Democratic Town Committee, a position she still holds today.
Watch the Virtual Ceremony