Female CETA Students Empower Young Girls at Tech Savvy Conference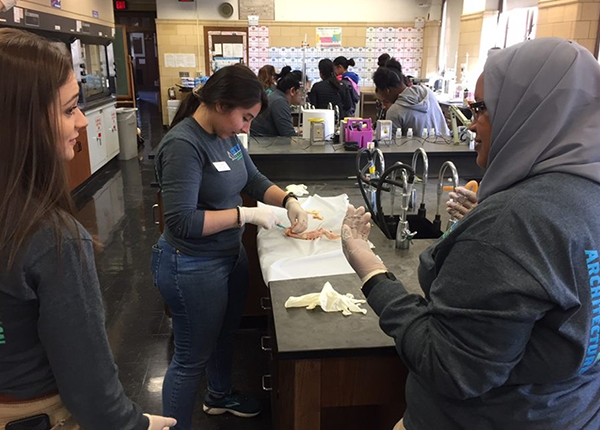 Seven female students from the College of Engineering, Technology, and Architecture (CETA) participated in the seventh annual Tech Savvy Conference on March 7, 2020, in Hartford, Conn. The annual event, which is sponsored by the American Association of University Women (AAUW/CT), is for sixth- to-ninth-grade girls who want to learn about careers in science, technology, engineering, and math (STEM).
The students who participated included Josephine Garcia '20, an electrical and computer science double major; Aikaterini (Kaiti) Stylianides '20, a mechanical engineering major with acoustics concentration; Michaela Manzi '21, a computer engineering major; Ella Telford '21, an audio engineering technology major; Yasmin Albur '21, a biomedical engineering major; Erica Petersen '22, an audio engineering technology major; and Dinea Frasca '20, an architectural design + technology major. Many of these students also participated in Girl Day this year during National Engineers Week, a day of awareness that encourages individuals to introduce a girl to engineering, thus inspiring her to work in a STEM or engineering-related field in the future.
Tech Savvy is a great event for girls in middle and high school. It gives them exposure to science and how they themselves can follow in the same paths. It is especially crucial at these ages where it can be very memorable. The girls also can meet and talk to other females who are working in the industry or studying a STEM subject. It makes liking science and pursuing it a possibility in their future! It an inspiring event that I look forward to next year.
Erica Petersen '22, BS, Audio Engineering Technology
The University of Hartford and CETA has been involved with this conference for many years thanks to Mary (Cater) Arico, assistant professor of biomedical engineering. She works with different female students each year to bring them to the conference. "Women are underrepresented in STEM fields, and there has been no improvement since I was a kid," Arico says. "Events like Tech Savvy help to introduce more girls to STEM fields and introduce relatable STEM role models. Having our students involved is really important because they help to break down the stereotypes and gender biases for the participants. Our UHart students have been awesome."
Fox 61 News aired this story about the event, showing footage of our students (look for the CETA t-shirts) working with the girls throughout the day. Please join the College of Engineering, Technology, and Architecture's faculty and staff as we show our appreciation to these students and assistant professor Arico for their dedication to educating young girls on the power and potential they have in STEM.