CETA Celebrates 2020 National Engineers Week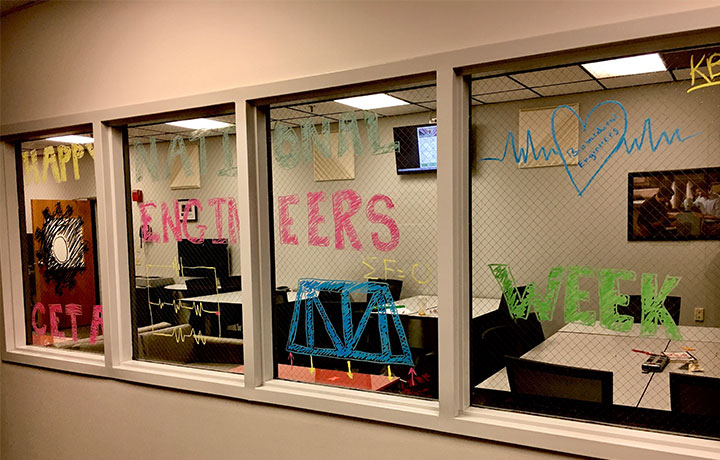 The College of Engineering, Technology, and Architecture (CETA) celebrated National Engineers Week at the University of Hartford through various activities each day to inspire our future engineers.
CETA has been celebrating Engineers Week for many years. Students always look forward to seeing how they can participate. "I became an engineer because I love the challenge and Engineers Week is a great way to celebrate all the challenges we have overcome throughout the year," says Michaela Manzi '21, a computer engineering major in the College who has participated in the activities since her first year.
The week kicked off with a Movie Monday feature of First Man, the story that follows key events that led to the historical moonwalking during the 1960s through the perspective of engineer Neil Armstrong.
On Tuesday, Associate Professor Ted Sussmann hosted a fundamental reviews workshop for students to learn tips and tricks for successfully completing the Fundamentals of Engineering (FE) exam. Many soon-to-be graduates are encouraged to take this exam shortly after completing their undergraduate degree as much of the information they learn in their courses is relevant to this exam. 
On Wednesday, CETA staff and Center for Student Success (CSS) first-year advisors Julie Spring and Travis Karas hosted a party in the CETA student lounge for all students with cake, music, and giveaways. It was a fun opportunity for some of the first-year students to meet with upperclassmen within the College. 
Finally, on Thursday, seven female students from CETA's student leadership society and society of women engineers (SWE) UHart chapter visited the University of Hartford Magnet School to celebrate Girl Day, a day of awareness that encourages individuals to introduce a girl to engineering, and inspire them to work in a STEM or engineering related field. The students made an exciting presentation to a group of second graders on influential female engineers from history, and how impactful engineering is in our day-to-day lives. The day concluded with a building activity with the students to teach them the ins and outs of engineering.
From the time I checked underneath the hood of a car and the first time I got on a plane; I knew that I wanted to become an engineer. Being an engineer gives me the freedom to be a free thinker and physically create or change anything that I imagine. Engineers Week to me is a time to appreciate engineers who helped, inspired, and changed other engineers lives and perspectives on engineering.
Ricky Sullivan '20, BSME
CETA celebrates National Engineers Week in United Technologies.
Cake to celebrate National Engineers Week.
Students and staff participate in Girl Day activity at University of Hartford Magnet School.