UHart Research Team Prepares for Eclipse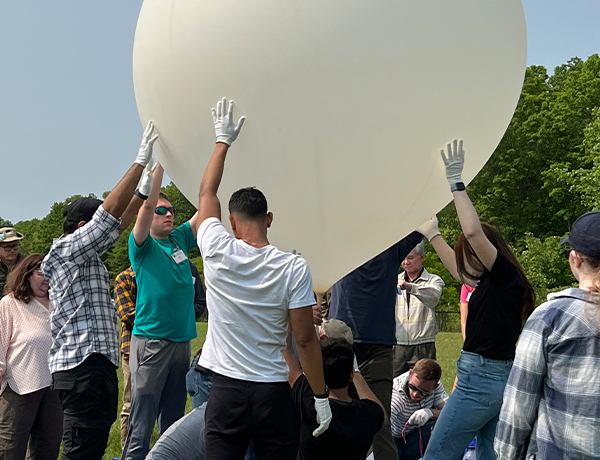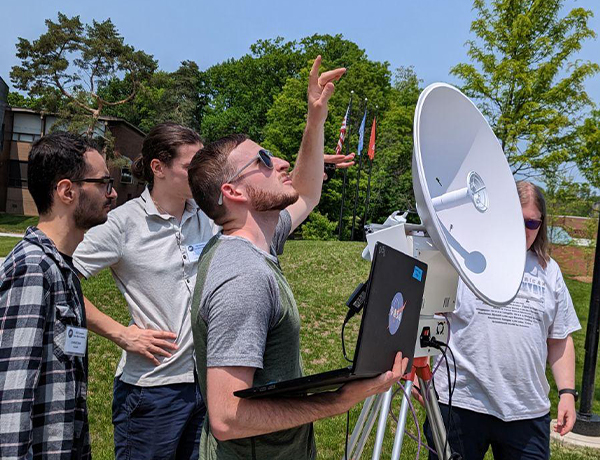 Up, up, and away. The large, white balloon sailed into the sky over a University of Hartford field, as students, professors, and scientists cheered and watched it disappear. 

But it wouldn't be lost and gone forever. About 20 minutes later, the group piled into cars to track the research tool so they could retrieve it…even if it meant somehow plucking it from a tall tree or a backyard. 

Sure enough, after the high-altitude balloon ascended to 20,000 feet, it landed high up in leafy branches of Coventry more than 25 miles away from campus. Mission accomplished…for now. This launch on a warm May morning was practice (and covered by Fox 61, NBC CT, the Hartford Courant, and Hearst CT Media). 

A UHart team is preparing for a balloon launch and research project during the partial solar eclipse coming in October, and wants to ensure things go off without a hitch. A few aspects will be different on the big day: the balloon will climb 100,000 feet and travel farther, it will collect data on how the eclipse affects weather, and the group will be launching it in Albuquerque, New Mexico. 

"The test is allowing us to see how the balloon set-up works, get the helium into it, and see how everything is going to go," said Jessica Camarillo '24, who's majoring in mechanical engineering at UHart and interning at Pratt & Whitney this summer. "I've always been interested in space and astronomy, so when I heard about this project, I immediately wanted to do it. We started working on this in January."

It's all part of the NASA-supported Nationwide Eclipse Ballooning Project, and a concentrated effort at UHart to provide students with real-world, hands-on experiences that prepare them for their career paths and future research opportunities that they're passionate about.

NEBP selected 55 teams of students around the country to conduct research, and provided them with equipment. UHart's group includes 14 students of various majors, including some from Tunxis Community College in Bristol. They've been learning about the payload (a piece of equipment communicating data) that will be carried by the balloon, computer software involved, how to prepare the balloon (gloves are required to protect it from oils on hands), and how it will all show the domino effects of an eclipse.

The recent test launch also included students on teams from other schools both in and outside of Connecticut. They'd gathered at UHart for a week of workshops focusing on the NEBP work, but each team will launch separate balloons for the fall eclipse. They'll each launch again for a total solar eclipse in April.

"Our team is currently designing experiments for the official launch," says Paul Slaboch, director of UHart's aerospace engineering program and an associate professor of mechanical, aerospace, and acoustical engineering in UHart's College of Engineering, Technology, and Architecture. "An eclipse can cause a sudden change in temperature. If we can study that, we can help figure out how those quick changes affect weather, ozone development, storm development, and more."

Slaboch, who has long worked with NASA on various research projects, said the team (and balloon) will collect data for their own studies and submit it all to NASA. Plus, high-definition cameras will be on board. 

Until then, they'll continue preparing for an out-of-this-world educational experience.