UHart Students Identify and Implement Projects to Support Five Points Center for the Visual Arts Grand Opening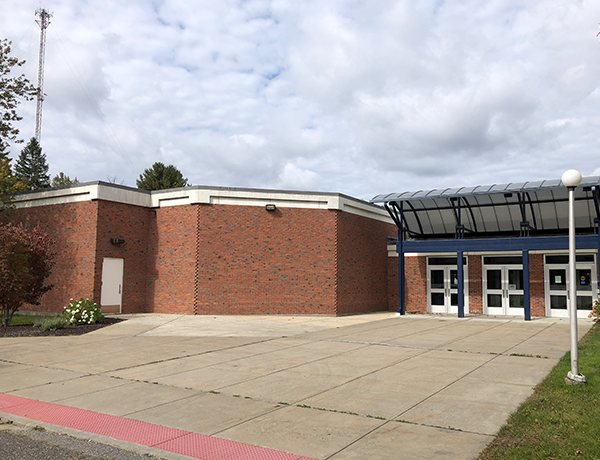 The University of Hartford (UHart) and Five Points Center for the Visual Arts (FPCVA) are partnering on a new initiative to assist FPCVA in its opening of a world class art center. While the well-known gallery will remain downtown, the new FPCVA site, located on what was formerly the University of Connecticut's Torrington regional campus, will include a 30,000- square-foot classroom building and 90 bucolic acres that will be transformed into a dynamic facility for cutting-edge exploration and community-driven activity. The Art Center is planned as a state-of-the-art cross disciplinary facility complete with an Art Park focused on the ecology and planet sustainability. The Center, when fully operational, will offer artists and community members access to workspaces equipped for Printmaking, Alternative Photograph Processing, Ceramics, Digital Art, Sculpture, Painting, Drawing and 3D fabrication. The 245-seat auditorium will offer artist talks and documentaries. Visitors will be able to enroll in workshops, drop their kids off at the Children's Lab, enjoy a snack from the Café, explore the library with over 1,000 publications, browse the gift shop, meditate in the Courtyard Sensory Garden, walk the Art Park's paths and trails (with four-legged friends), create, explore, relax and learn!
Students in four of UHart's schools and colleges will have a unique opportunity to collaborate for FPCVA while contributing to different aspects of this initiative based on their programs and talents. Various projects will be incorporated into curriculum during the upcoming spring semester, and other students will have the opportunity to work on projects through internships at FPCVA. This new initiative will offer significant value to the new Center while creating real-life, hands-on student learning opportunities.

Students in the Barney School of Business, the School of Communication in the College of Arts and Sciences, the Hartford Art School, and the College of Engineering, Technology, and Architecture will contribute various projects including:
Developing a marketing plan based on competitive analysis and target market analysis
Assisting with marketing and public relations (PR) creative, such as invitations and brochures
Contributing to the physical plant through projects including a print shop HVAC analysis and developing a Courtyard Sensory Garden
This opportunity stems from a nearly five-year partnership between UHart and FPCVA. Five Points Executive Director Judith McElhone is a University alumna, where she earned a BFA in 1988 and MFA in 1994 from the Hartford Art School. She holds a passion for education and community outreach, serving as a trailblazer for the next generation of artists. "As an educator, I had the opportunity to teach at my alma maters UHart and Northwestern Connecticut Community College where I started my art education," says McElhone. "Because of my experience, as well as watching my own daughters pursue art degrees, I know how difficult it is for students to graduate from an art school and then think, then what?" McElhone was inspired to establish a consortium agreement with the University of Hartford's Hartford Art School, University of Connecticut, and Northwestern Connecticut Community College, as a gateway for college students pursuing professional art careers. This initiative ultimately inspired the Launchpad program, founded in 2017, which is offered to recent Hartford Art School graduates to continue practicing art. Participants have 24-hour, seven-day-a-week access to a studio space they rent for just $85 a month above the Five Points Gallery downtown location, where they can practice their art, from painting to printmaking to photography. "[The program] affords graduates of the Hartford Art School affordable, shared studio space, mentorship opportunities with professional artists, and an affiliation with Five Points Gallery," McElhone adds.

"All of us at the University of Hartford are delighted and look forward to continuing this partnership with FPCVA," says UHart Senior Director for Strategic and Corporate Engagement Lynn Baronas. "Our ongoing partnership is important in so many respects—our students will learn and grow through work on cross-disciplinary project teams, and will contribute to the launch of what promises to be a significant cultural destination in Connecticut's Northwest Hills. We really enjoy working with Judith and Five Points, and are excited to play a role in this important initiative with our valued partner." McElhone echoes Baronas' sentiments and adds she is humbled to work with her alma mater and current Hartford Art School students.
As someone who has taught at the college level for a number of years, I have a great deal of respect for these students. They continue to show determination and strength, especially during the current pandemic, and I hope these new projects give them something new to look forward to during this upcoming semester"
Judith McElhone '88, M'94, Executive Director, Five Points Center for the Visual Arts
What makes this initiative so unique, McElhone explains, is how students from different majors across campus will have a chance to work together. "What's amazing to me about this new partnership is that the University that I graduated from is so forward thinking, in that that it is giving its students real-life experience in their classes. The best part is the work is not being done in separate silos, but rather, students from different areas are working together and bringing their work into the community."

McElhone also praises the faculty and staff at the University of Hartford who are involved in this initiative, describing them as some of the most committed and compassionate professionals she has ever met. "This partnership truly benefits many individuals," she says, including UHart students and local artists—and will continue to do so once the Center officially opens. "The fact that I can be part of this is exciting."