Three Architecture Students Awarded by CT Green Building Council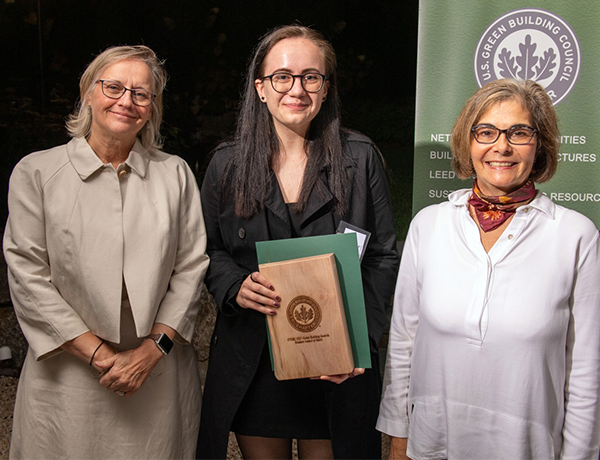 Architecture students Maria Ceban '22, M'23, Brandon Fuentes '21, M'22, and Eric Cantar '21, M'22 represented the University of Hartford at the 2021 CT Green Building Council annual awards this fall. The 15th annual night out held on Oct. 7 recognized each of these students and their work in two key categories: Student Design Award of Merit and Student Design Award of Honor.

Maria Ceban '22, M'23
Ceban earned the Student Design Award of Merit award for her project, The Ulmus Pumila. The Ulmus Pumila, Latin for "Siberian Elm," is designed to be located at 37 Union Ave, New Haven, Conn. It is a four-story mixed-use residential building, with the goal to become a sustainable eco-organism that would challenge the traditional look of housing, where nature and building would coexist and work together to create energy and a modern living and recreational experience.
Taking upon a difficult site, Ceban says the building presents one prominent feature – vertical balcony gardens that provide visual comfort and privacy, absorb carbon dioxide, reduce noise, and take part in the rainwater collection system. Besides that, the building contains photovoltaic panels, natural light and ventilation, geothermal heating and cooling, use of exclusively sustainable materials, provision of a recycling collection facility, and other sustainable features. The design process of the Ulmus Pumila was a large education-al process, and Ceban hopes that it will serve as an inspiration for others.

When asked about her thoughts on winning, Ceban said it was entirely unexpected.
Receiving this award has inspired me to work harder, to challenge myself to produce even better work, to become my own competition. Having my work recognized with such an award made me realize my career path could thrive in architecture and that this is just the beginning.
Maria Ceban '22, M'23, architecture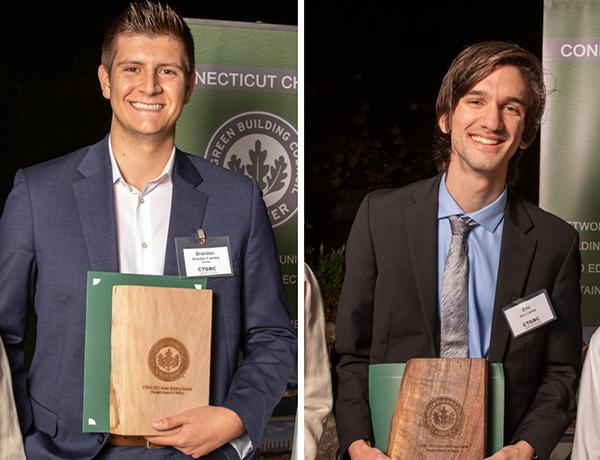 Ceban produced this project in her Architectural Design IV course and says her success would not have been possible without the friends she made at UHart who kept pushing her to work when I was ready to give up. Furthermore, she credits her studio professor at the time—Stephen Charles Smith. "If it was not for his challenging assignments, class organization, dedication, determination, drive, interest in sustainability, and ability to inspire students to be the best versions of themselves, I would not have been receiving this award," Ceban says.

Brandon Fuentes '21, M'22
Fuentes earned the Student Design Award of Merit award for his project, The Palisade Hotel. He was previously recognized in the 2020 awards for the same category, so he was incredibly honored to have been a repeat recipient two years in a row.
The Palisade Hotel is located on the corner parcel just off the intersection of Main and High Street in Hartford, Conn. The goal of this project is to revitalize this corner parcel while incorporating the two existing buildings on site linking with the proposed DoNo Development along Main Street. According to Fuentes, the clientele of this project was deemed to be an unspecified developer looking for a boutique hotel that provides at least eighty hotel units for incoming guests. The developer's request for the parcel was to maximize the development potential of the site while retaining/incorporating the existing buildings into the design of the boutique hotel. This project looks at utilizing sustainable systems and design methods to create a very sustainable yet functional adaptive reuse design. Since this parcel is near downtown Hartford, this provides guests on business to stay within the city with a very short commute to their place of work.

Fuentes shared that this project in particular required a lot of hard work, dedication, and focus along with thorough construction detailing and sustainable thinking to bring this project to an advanced level. He appreciated the comments and feedback from the judges of these awards and was proud his dedication was recognized by others. "I also found the event as a whole was a great opportunity to network with other individuals interested in sustainability, meet practicing professionals, professors, and bring together friends and family," Fuentes says. He credits his faculty in the Department of Architecture for preparing him for this experience once again. "By providing a fantastic studio experience with amazing student and professor collaborations and the continuous support no matter what project I am working on, I want to thank each of my faculty here at UHart." In particular, Fuentes recognized Professors Mark Hopper, William Richter, and Seth Holmes. Hopper and Richter helped Fuentes in the building and landscaping design phases, where Holmes helped in the sustainable aspects and building analysis of the project.

Eric Cantar '21, M'22
Cantar earned the Student Design Award of Honor award for his project, The Array Hartford Boutique Hotel. He was part of the same cohort as Fuentes recognized in the 2020 awards for the Student Design Award of Merit category. He mentioned how proud he was to have earned an award at the next level for this year's event, suggesting his skills are developing and he is becoming a better architect as he works on his master's.

The Array is a boutique hotel that is also an adaptive reuse project of the flatiron building and the arrowhead Cafe in the downtown North area of Hertford. Cantar says the goal was to create an establishment that provides a unique and affordable experience for any patron that chooses to stay there. The development of efficient and successful mechanical systems played a critical role when designing the piece. Furthermore, another important goal of the project was to make it a sustainable building and to incorporate different green systems such as solar energy and passive shading systems.
Similar to Ceban and Fuentes, Cantar credits his faculty for preparing him to develop such a comprehensive award-winning design. He also worked with Hopper as his main professor on the project. "He was amazing at guiding my hand through the design process of the project," Cantar says. He also credits Holmes for helping him develop all of the building systems and the sustainable aspects of this project.

Congratulations to these students!
The Ulmus Pumila
The Ulmus Pumila
Physical model of Ceban's project, The Ulmus Pumila.
The Palisade Hotel
The Palisade Hotel
Cover photo rendering of Fuentes' project, The Palisade Hotel.