UHart Launches New Program in Aerospace Engineering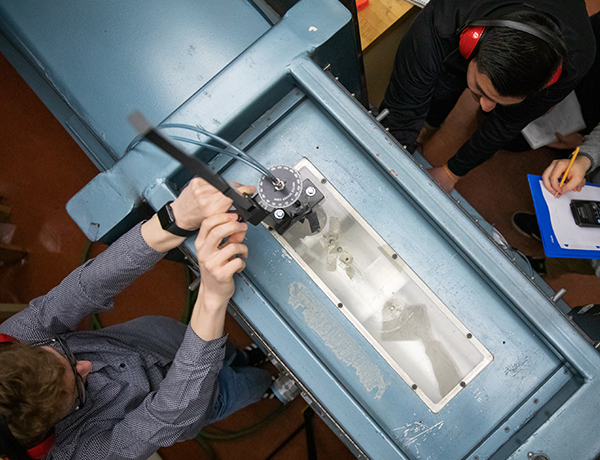 The University of Hartford is launching a new undergraduate program in aerospace engineering this fall to meet the demand for professionals in this growing sector. This will be the only program of its kind in Connecticut, which is known as the "Aerospace Alley'' as both a pioneer and a global leader in aerospace and defense. To add, Connecticut's aerospace and defense worker productivity is ranked third in the country. This offers students a unique advantage to explore a career path within the same state they are studying in, making it highly likely that they will take advantage of various internship and job opportunities near campus.
The College of Engineering, Technology, and Architecture (CETA) will begin offering the program in fall 2021. The new program aligns with the College's mission of continuing to prepare students for the jobs of the future. As the field of engineering evolves year after year, the types of jobs students need to be prepared for will also evolve. To stay ahead of this curve, CETA continues to offer adaptive coursework, the most up-to-date technology and software for hands-on learning, and new partnerships with local industry to help students build rewarding connections with professionals.
The new program is launching at a time when the field of aerospace engineering is growing. The Bureau of Labor Statistics projects this industry to see 3 percent job growth nationally and 7.3 percent job growth locally in Connecticut over a 10-year period ending in 2029. Students will be able to explore rewarding careers as practicing engineers in a wide range of aerospace engineering fields. Professionals in this field earn an average median salary of $116,500. 
In addition to aerospace engineering, CETA launched another new program in robotics in fall 2020 due to similar job demand. These growing programs will be housed in a new state-of-the-art academic building, the Hursey Center, opening in fall 2021 at the heart of campus.
I'm especially excited for the Hursey Center because it will give us more space to host our newer programs, such as aerospace engineering and robotics engineering. We will have dedicated lab space based on these programs for students, particularly undergraduates, to utilize for their projects and research. Furthermore, we will have brand new equipment for students to experience a new level of hands-on learning with, including two new wind tunnels donated by Pratt & Whitney for our incoming aerospace engineering students.
Hisham Alnajjar, Dean, College of Engineering, Technology, and Architecture
Those with an aerospace engineering degree can work in many fields, include manufacturing, analysis and design, research and development, and the federal government. Well-known aerospace serving companies include:
Raytheon Technologies and its subsidiaries
Pratt & Whitney
Lockheed Martin
Sikorsky
NASA
Kaman Aerospace
Graduates of this program will learn about different types of aerospace products, including commercial and military airplanes and helicopters; remotely piloted aircraft and rotorcraft; spacecraft, including launch vehicles and satellites; and military missiles and rockets.
"Our students could not be at more of an advantage than to be studying aerospace engineering in Connecticut because we are surrounded by major companies and partners leading the industry," says Paul Slaboch, program director. "Our students and faculty will get to collaborate with professionals from these organizations to solve problems, suggest new solutions, and provide fresh perspectives."
Impactful Partnerships
The transition into creating a new program dedicated to aerospace engineering was seamless for CETA and UHart, as students in related majors have completed research associated with aerospace. Most recently, CETA developed an impactful scholarship program with Pratt & Whitney in 2019 to foster diversity and inclusion in the field of engineering. As part of the program, recipients will have the opportunity to network with Pratt & Whitney executives and potential hiring managers and are encouraged to apply for internships and full-time employment opportunities with the company.
In 2017, a team of University of Hartford and University of Bridgeport students released an eight-foot tall helium-filled weather balloon as a practice run for a later launch enabling millions of people to see a once-in-a lifetime solar eclipse across the United States. Two UHart students and three professors were part of the team that worked with the NASA Connecticut Space Grant Consortium (CTSGC). The Connecticut team's balloon was based at Kenlake Resort in Hardin, Ky., near the spot where the eclipse was expected to be in totality for the longest amount of time. The balloon carried a 12-pound payload consisting of a video camera, still camera, and GPS tracking system as part of a nationwide, NASA-sponsored initiative to livestream aerial video footage of the solar eclipse. This is just one example of CETA's unique partnership with NASA that allows students the opportunity to intern, research, and even work alongside NASA engineers. Students are introduced to computer simulations and state-of-the-art software right away, and it's the same software NASA uses. They develop skills within industry software, apply these skills to their research, and report on their findings.
Student Experiences
Jonathan Brown '19, a mechanical engineering graduate, received an Undergraduate Research Fellowship from the NASA CT Space Grant Consortium in 2018, allowing him to pursue his research on analyzing the acoustics and sounds of specific aircraft engines.
WeSaam Lepak '18 and Michael Sterner '18, mechanical engineering graduates, also conducted aerospace-related research with one of their faculty members for NASA. They had the opportunity to work on a unique acoustic liners project for jet engines with Assistant Professor of Mechanical Engineering Paul Slaboch for their senior capstone.
Learn more about the new aerospace engineering program below. Interested in learning more about the program? Contact Associate Professor Paul Slaboch.