Civil Engineering Students and Faculty Take Field Trip to Connecticut Department of Transportation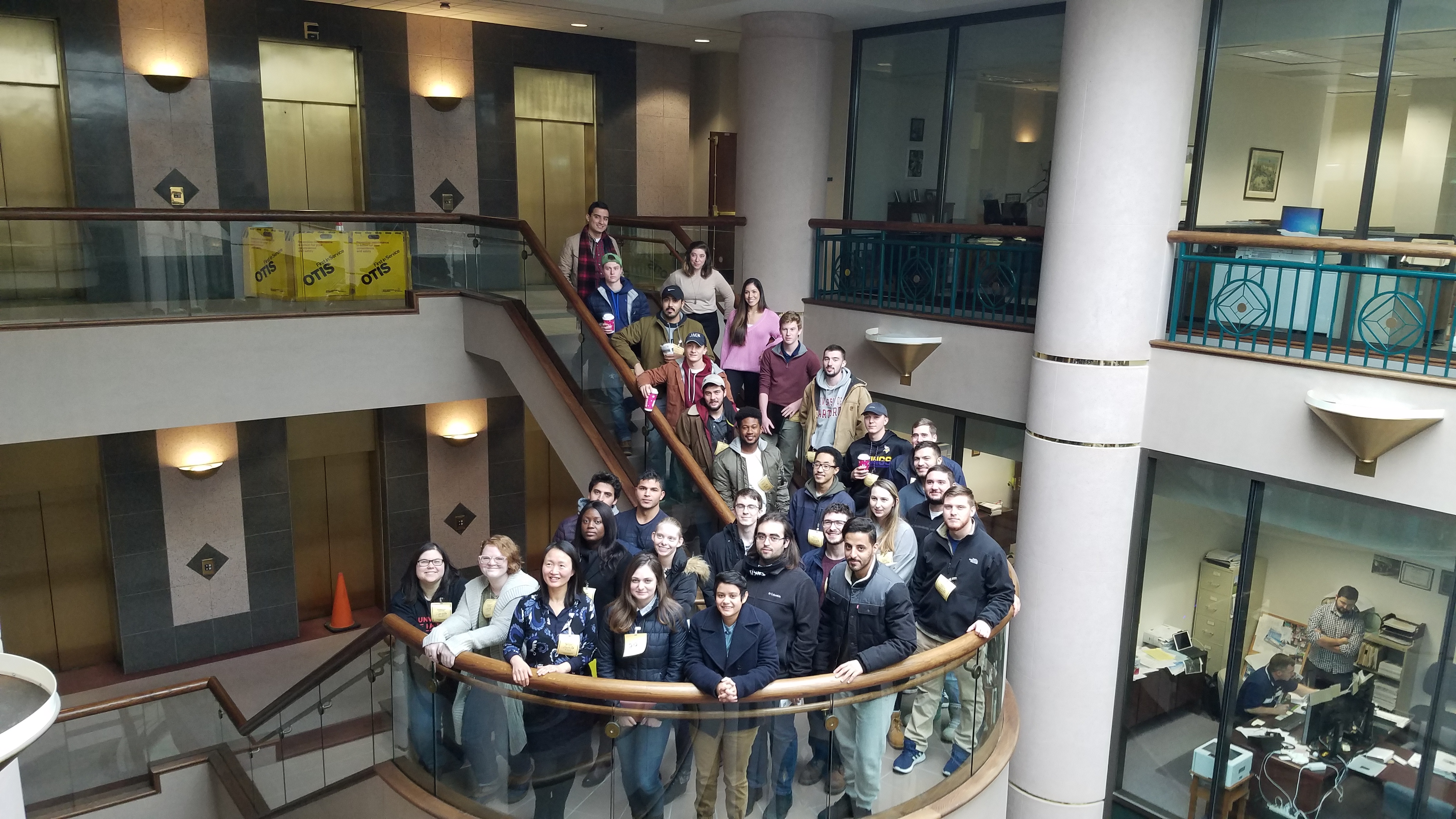 UHart students met with fellow CT DOT engineers for real-world exposure to civil engineering in today's climate.
A group of civil engineering senior students recently visited the Connecticut Department of Transportation (CT DOT) on Friday, Dec. 6, 2019. The tour was led by Clara Fang, Professor of Civil Engineering in the College of Engineering, Technology, and Architecture (CETA). The students and faculty met with engineers from multiple department sections, including Highway Design, Traffic Engineering, Bridge Design, and Surveying. They learned how the state's transportation projects are executed in real-life, the function of each division and what the engineers do in their daily work. The visit also included a tour of the Real-Time Traffic Monitoring Center where DOT engineers explained how the information from cameras, speed sensors, and other new technology could be integrated and processed to help the DOT make decisions on traffic routing, variable message signs, etc. to flow and safety. DOT engineers also demonstrated how drones are deployed in a series of state transportation projects such as bridge inspections, emergency responder assistance, etc. Students were fascinated by the deployment of drone technology and a lot of them expressed that they cannot wait to experience more of this exciting technology in their future projects.
The key to our curriculum is really due to the commitment of our faculty, such as Clara, who spend whatever needed time to make sure our students are getting both the technical aspects of their program and the industry experience related to their desired field that make them successful.
Dean Hisham Alnajjar, CETA
Having students exposed to real-life projects is important to all engineering students. Professor Fang is excited to continue to bring this experience to her students. In addition, the visit also brought networking and job opportunities for the students. UHart and CETA alumnus Scott Bushee '92, BSCE, is the project manager in the highway design of CT DOT and discussed the DOT's job opportunities with students. He also shared his personal experience on his career path. The tour was successful and well-received, as praised by Scott. "With the University of Hartford, I find both staff and students is incredibly well organized and with great initiative. Your program is the best and your faculty make it that way," Scott says.
Students learning the use of drone in transportation
DOT engineers speaking to UHart students and faculty
Students visiting real-time traffic monitoring center