Faculty and Staff in UHart's College of Engineering, Technology, and Architecture Produce 125 3D Printed Face Covers for Local Health Care Professionals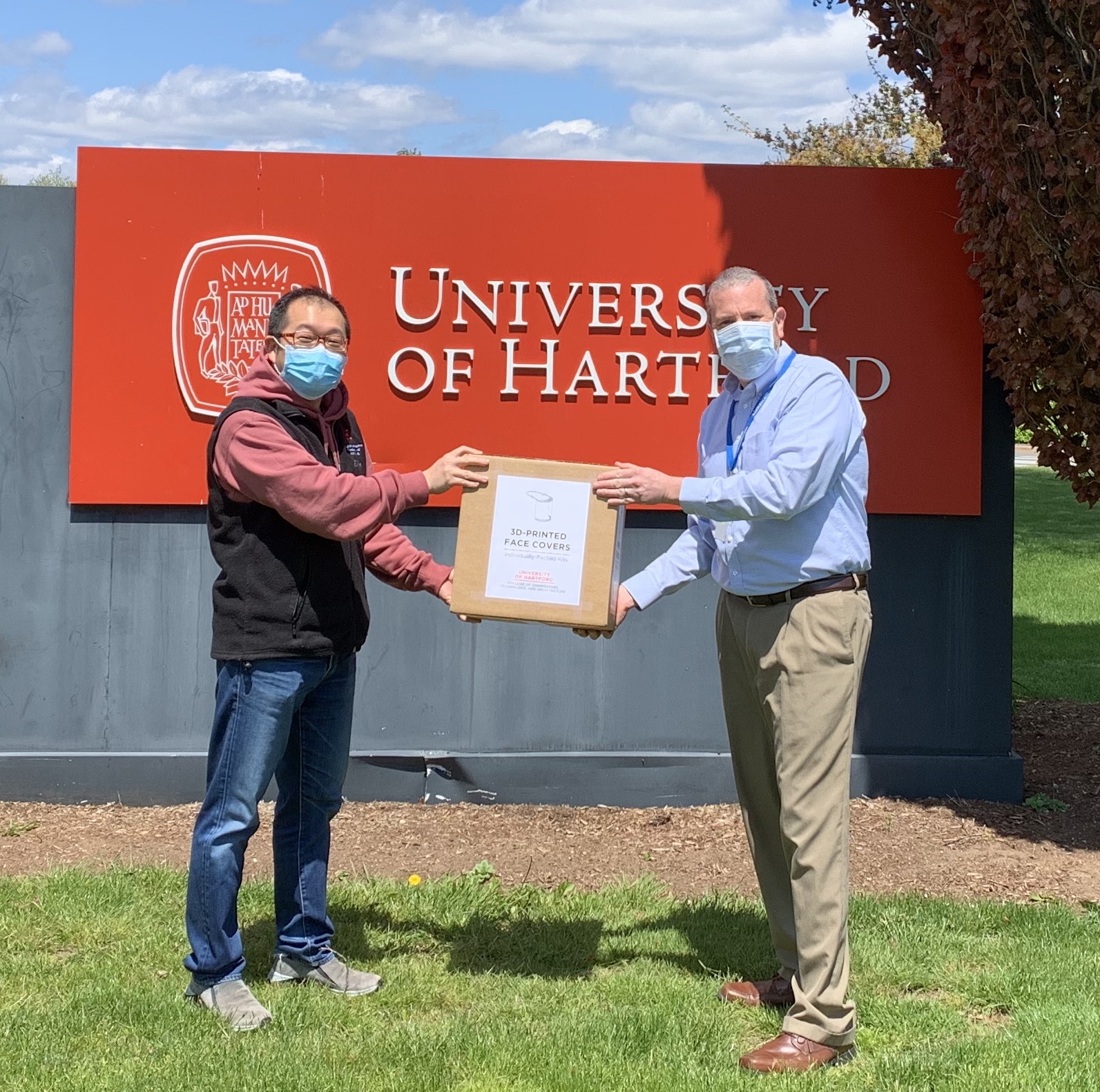 Nine members of the College of Engineering, Technology, and Architecture (CETA) at the University of Hartford saw a problem—the shortage of PPE (Personal Protection Equipment) for health care workers working during the COVID-19 pandemic—and came together to help solve it. In less than a two-week time span, they joined forces; selected and modified a design; gathered and ordered materials; picked up 3D printers from campus; and printed, assembled, and completed for delivery 125 highly coveted face covers for local health professionals.
The nine members of CETA came together in April to begin producing 3D printed face covers. The first 100 were donated to local health professionals in the Greater Hartford area through Cigna. Because the need continues, 25 additional face covers have been produced and delivered to Masonicare in Wallingford, Conn. for use by caregivers. Masonicare is known for providing assisted living, independent living, and memory care services across three communities in Connecticut, and its employees are appreciative of this donation.

University of Hartford alumnus and Coordinator for Internal Communications at Masonicare Adam Raider '94 (A&S) said, "On behalf of everyone at Masonicare, we are deeply grateful to Professor Asaki and the University of Hartford for this generous donation of face covers for our caregivers. During this nationwide shortage of personal protection equipment, every contribution helps. This gesture is especially meaningful to me personally, as it is coming from my alma mater."
This time-lapse video, recorded by University of Hartford alumnus and assistant professor of biomedical engineering Takafumi Asaki '03, M'04, demonstrates the process of 3D printing face shield parts over the span of four hours.
The project began as a groundswell. Several CETA faculty, staff, and students read online about how much-needed face covers can be printed on 3D printers. Julie Chen, adjunct professor of architecture and woodshop and digital fabrication lab manager, described the group's momentum saying, "The moment we all jumped on a video conference together and I could see so many of my colleagues were eager to pitch-in, that lit a fire in me. I've been so proud to work with my CETA colleagues on this."
The group reached out to CETA Dean Hisham Alnajjar asking to use CETA's 3D printers to make face covers for health care workers who do not have an adequate supply. Alnajjar readily agreed. 
This is the least we can do to support the health care professionals putting their lives at risk on the front lines. We are extremely grateful for their sacrifices and extend thanks on behalf of all of us at the University of Hartford.
Hisham Alnajjar, Dean, College of Engineering, Technology, and Architecture (CETA)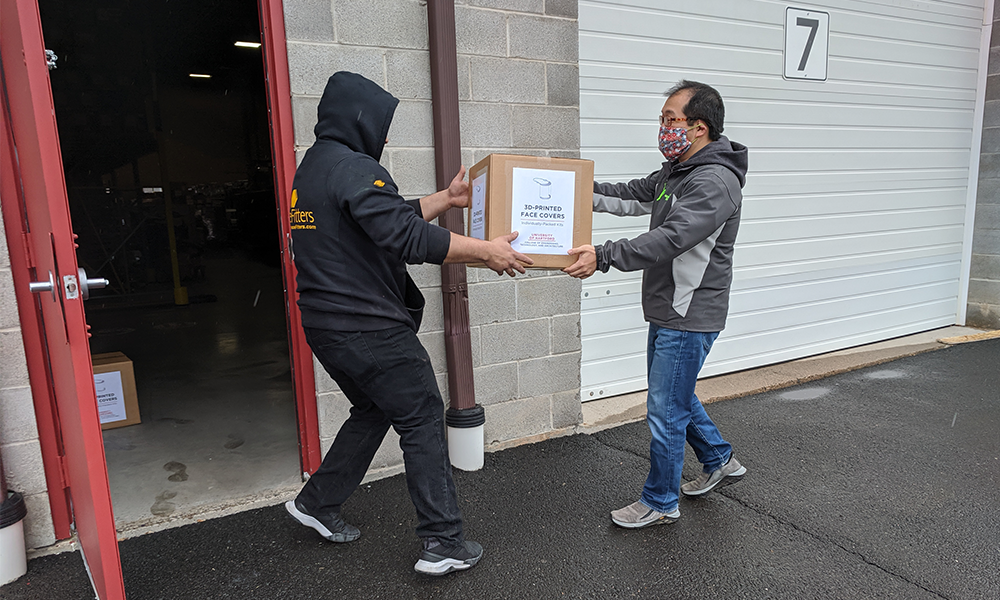 Implementing the plan was a bit complicated because those involved are working from home, teaching online, and unable to gather as a group. Most of the communication was done online. Access to University buildings required Public Safety's permission and social distancing had to be observed. Twelve 3D printers were picked up individually April 3–5 on a staggered schedule. These 12 printers and four personal printers were used to print the parts. Each set of parts takes between three and four hours to print.
The group agreed to use an open-source face cover design created by Adafruit Industries. Its license allows modification, so Asaki and assistant professor of mechanical engineering Edward Diehl were able to modify the design to work well with the various CETA and personal 3D printers.
"'Do Nothing' is the primary thing we're being asked to do to address this pandemic (by staying home and social distancing)," Diehl said. "That's a passive response to a problem, but we're engineers and our instinct is to solve problems. Printing these face cover parts is at least something active we can do to address a need."
Printing of the 100 donated face covers took place in individual homes from April 6–12. On April 12, Asaki parked for four hours at Elizabeth Park in Hartford with a box outside his car so others who printed face covers could drop off individual plastic bags that contained the sets they had made. At his home, Asaki added the instructions that were designed by Chen and materials needed for assembly to each bag and packed them for delivery.
In addition to professors Asaki, Chen, and Diehl, others who worked on this project include Mary (Cater) Arico, assistant professor of biomedical engineering; Claudio Campana, applied assistant professor of mechanical engineering; Enrico Obst, visiting assistant professor of mechanical engineering; Stephen Smith, adjunct professor of architecture; and Kiwon Sohn, assistant professor of electrical and computer engineering. Allison Poulin, office coordinator for the dean's office, provided materials support.
Smith summarized why the group came together to do this project saying, "As architects, engineers, and designers, it is our professional and ethical responsibility to help in a time of need such as this. There are many ways beyond the built environment in which our skills and tools can contribute to the common good. It is vital for our students to see the importance of public service and the impacts that can be made outside the classroom."