UHart's Society of Women Engineers (SWE) Recognized with Multiple Awards This Spring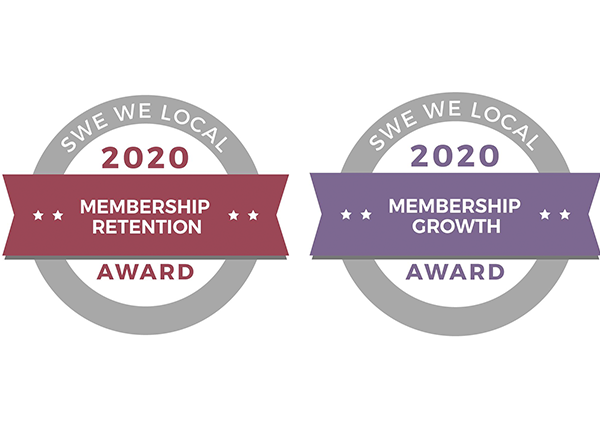 The University of Hartford's Society of Women Engineers (SWE) section, in the College of Engineering, Technology, and Architecture (CETA), received three prestigious awards and recognitions this spring for their tremendous work during the 2019–20 academic year.
The organization was awarded two WE Local Group Awards on April 13, based on the WE Local program that brings the experience of SWE's annual conference to smaller areas around the country. These awards recognize the successes of SWE members through all stages of their careers. UHart's SWE section was in the top 20 sections/affiliates with the highest retention scores. The awards included:
WE Local 2020 Membership Retention Award, which recognizes SWE groups that have demonstrated exceptional membership retention over the past year.
WE Local 2020 Membership Growth Award, which recognizes SWE groups that have demonstrated exceptional membership growth over the past year.
According to 2019–20 SWE UHart section president Michaela Mueller '20, the organization received these two awards because of the work its members put into being recognized by the national SWE organization, and by participating in many of their events including attending the national conference last November. The organization also hosted multiple fundraisers throughout the year, and participated in various events promoting women in engineering, including the annual Women in CETA luncheon, Women in CETA Day and Girl Day during Engineers Week.
Carol Coppa '81, P'16, P'17, serves as the UHart SWE section counselor, and is also the treasurer of the SWE Hartford section. As an alumna of the University, Coppa has played a viable role in mentoring and advising the female students in the organization and is incredibly proud of their recognition this year.
My sincere congratulations to the University of Hartford's SWE collegiate section on being recognized for all their hard work to retain and grow their membership! The organization has done an outstanding job mobilizing, engaging, and encouraging students to participate in the leadership and networking opportunities available through SWE. As their SWE counselor, I am so impressed and encouraged by this talented group and so pleased that they received this well-deserved recognition."
Carol Coppa, University of Hartford SWE Section Counselor
The organization was also recognized during the University of Hartford Student Leadership Awards on May 3 and received the Student Organization Award. Multiple e-board members also received individual awards for their work in SWE, providing evidence of the valuable experience CETA female students can have through being part of the organization. Much of their work encourages leadership, confidence, and communication for these women pursuing careers in male-dominated fields.
"It's so great to see our SWE section recognized for all the hard work we've done over the past few years!" Michaela says.  "I think for our graduating SWE board members, it's nice to know that all the events we've done and new members we've brought in are being noticed, and I definitely think our new e-board will keep up the momentum."
The mission of SWE as an international organization is to "empower women to achieve full potential in careers as engineers and leaders, expand the image of the engineering and technology professions as a positive force in improving the quality of life, and demonstrate the value of diversity and inclusion." As a campus organization, the section provides events for women in CETA to get to know each other, as well as participate in professional development and networking events. The organization also holds campus-wide events to break down misconceptions and promote women in engineering.
For more information or to join, please email swe@hartford.edu.
UHart SWE Cohort 2019-20 Academic Year
UHart SWE Cohort 2019-20 Academic Year