Paul Slaboch Receives NASA Subgrant; He and Aikaterini Stylianides '20 Do Research This Summer.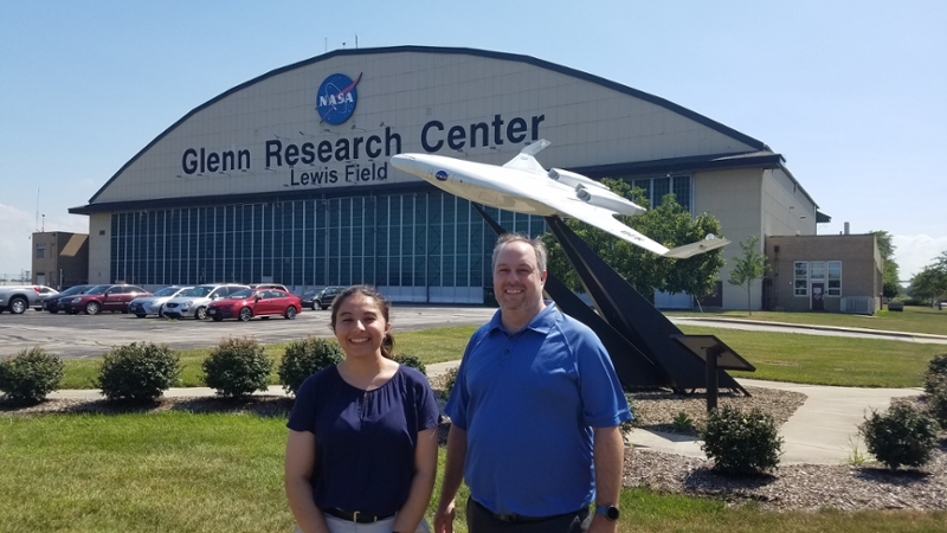 Assistant Professor of Mechanical Engineering Paul Slaboch was awarded a $41,000 sub-contract through the Universities Space Research Association from NASA Glenn Research Center for his project, Supersonic Inlet Noise Radiation Study.
Limited data exists regarding the contribution of engine fan noise to the perceived noise level for supersonic engines. This project seeks to develop a workflow for simulating acoustics of supersonic inlets, generate a set of solutions, investigate the sensitivity of the output results as well as the potential acoustic liners to affect tone noise radiation from the inlet, and document research findings for publication. Slaboch along with student research assistant Aikaterini Stylianides '20, a mechanical engineering major with a concentration in Acoustics, are executing this research across ten weeks in the summer of 2019. They also visited NASA Glenn Research Center in Cleveland, Ohio to meet with NASA engineers and present their work.
"This work will move us closer to achieving commercial supersonic flight again," said Slaboch. "Not only is this cutting edge research that keeps the University of Hartford on the front lines of engineering research, but our undergraduates are the ones who benefit by working directly with NASA engineers and having the chance to see first-hand how research is conducted at a world-renowned agency."
The University of Hartford's Office of Sponsored Programs (OSP) assists principal investigators with securing and managing grants, subawards, and contracts. For more information, or for assistance with a grant or contract, please contact the OSP at ospgrants@hartford.edu.