College of Arts and Sciences
Africana Studies Minor
Our interdisciplinary minor in Africana Studies will help you to think critically about the social, political, and economic issues pertinent to the people of African descent. You can pair the Africana Studies minor with a variety of majors to enhance your understanding of African culture including art, business, communication, history, sociology, politics and government, education, and more. 
Minor Requirements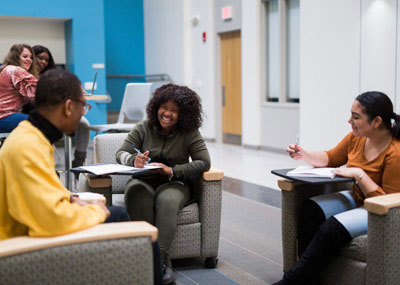 You must complete 18 credits that include an introductory Africana Studies course, two electives in the social sciences, two electives in the humanities, and three credits of unrestricted electives. In addition, three credits toward the minor must be taken at the 300 level or above. Examples of courses include:
The Study of the Black Experience
The Black Family in American Society
Urban Politics
African American Music
African American Women Writers
Race and Ethnic Relations
 
For more information, and to see a complete list of minor requirements, visit the Course Catalog.
Faculty
The backgrounds and research interests of our faculty are very diverse and include the social sciences and the humanities, in addition to practitioners in the fields of law, social work, and development. You will have opportunities for mentorship both academically and professionally.