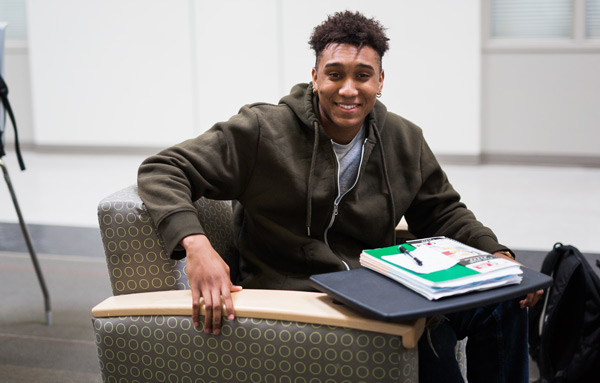 As one of the seven colleges within the University of Hartford, we use the same admissions practices to make the process as seamless as possible! Information about the application, letters of recommendation, test scores, and more can be found on the University of Hartford's Admissions page.
Indicate your interest in Hillyer on the UHart application or apply to one of our other six schools and colleges and let us determine if dual admission to Hillyer is right for you.
You Can Begin Your UHart Journey With Dual Admission
From your first day on campus, you are part of Hillyer College and one of our other schools through our dual admission program. Beginning with your first semester, you take classes in your intended major, as well as complete many of your general education requirements.
The added support and resources you receive will set you up for success!
Contact Manager of Collegiate Admission Nicole Mazzarella with any questions.
Admission FAQs
Absolutely! If you want to apply directly to Hillyer College using the Common App, write "Hillyer College" in the major box. Once your application has been submitted, please send an email to Manager of Collegiate Admission Nicole Mazzarella,
nmazzarel@hartford.edu
, to let her know you applied. Include your intended major in your message, but don't worry if you are undecided. Hillyer courses are a great way to explore your passions and learn what you want to do.
You can use the Common App or UHart's application portal to apply to your intended major. Once you submit your application, email Manager of Collegiate Admission Nicole Mazzarella,
nmazzarel@hartford.edu
, to let her know you applied to UHart and are requesting Hillyer College Dual Admission. She ca also answer any questions you have about completing the first two years of your four-year degree in Hillyer College.
The University of Hartford is a test-optional institution. All applications are read holistically; we focus on who you are and not just your academics. Read more about our policy.
We are focused on finding students who are motivated and want to find their untapped potential. We can help you do just that. Show us your passion through your application and in person during an informational interview with Hillyer Interim Dean Fran Altvater.
Morgan Hoadley
Criminal Justice, '22
Morgan i
s working as a 
Kindergarten Behavior Technician at Mary P. Hinsdale Elementary School in Winsted, Connecticu
t. She says her Hillyer College and College of Arts and Sciences experiences helped her gain confidence that her career choice was the right one.
One of those experiences was an internship with UHart's Department of Sociology and Criminal Justice's Center for Social Research on The Litchfield County Opiate Task Force's Sober Homes Project. Her role was to conduct research on the ways in which operational improvements can be made to addiction and recovery homes in Connecticut. 
Read more
.
My professors pushed me to become the best version of myself and now I will push others to become the best version of themselves,