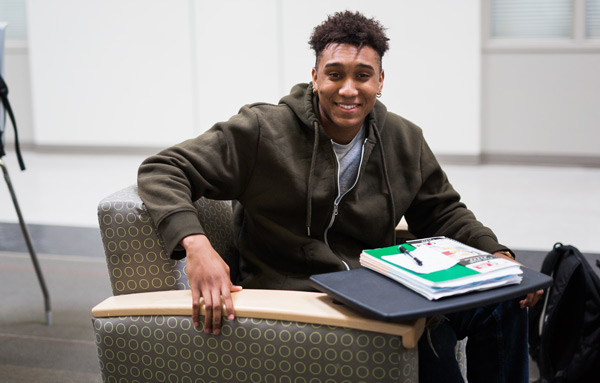 As one of the seven colleges within the University of Hartford, we use the same admissions practices to make the process as seamless as possible! Information about the application, letters or recommendation, test scores, and more can be found on the University of Hartford's Admissions page.
Indicate your interest in Hillyer on the UHart application or apply to one of our other six schools and colleges and let us determine if dual admission to Hillyer is right for you.
You Can Begin Your UHart Journey With Dual Admission
From your first day on campus, you are part of Hillyer College and one of our other schools through our dual admission program. Beginning with your first semester, you take classes in your intended major, as well as complete many of your general education requirements.
The added support and resources you receive will set you up for success!
Contact our Manager of College Admission Aaron Marshall with any questions.
Hillyer Admission Representative
Admission FAQs
Can I Apply Through The Common App?
Absolutely! If you want to apply directly to Hillyer College, please write "Hillyer College" in the major box. Once your application has been submitted, please send an email to hillyer@hartford.edu to let us know you applied. Include your intended major in your message, but don't worry if you are undecided. Hillyer courses are a great way to explore your passions and learn what you want to do.
Do I Need to Take a Test to be Accepted?
The University of Hartford is a test-optional institution. All applications are read holistically; we focus on who you are and not just your academics. Read more about our policy.
Who is Your Ideal Candidate?
We are focused on finding students who are motivated and want to find their untapped potential. We can help you do just that. Show us your passion through your application and in person during an informational interviews with Hillyer Dean David H. Goldenberg.