CETA Welcomes Six New Faculty Members This Year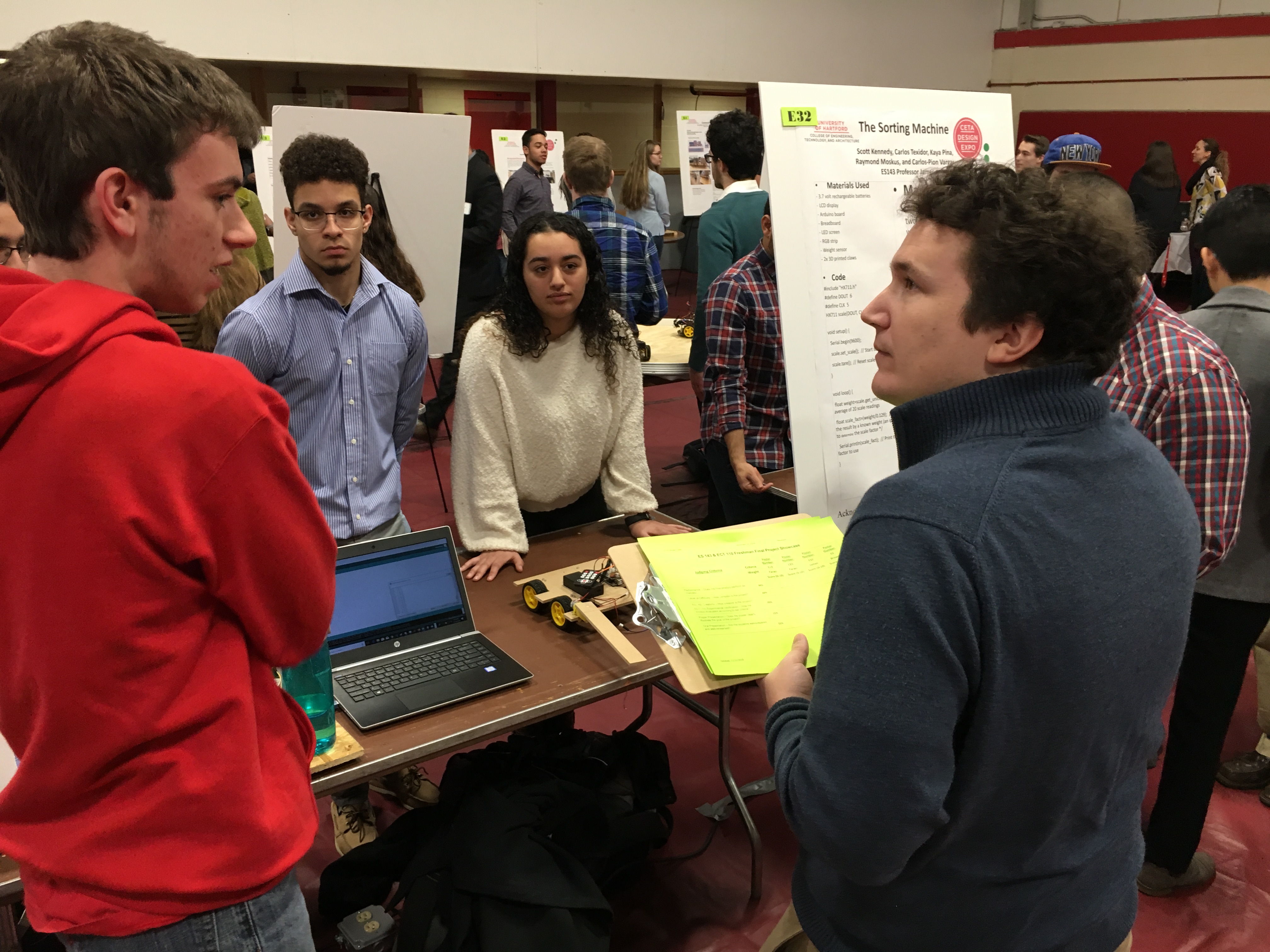 CETA is thrilled to welcome six new faculty staff members this academic year. With various backgrounds in engineering, each offers a unique experience for students inside and outside the classroom. Learn more about our new faculty below.

Michael deAlmeida, Applied Assistant Professor
Department of Electrical and Computer Engineering
Michael deAlmeida holds a Bachelor of Science in Electronics Engineering from Wentworth Institute of Technology and a Master of Fine Arts in Theatrical Technical Production with a concentration in Sound Design from Boston University. For the last nine years, de Almeida has been the computer systems/audio engineer for the College of Engineering, Technology, and Architecture at the University of Hartford, and has taught live sound, electronics and audio courses as an adjunct professor. He works as a freelance AV technician throughout Connecticut. His research interests lie in live, recording, and broadcast audio, as well as electronics, computer systems, and networking. His background in broadcast and theatre sound make him eager to collaborate with faculty from Hartt and the School of Communication. 
Eric James, Assistant Professor
Department of Civil, Environmental, and Biomedical Engineering
Eric James holds a doctorate in Biomedical Sciences and a master's in Applied Genetics from University of Connecticut Health Center. His bachelor's in Biology is from Stillman College. His postdoctoral research has mainly focused on tissue-engineering approaches for functionalizing silk protein-based orthopedic devices for regeneration and repair. As a postdoctoral fellow, he developed non-viral miRNA delivery systems via silk-based devices with the capacity of inducing simultaneous blood vessel and bone formation, and he also worked on numerous projects related to growth factors and surface modified materials, and tunable degradation of silk biomaterial scaffolds. James's future research plans are aimed at modifying biomaterials for clinical and translational therapeutics based on RNAi and microRNA therapeutics for complete tissue functionality.
Reihaneh Jamshidi, Assistant Professor
Department of Mechanical Engineering
Reihaneh Jamshidi received her doctorate in Mechanical Engineering from Iowa State University, and she holds a bachelor's in Polymer Engineering from University of Tehran, Iran. During her doctoral program at Iowa State, Jamshidi served as teaching assistant for engineering courses including Mechanical Design, Manufacturing, and Machine Component Design. She worked in a design engineering co-op at Whirlpool Corporation, where she performed structural design and manufacturing projects. She has served as a mentor for undergraduate researchers, honors students, and science lab interns from the Department of Energy Ames Lab. Jamshidi's research interests include polymer-based electronics, mechanics of soft materials, soft polymeric actuators, and transient li-ion battery.
Christopher Jasinski, Assistant Professor
Department of Mechanical Engineering
Chris Jasinski is a proud alumnus of the University of Hartford, graduating with both a Bachelor of Science in Acoustical Engineering and a Bachelor of Music in Classical Percussion Performance. He completed his Master of Science and doctorate in Aerospace and Mechanical Engineering at the University of Notre Dame, studying novel concepts to reduce the aerodynamic drag caused by acoustic liners. Jasinski served as a Pathways Intern (co-op) at the NASA Langley Research Center in Hampton, Va., and worked closely with the Structural Acoustics Branch at NASA on projects related to the acoustics and fluid mechanics of acoustic liners for turbofan engine nacelles. His primary research interests include aeroacoustics, fluid mechanics, concert hall acoustics and perception, musical acoustics, and environmental noise. He is interested in collaboration between engineers and urban planners to get a fresh perspective on noise pollution caused by air transportation, and research and course development on emerging technologies for renewable energy, particularly wind turbines.
Johanna Raphael, Applied Assistant Professor
Department of Electrical and Computer Engineering
Johanna Raphael has ten years of industry experience, having worked as a Test Engineer at Phonon Corporation in Simsbury, Conn., on digital waveform generator product lines as well as radio frequency design support. She has a Master of Science and a Bachelor of Science in Electrical Engineering from the University of Connecticut, where she is completing her doctorate in Electrical Engineering. Her primary research interest and master's thesis topic is heteroepitaxy of semiconductors, specifically nitride-based semiconductors. She co-authored a textbook on the subject, titled Heteroepitaxy of Semiconductors: Theory, Growth and Characterization, 2nd edition, published in 2017. Her research on heteroepitaxy is rooted in electrical engineering but overlaps with other areas of interest, such as material science and renewable engineering technology such as solar cells.
Ameh Fioklou, Assistant Professor
Department of Civil, Environmental, and Biomedical Engineering
Ameh Fioklou received his Bachelor of Science in Civil and Environmental Engineering and Master of Science in Civil Engineering from the University of Mass., Amherst, and his doctorate in Civil Engineering from Iowa State University of Science and Technology. Prior to joining CETA, he served as an assistant design and review engineer at the Bureau of Bridges and Structures at the Illinois Department of Transportation in Springfield, Ill. Fioklou's research interests focus on transportation infrastructures adaptation strategies to climate change, structural health monitoring of aging bridges, and resiliency of lifeline infrastructure systems under manmade hazards.