Undergraduate Commencement 2019
UHart Graduates Encouraged to Use Their Super Powers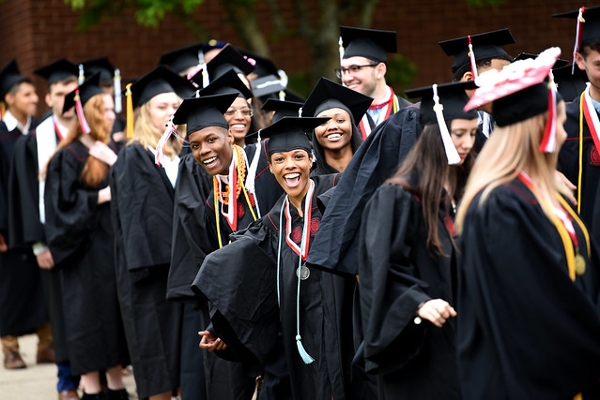 More than 1,000 University of Hartford graduates received bachelor's and associate degrees on Sunday, May 19, to the applause and cheers of the largest crowd of exuberant family and friends in recent years.
The graduates come from 34 states and U.S. territories and from 22 countries. Fifty-nine percent are from Connecticut.
UHart offers 97 undergraduate majors. The top five undergraduate degrees conferred on Saturday were (in descending order) Psychology, Mechanical Engineering, Communication, Health Science/Physical Therapy, and Music Theater.
Orin Wolf, a 2001 graduate of the University with a Bachelor of Fine Arts in Actor Training and lead producer of 10-time Tony-Award winning musical The Band's Visit, delivered Sunday's commencement address. He said he believes The Band's Visit is so popular because "the world is hungry for empathy – for a sense of shared experience."
"Successful art is all about empathy – it grants us the superpower of being able to imagine, or even feel, what another person is feeling. I believe theater has so much to teach us about how to live in and experience this world," Wolf said.
Our common humanity comes with the same set of a dozen or so core emotions that play out and rearrange themselves day after day in familiar, repeating patterns. That is the spirit of what I want you all to think about today. How alike we are," he continued. "So go on. Be remarkable. Be courageous. And make the world a better and more empathetic place.
Orin Wolf, '01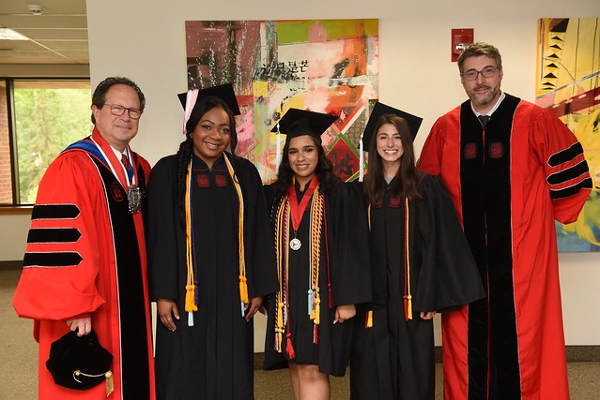 University President Gregory S. Woodward also referenced super powers, noting that the robes graduates wore give them the power to be leaders and heroes.
"Keep learning and teaching others around you," Woodward said, "and lead through example. It is imperative that you use your super powers for good." Woodward made several pop culture references, including Yoda, Game of Thrones, Zoolander, Black Panther, and Lord of the Rings, then asked "What kind of hero do you choose to be?"
Outgoing President of the Student Government Association Nicole Millette received a symbolic gavel from  President Woodward, then introduced fellow graduate Samantha Chasse, from Wolcott, Conn., who gave the charge to the class.
"Congratulations, you made it!" Chasse began. "I challenge you to not let this moment be the end of your education. Take the leap and submerge yourself into anything and everything you can learn. Apply your knowledge, break boundaries, step outside your comfort zone, and never settle for the status quo."
Three exceptional students received top University awards.
Jaileene Arriaga of Hartford, Conn, received the John G. Lee Medal that is awarded annually to a senior from Greater Hartford who demonstrates academic excellence and community service. Arriaga graduated summa cum laude with a 3.89 GPA as a double major in sociology and politics and government with a minor in gender studies.
Aaliyah Booker from McLean, Virginia received the John G. Martin award that supports two years of graduate study at the prestigious University of Oxford in Oxford, England. Booker is a music, violin performance major with a 3.89 GPA.
Destynie Medeiros of Eastford, Conn., received the Belle K. Ribicoff Prize that is awarded annually to a senior who has demonstrated academic excellence, intellectual curiosity, originality of thought, and a commitment to extracurricular activities and community service. She is a biology major who led a research project "The Effects of Probiotics on Alzheimer's disease Progression: Assessing Cognitive and Cellular Markers." She will pursue a doctorate in neuroscience at the University of Alabama at Birmingham.
Six outstanding faculty received awards of recognition.
Associate Professor of Psychology Mala Matacin received the Roy E. Larsen Award for Excellence in Teaching, Professor of English Michele Troy received the Humphrey R. Tonkin Award for Scholarly and/or Artistic Creativity, Professor of Physical Therapy Barbara Crane received the Oscar and Shoshana Trachtenberg Award for Sustained Service to the University, Associate Professor of Physics James McDonald received the Donald W. Davis University Interdisciplinary Studies Award, Assistant Professor of Sculpture Caroline Woolard received the Belle K. Ribicoff Junior Faculty Prize, and Associate Professor of Mechanical Engineering Eoin King received the Belle K. Ribicoff Endowed Professorship.
Watch our Commencement recap video.
Undergraduate Commencement 2019 Image Gallery