Cinema and Digital Media and Journalism Students Film International Documentaries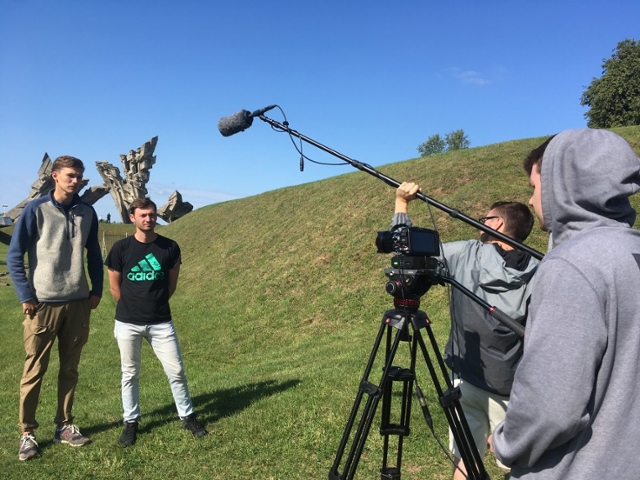 This summer College of Arts and Sciences Cinema and Digital Media and Journalism students are applying the skills they learn in the classroom to film and conduct interviews in Lithuania and Greece for three different documentaries.  

Becca Chien '21, Travis Girouard '20, and Kyle Conti '20 are capturing the work of an archaeology team made up of students and faculty from the University of Hartford and other institutions. One of the sites they filmed includes the continued excavation of the Great Synagogue in Vilnius.
Kyle, Becca, and I were lucky enough to film all of the artifacts and uncovered portions of the synagogue," says Travis. "We also conducted our interviews and filmed everyone getting their hands dirty. Meanwhile, a possible storage unit in the synagogue has been discovered. This finding could lead to more artifacts being found.
Travis Girouard '20, Digital Media and Journalism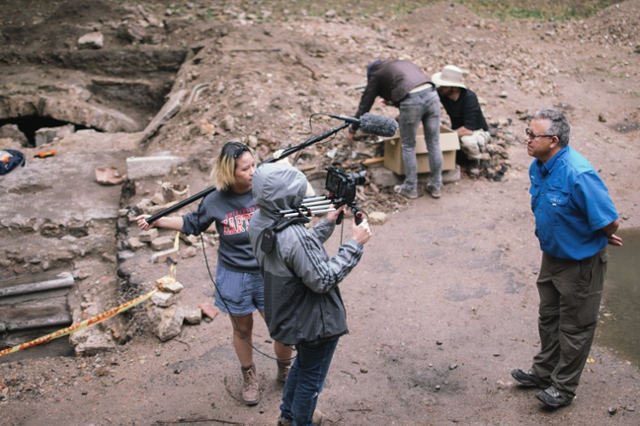 Additionally, the students visited the mass burial sites of Jews who were killed during the Holocaust in Kaunas and the national living museum in Rumsiskes where a Jewish village is preserved under a lake. They also saw the site of the Holocaust escape tunnel in a burial pit in Ponar, which made international news in 2016 when it was discovered by a UHart-led research team.

The group then flew to Rhodes, Greece, where they visited synagogues, the Grandmaster's Palace Museum, the island of Kos, and attended ceremonies with Holocaust survivors and families to commemorate the 75th anniversary of the Nazi's round-up of Jews in Rhodes and Kos who were taken to Auschwitz. 

This was Kyle's third trip to Lithuania. This spring, he completed the documentary Finding Matilda, that he filmed last summer about a young college student who was killed in the Holocaust in Lithuania. He returned this past winter to Rumisiskes to film archaeologists and students perform ground penetrating radar to locate the village under the frozen lake.   

Outside of these international documentaries, Travis and Becca are collaborating on a documentary about the Hartford Circus Fire and all three students are working with Assistant Professor of Communication Susan Cardillo on a new project, Smartphones, Dumb Kids? which looks at how cellphones disrupt learning in public schools and what can be done about it. They plan to create a Digital Wellness Program along with the documentary to share with schools.

The students' experiences are detailed in the UHart Travel, History and Thoughts blog.