College of Arts and Sciences
BA in Cinema
You can work in a production and editing lab that features the latest computer technology, and collaborate with our award-winning faculty on professional sets. There are also opportunities to present your work at film festivals, study film during a semester abroad, and get additional experience through an internship at a production company in Connecticut, New York, or Boston.
You can watch UHart student films at vimeo.com/hartfordcinema
About the Major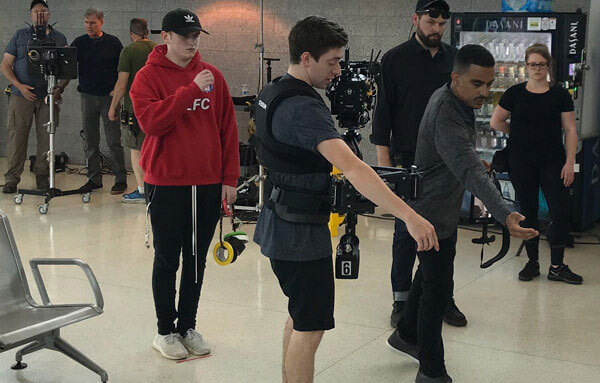 You have the opportunity to study film as a literary art form and learn production skills to create your own movie.   
Here you can take advantage of opportunities to study film during a semester abroad or get additional experience through an internship at a production company in Connecticut, New York, or Boston.
Our alumni have gone to work at television networks and film production companies as directors, producers, and as directors of international film festivals.
Degree Requirements
A total of 36 credits are required for the Bachelor of Arts in Cinema program.
You take seven courses (21 credits) in film studies that are divided into three groups: Introduction, Grounding, and Study in Depth.
You start off with an Introduction to Film course which provides an overview of film as a cultural and artistic form. You then take courses from three categories to build upon your knowledge and understanding of film.

Select three courses from the Grounding category such as:

World Cinema  
Film History  
Film Analysis  

Select three courses from the Study in Depth category, such as:

Film Directors  
National Cinemas  
Film Genres  

For more information, and to see a complete list of degree requirements, visit the Course Catalog.
After completing requirements, you decide how best to complete the major. You can select courses in film/TV production, continue with film studies, or do a combination of both. An additional 15 credits must be earned, examples include:
Studies in Film

 

Topics in Filmmaking

Documentary Filmmaking

 

Animation

 

Narrative Filmmaking

 
For more information, and to see a complete list of additional degree requirements, visit the Course Catalog.
A total of 15 credits is required for the minor in Cinema including the core course, Introduction to Film.
In addition, two of the following courses are required from the Grounding category.  

World Cinema

 

Film History

 

Film Analysis

 

You also select two courses from the Study in Depth category:

Film Directors

 

National Cinemas

 

Film Genres

 

Studies in Film

 
For more information, and to see a complete list of minor requirements, visit the Course Catalog.
Bachelor of Arts in Cinema students will:
Understand the idea of film as an art form and the essentials of film style and know the basics of the language of cinema in order to talk and write accurately and meaningfully about films. They should be aware of a range of films greater than already known from TV and recent Hollywood.

Gain a basic understanding of fundamental aesthetic and conceptual approaches to digital video production and non-linear editing, and become able to script and produce short films based on these principles while working both independently and in small groups.

Have an understanding of the history of film from 1895 to the present, including: major developments in technology, economics, and society that influenced the production of film; and prominent styles of film from various historical periods. They should become proficient in writing about these topics.

Understand the basics of a number of methods of analyzing films, be able to apply these methods to a variety of films, and know why film studies favors certain methods.

Have an understanding of specific kinds of films based on: extended close study of one or more of the major individual figures in cinema; a thorough survey of one or more of the major national cinemas; one or more historically important genres in cinema; or intensive study of a motif, topic, or period in film, such as City in Film, Orientalism in Film, and The Auteur in Hollywood.

Demonstrate an understanding of the basic principles of various types of filmmaking and be able to create a film using these principles.

Demonstrate an advanced level of proficiency in filmmaking by producing and directing their own films working through the stages of pre-production, production, and post-production.
"Attend" An Online Student Film Festival
Students in Assistant Professor Dakota Nanton's filmmaking seminar, Making Conscious Media, had to find alternative means of filmmaking and production when classes moved to an online format in the spring. They completed the course with an online film festival titled,
Films in Isolation.
Watch a Trailer From a Student-Made Documentary
Accelerated MA in Communication Program
The School of Communication also offers an Accelerated MA in Communication that allows a high-performing undergraduate student to earn up to 9 credits that will count toward both undergraduate and graduate degrees. Typical application occurs spring of your Junior year, so that if accepted, you may register for graduate classes in the fall of your Senior year. Contact Associate Professor and Program Director
Kristin Comeforo
for more information.
Leo Caserta '23 is well on his way to fulfilling his dream of becoming an independent filmmaker, having already completed a portfolio that earned him a Creativity Award from UHart's School of Communication. Leo has worked as a crew member on a couple of Lifetime films, as well as an interview with Ultimate Fighting Championship (UFC) martial artist Alex Pereria at ESPN and a Gatorade commercial with UCONN women's basketball player Paige Bueckers.
Leo says UHart Cinema Instructor Zachary Haines provided him with tremendous support during his time at UHart. "He always had an open ear for any questions, not only regarding filmmaking, but career path and life questions as well. Overall, he's just a very good soul looking out for his students that he undoubtedly cares very much about." Read more.
UHart has a good film program with a good base in both theory and basic production skills, however, nothing beats real experience. I wouldn't be where I am right now without the jobs I've worked over the past two years.
Kyle Conti
MA in Communication, BA in Cinema, and Digital Media and Journalism, '20, M'22
Kyle has accepted a position with NFL Films to work on HBO's Hard Knocks, a reality sports documentary series that focuses on a new NFL team each year. Kyle had also been offered a job editing game footage for Major League Baseball, but decided on the NFL Films position because it lined up with what he wants to focus on, which is documentary filmmaking. 
His latest documentary, Gay Spirit Radio: Not Afraid to be Different—The Keith Brown Story, will be shown as the centerpiece of Connecticut's LGBTQ Film Festival in June. The documentary details the history of the Gay Spirit Radio program on UHart's WWUH radio, which has been hosted Keith Brown for more than 40 years.
My professors made me feel comfortable taking risks since I'm in a unique field of editing and production. The small class sizes made me feel like I had a connection with every professor. The projects and papers were meaningful, and I feel well prepared to enter the workforce."
The skills you'll learn in the program will be valuable when it comes time to go out into the workforce. What is equally valuable though, are the connections you'll make while you're here.
Gavin Mealey '20, Cinema