At UHart's School of Communication, you get hands-on experience before you graduate. The dedicated faculty and small classes create a collaborative and friendly learning environment where you can explore your interests and practice what you're learning in the classroom as early as your first semester.
We offer three undergraduate programs, and two graduate programs:
If you're interested in working as a reporter or sports journalist, our Bachelor of Arts in Digital Media and Journalism gives you the opportunity to broadcast news from our new TV studio set or produce live sports programming for ESPN3 from our mobile broadcast studio.
In the Bachelor of Arts in Communication program you create advertising, public relations, and social media campaigns for real clients, all while learning how to effectively communicate with different target audiences.
In our Bachelor of Arts in Cinema program, you can work as a production crew member on a professional set, and you'll learn how to propose, write, and produce your own narrative short films.
We also offer minors in Cinema, Communication, and Digital Media and Journalism to enhance your storytelling skills and give you a greater understanding of communication theory and research. These minors and complement other programs of study like English, politics and government, history, or sociology.
The Master of Arts in Communication provides you with both a comprehensive overview of the field of communication and a specialization in areas such as media, integrated communication, and human communication. Inside these classes, you'll find professors that are respected experts in these areas, and dynamic and exciting discussion about current issues and problems in communication.
The 100% online Master of Arts in Integrated Communication program is focused on helping you become a skilled communicator and leader across all organization levels and media platforms. The program connects students with cutting edge industry-standard resources and professionals and provides a launching pad for success in a wide variety of businesses and organizations.
The School of Communication also offers an Accelerated MA in Communication that allows a high-performing undergraduate student to earn up to 9 credits that will count toward both undergraduate and graduate degrees. Typical application occurs spring of your Junior year, so that if accepted, you may register for graduate classes in the fall of your Senior year. Contact Associate Professor and Program Director Kristin Comeforo for more information.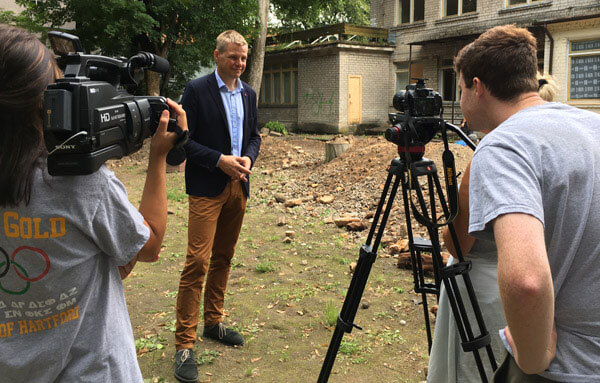 There are plenty of opportunities to apply the skills you learn in the classroom:
You can participate in student-run organizations like the Student Television Network (STN), the Informer UHart student newspaper, two on-campus radio stations, and the Public Relations Student Society of America (PRSSA) and the Ad Club. You can broadcast live UHart sports events for ESPN3 from our mobile broadcast studio and cover Hartford Yard Goats minor league baseball in a sports journalism class.
Some students work for non-profit or government agencies like Connecticut Public Television, RealArt Ways, or the Connecticut State Legislature. Others find opportunities at area insurance companies, public relations firms, advertising agencies or media outlets.
We have placed student interns at ESPN, Mintz and Hoke Advertising, Inc., The Hartford Courant and Radio Disney, to name a few. There are even career-relevant internships available on campus such as in the Sports Center and the Office of Marketing and Communication. Students may work at an internship in the Hartford area during the academic year, or away from the University during the summer. Examples of summer internships include Universal Records and MTV Networks in New York City, and CBS/WBZ News Radio 1030 and WLVI-TV 56 in Boston, as well as at companies in New Jersey, Pennsylvania, Florida, Rhode Island and more.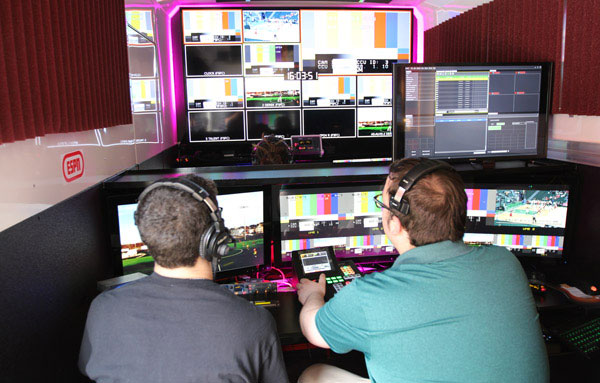 Where our graduates are working
School of Communication graduates are working at media companies like ESPN, ABC and NBC News, iHeartRadio, Hartford Business Journal, and The Hartford Courant. Others have gone on to careers at companies such as Amazon, Lego Systems Inc., Pratt & Whitney, and Revlon, as well as at Connecticut communication agencies like McDowell Communications Group, Mintz & Hoke, and Cashman & Katz Integrated Communications.
Cole Cayer
Digital Media and Journalism, '23
Experience both in and outside of the classroom has prepared digital media and journalism major Cole Cayer for his media assistant position with the Hartford Yard Goats minor league baseball team. Cole's sports media experience also included serving as a board member and sports director for UHart's Student Television Network (STN) and working as a Hawks Production team member helping to broadcast UHart games on hartfordhawks.com from the mobile sports production truck.
Read more.
Many of the courses I took are extremely applicable to the workforce because they are taught by people who have been in the industry or have a great knowledge of the industry.
School of Communication's New Podcasting Studio
UHart students and faculty can now learn how to create a podcast by training in the School of Communication's new studio. Featuring the latest technology, UHart's podcasting studio includes new microphones, computers, audio recording and chroma key software, video cameras, stage lighting, soundproofing, and a stand-alone audio booth for recording singers or voice-over artists. Communication courses that meet in the studio include Introduction to Radio and Audio, Sports Broadcasting, and Sports Journalism.
School of Communication Contributing Faculty member Dawn Ennis, who has overseen the production of hundreds of podcasts for Vox Media, is managing the studio. She is training students not only on how to use the equipment, but how to create and tell compelling stories that capture a listener's imagination.
Our studio is the perfect place to learn the tricks of the trade, and when ready, publish for all the world to hear," says School of Communication Contributing Faculty member Dawn Ennis. "The topics are only limited by one's own imagination.
Susan Cardillo
Associate Professor, Communication
University of Hartford Assistant Professor of Communication Susan Cardillo had just started working as a production assistant on the set of the Hollywood movie A Month of Sundays, starring Rod Steiger, in 2001. "I'm standing next to the production manager and the executive producer walks up to him and punches him in the face. He says, 'get off my set, you're fired.' Then he turns to me and says, 'you're the new production manager.'" Having no experience, Cardillo later found out her "promotion" was due to the fact the production manager was having an affair with the executive producer's wife.
Read more about Susan's story from the most recent publication of UHart's H Magazine.
Teach your students how to passionately tell a story and how to work with a team to make it happen.
Meet the Communication Department Faculty and Staff