School of Communication's New Podcasting Studio Features the Latest Technology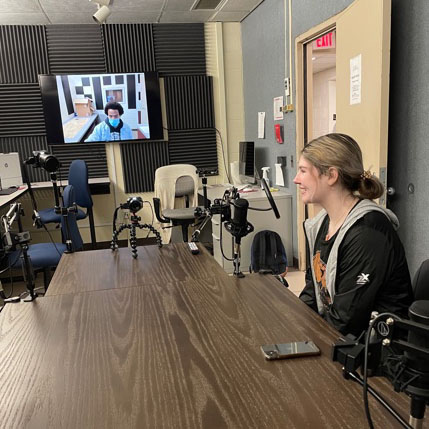 As podcasting continues to grow in popularity, UHart students and faculty can now learn how to create a podcast by training in the School of Communication's new studio. Featuring the latest technology, UHart's podcasting studio includes new microphones, computers, audio recording and chroma key software, video cameras, stage lighting, soundproofing, and a stand-alone audio booth for recording singers or voice-over artists. Communication courses that meet in the studio include Introduction to Radio and Audio, Sports Broadcasting, and Sports Journalism, all taught by Applied Associate Professor Abe Hefter.
School of Communication Contributing Faculty member Dawn Ennis, who has overseen the production of hundreds of podcasts for Vox Media, is managing the studio. She is training students not only on how to use the equipment, but how to create and tell compelling stories that capture a listener's imagination.
Our studio is the perfect place to learn the tricks of the trade, and when ready, publish for all the world to hear. The topics are only limited by one's own imagination.
Dawn Ennis, Contributing Faculty, School of Communication
Ennis says podcasts really took off during the lockdown phase of the pandemic and cites a
Vulture Magazine
report that states 41 percent of the total U.S. population over the age of 12, or an estimated 116 million Americans, can be considered monthly podcast listeners, up 37 percent from the year before.
"More and more, traditional podcasts are giving way to providing a video version on YouTube and other platforms," says Ennis. "For the most part, however, podcasting remains an audio experience." Ennis is planning to curate the best of UHart podcasts and is working on negotiations to stream them on Spotify and other platforms that are widely used, such as Apple Podcasts, Google Podcasts and more.
Students and faculty outside of the School of Communication are welcome and encouraged to take advantage of the resources in the studio and can email Ennis at
daennis@hartford.edu
for more information and to schedule a training session.