Two Architecture Students Awarded by CT Green Building Council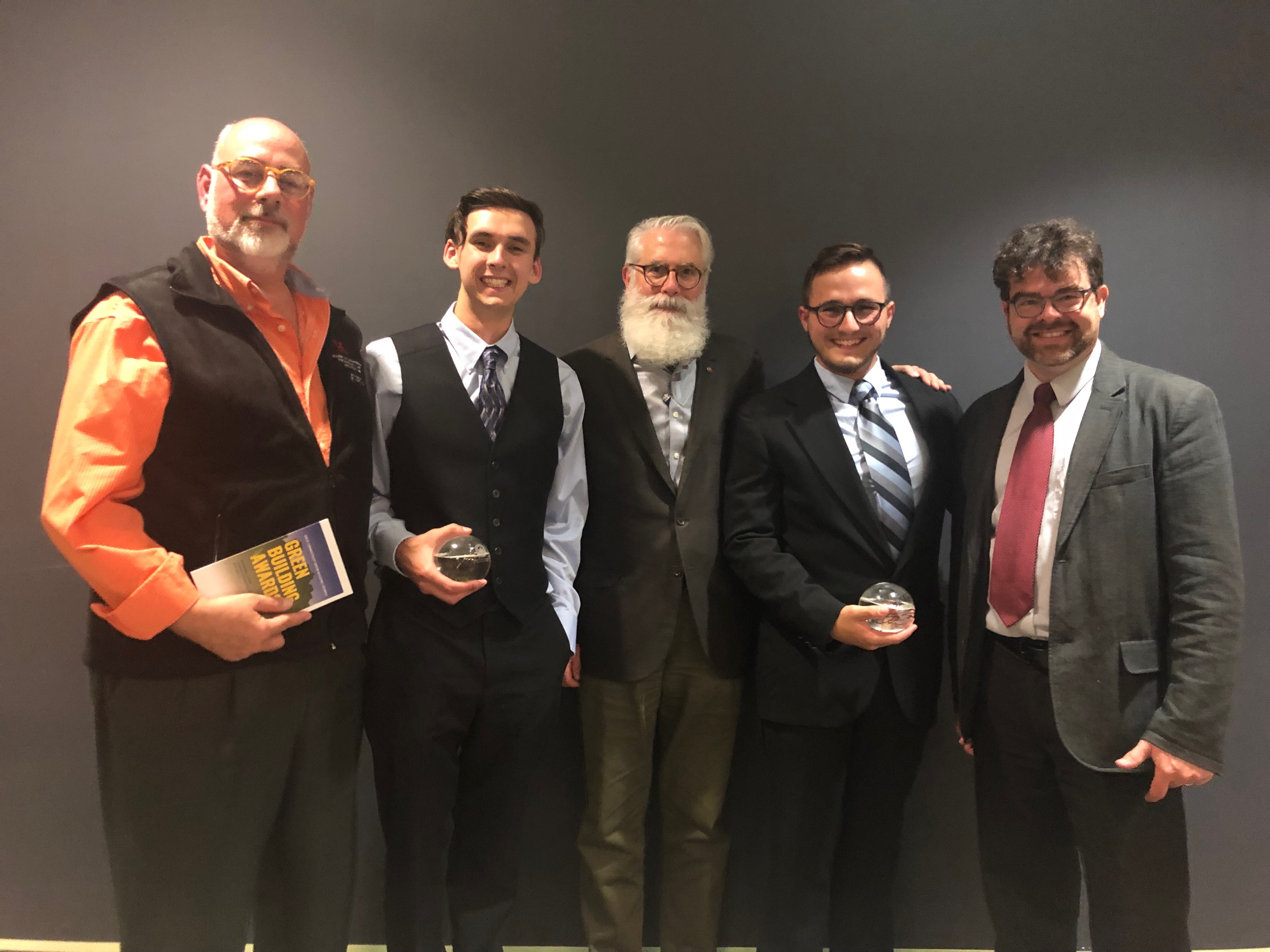 Andrew Petersen '20, architectural design + technology major, and Randy Begin '19, M'20, recent graduate of our architecture program pursuing his MArch, were recognized on October 3, 2019 by CT Green Building Council at their annual awards event. Each received a student award for one of their recent projects and were the only students awarded in the state-wide program. 
Petersen was recognized in the the Student Design category with an Award of Merit for his design proposal of an Archeological Laboratory that is located on the outskirts of the ruins of Pompeii in Italy. Its purpose is to help accelerate artifact research for found pieces of the ruins in Pompeii, according to Petersen. "What's unique about it is its use of sustainable features.  The building takes advantage of its surrounding area by collecting sun, wind, and rain to help reduce the cost of energy in the building," he says. 
Petersen thought the event was fantastic as he was surrounded by not only fellow architecture faculty but other professionals from the industry. He was particularly impressed with the event's keynote speaker, John Mandyck, CEO of Urban Green. Mandyck previously spoke at the University of Hartford as a lecturer for the Department of Architecture's lecture series as well. 
Begin was recognized in the Student Design category with an Award of Merit for his design proposal of the Greater Hartford Islamic Center. He designed the building during his ARC 511 class last semester. The design of the Islamic Center was capable of fulfilling the initial requirements, but also becoming a vison for the Islamic community to open to the surrounding community, according to Begin. "The design also considered a large amount of sustainable aspects such as Rainwater collection/management, Urban Farming, Connections to Public transit, Cross Ventilation and the use of a CLT structure," he says. 
Begin thought the event was a great experience. He enjoyed being able to celebrate with the professors that supported him throughout the awarded project. 
Architecture Graduate Program Director and Associate Professor of Architecture Seth Holmes, Professor of Architecture Michael J. Crosbie, Associate Professor of Architecture Theodore Sawruk, and were all in attendance at the award ceremony. Begin's project was designed for a graduate studio led by Crosbie, with technical support provided by Assistant Professor Timothy Adekunle. Petersen's project was designed for a foreign studies design studio in Florence, Italy, led by Sawruk. 
Please join the College of Engineering, Technology, and Architecture is congratulating these two highly deserving students on their hard work. We wish them the best in their next architecture endeavors. 
Design by Andrew Petersen '20
Design by Randy Begin '19, M'20