University of Hartford's Barney School of Business hosts Junior Achievement for the BE Entrepreneurial Challenge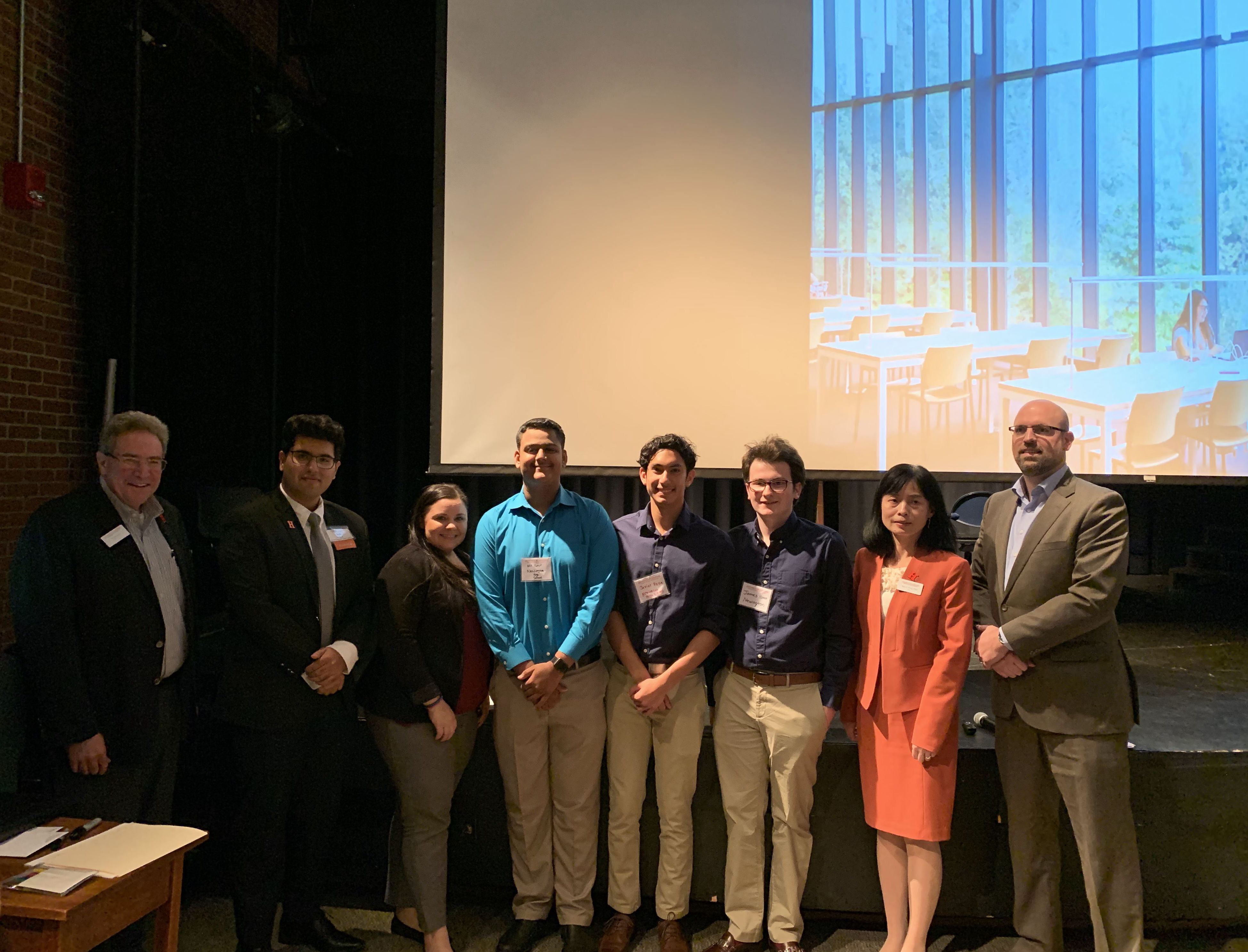 On October 23, 2019, a team of three students—Javier Pena, Nil Patel, and James Horan, from Newington High School—became the final winners of the Junior Achievement BE Entrepreneurial Challenge hosted on the UHart campus.
Junior Achievement was recognized and celebrated for their 100th anniversary at the event. These first-place students were awarded the opportunity for a four-year recurring scholarship by applying and acceptance to the University of Hartford's Barney School of Business. The Barney School of Business offers motivated full-time students the ability to earn a Bachelor of Science in Business Administration (BSBA) with concentration choices in seven different areas of business including, for example, Entrepreneurship, Management, and Marketing. 
The "Challenge" drew high school students from a dozen towns in the Hartford area.  Over 100 students were invited to campus on Oct. 11th for a one-day workshop to learn the elements of successful business startups from business professors at the Barney School of Business. The students then competed to develop their product or service by analyzing various sources of successful entrepreneurial ventures, culminating in their selection of a product or service as the basis of their business plan. The finalists presented their business plans in a "shark tank-like" before a panel of judges that included CEO & President of Junior Achievement, Jeremy Race, Dean Amy Zeng of the Barney School of Business, Barney School's Entrepreneurial Center Director, Fred Wergeles, Barney Leadership Council member and student, Gird Nagpal.
In opening remarks that welcomed the students, parents and teachers to this final competition evening Provost Fred Sweitzer welcomed the group, and Jeremy Race recognized the 100th anniversary of Junior Achievement and thanked the Barney School of Business for its partnership. Dean Amy Zeng proudly reminded students that "There are thousands of Barney School undergraduate and MBA alumni residing and working in this surrounding region, many of whom have gone on to become successful entrepreneurs and leaders of global firms." We would be proud to see anyone and all of these students that participate in Junior Achievement during their high school years as an incoming freshman to the Barney School of Business!
This is only the beginning of your entrepreneurial ventures.  Remember that every successful business started with an idea and today you have the power to bring those creative ideas to life.
Jeremy Race, CEO & President of Junior Achievement
Junior Achievement BE Entrepreneurial Challenge
Fred Wergreles, Director of the Entrepreneurial Center at Barney School talked about entrepreneurship with high school students
Provost Fred Sweitzer, Dean Amy Zeng, CEO & President Jeremy Race of Junior Achievement, Director of Education Nicole Diorio of Junior Achievement recognized the 100th anniversary of Junior Achievement
High school students presented their business idea