University of Hartford Professor Ivana Milanovic Elected ASME Fellow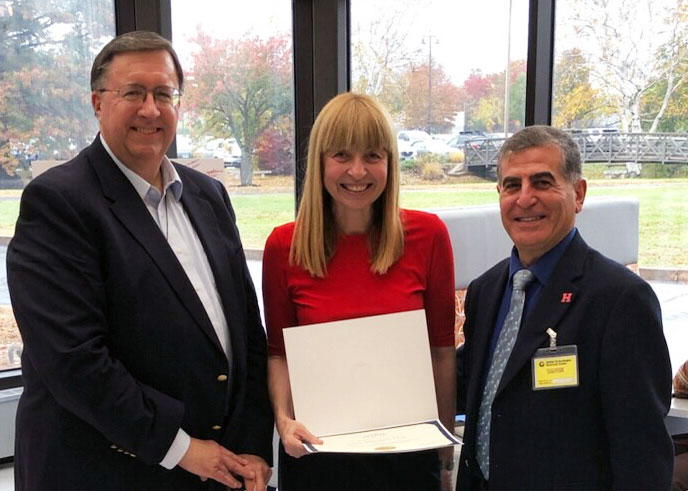 Ivana Milanovic, professor of mechanical engineering in the College of Engineering, Technology, and Architecture (CETA) at University of Hartford, has been elected a Fellow to the American Society of Mechanical Engineers (ASME), an honor bestowed on only 3 percent of members. A Fellow is the highest elected grade of membership within ASME, the attainment of which recognizes exceptional engineering achievements and contributions to the profession.
Milanovic's professional career with the College especially has led to her being a role model for many students, especially inspiring female engineers. She has been recognized for many other awards and honors for her research, education, and practical teaching. Specifically, her research focus on simulations and inquiry-based learning has made an impact in undergraduate STEM education at UHart. Her innovative contributions to the undergraduate curriculum have been recognized with articles in industry magazines and featured on digital platforms.
It is fitting that Milanovic has earned the role of Fellow with ASME as she has been actively involved with the organization through many activities. For instance, she has published with ASME, serving as a member of the ASME Fluid Mechanics Technical Committee (FMTC) since 2003, and organized and promoted symposia on technical topics of importance to the fluids community as well as Forum on Advances in Fluids Education. Milanovic is currently a member of the ASME Fluids Engineering Division Honors & Awards Committee, as well as a member-elect of the Connecticut Academy of Science and Engineering (CASE), a body of scientists and engineers that provides support and insight to state agencies and legislature.
Milanovic says she is looking forward to her fulfilling career that is continuously evolving and to have many more productive years dedicated to her students, ASME, and the community at large.