DeMaio Interviewed on Leadership in Radiologic Technology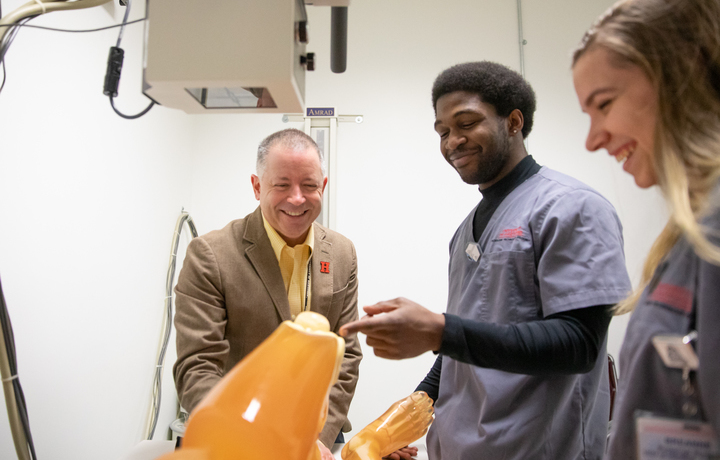 Radiology Business magazine interviewed Dan DeMaio about making the move from technologist into leadership positions
Dan DeMaio, associate professor of Radiologic Technology in the College of Education, Nursing and Health Professions, was recently profiled in Radiology Business magazine. DeMaio was one of five technologists who were interviewed about their move from technologists into a variety of leadership positions.
The first member of his working-class family to attend college and become a credentialed professional, Dan DeMaio still hears his parents' voices as they urge him to "put your head down and work as hard as you can every day, to be the best you can be at your job, no matter what the job is. That's all that matters. Do this, and you can accomplish anything." 
That advice has guided DeMaio throughout his 30-year radiology career, from his first job as a CT technologist to a position as a radiology administrator and, now, as a university-level educator and program director. 
So, too, has a strong commitment to a model that attracted him to radiology leadership in the first place and remains the source of his greatest professional reward. The model, he explains, calls for "working in the service of others, in a manner that also serves the greater good or mission and purpose of an entire enterprise," even when doing so calls for sacrificing what might be in one's own best short-term interests. 
Read the full text of the article from Radiology Business here.
About the Program
The University of Hartford's radiologic technology program is a four-year program leading to a bachelor's degree. Students earn their professional credential in radiography and gain eligibility for a second credential in advanced imaging - CT, MRI or sonography - which is highly attractive to potential employers. Graduates of the program enjoy nearly 100 percent job placement within 12 months of graduation. Learn more about the program here.