Engaging Practices in Hillyer College Classrooms
Global Pop Music Course Features Live Musicians
In Assistant Professor of Music Ju-Yong Ha's Global Pop Music course, students study pop music from around the world to learn about different cultures. As part of the curriculum, Ha usually invites performers to campus to share their music and culture with students. "Last spring, I had scheduled a performance with musicians from Korea, but had to cancel it due to the pandemic," he says. 

This semester, Ha did not have to look very far to find live musicians. He invited Hillyer College Office Coordinator Sandra Roach and her bandmate Donald Thompson, to share the music of the Caribbean with the class. A native of Trinidad and Tobago, Roach says her husband taught her how to play the steel drums 18 years ago. They later formed a band, De 4 Ahwee & Co., and now perform different genres of music such as calypso, reggae, gospel, R&B, and more in Connecticut, Massachusetts, and New York.

"I explained the different types of steel drums and the difference between the two steel drums we played in the class," says Roach. She says they played a song that the students knew, so they could listen and enjoy the sounds of the Caribbean. "I was very impressed to find that the students were interested in the steel drums and learning about the history."

A composer and ethnomusicologist, Ha's course also covers the music of South America, India, Korea and K-pop, Japan, China, and Indonesia, before moving on to the Middle East, Afro-pop, and European-pop. "This type of course works well for our undergraduate students by giving them a broad picture and understanding of the function of pop music," he says.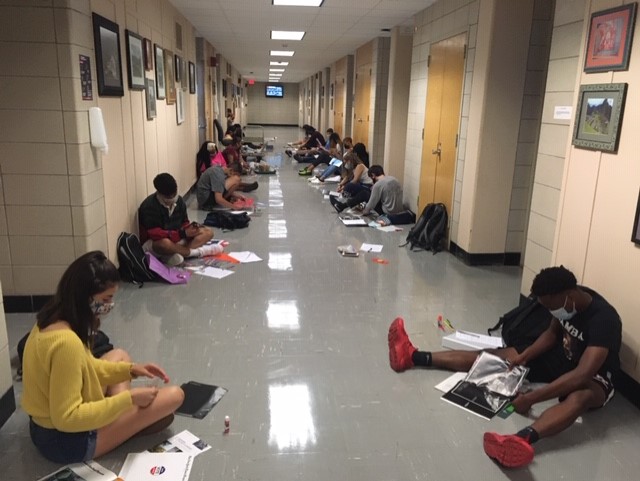 Every Story Tells a Picture: English Composition Through Art Workshop 
Professor of English Michele Troy has been integrating art into her writing courses for several years. It began when she realized that students engaged much more with their writing if they created artwork to go along with it. "They have to be clear about their literary idea if they know they are going to translate it into visual form," she says.  

She begins her composition course with a unit that invites students to create both verbal and visual self-portraits. They begin with a reading, Chapter Three of Charles Duhigg's The Power of Habit: "The Golden Rule of Habit Change: Why Transformation Occurs," which prompts discussion about what strengths students bring to college, and what habits they might want to change to become the selves they envision. With this thinking behind them, they write a This I Believe essay, based on an NPR program, which Troy frames as a verbal self-portrait:  a personal story that explains how they came to this belief and why it matters to them.

In the past, she completed this unit by taking students to the New Britain Museum of Art, where the self-portraits hanging in the galleries inspired them to paint their own self-portraits. Yet because the pandemic made a museum trip impossible this semester, Troy found a different solution for engaging her students. Armed with hand sanitizer, art supplies, and composition notebooks, Troy had the 18 students, all wearing face masks, spread out along a long, empty hallway in Hillyer Hall.  

Troy says it was fascinating to occupy the hallway in this way. She discovered it was important for the students to share the same space and be seen, especially since they cannot fully see one another with everyone wearing masks. "They became animated and shared their good and bad habits," she says. "Then when I let them loose on the art supplies, it became very quiet. The process helped them think about how they would approach writing about what they believe in, who they are, and what is going to help them become the self they want to become."