UHart Celebrates Women's History Month
UHart Celebrates Women's History Month 2021: Celebrating Faces of Strength, Courage, and Resilience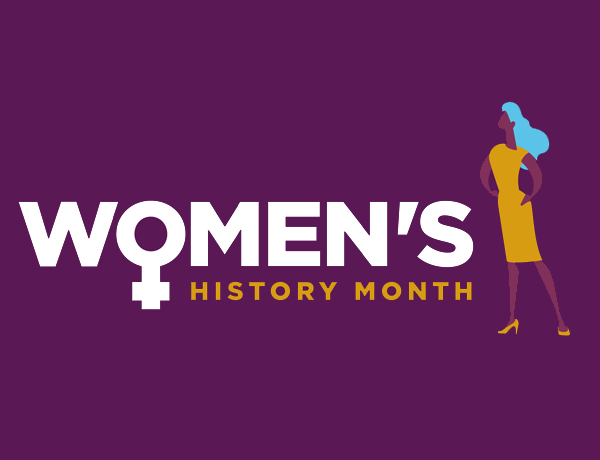 Women's History Month is celebrated each year in March to honor the incredible accomplishments and contributions of women throughout history, as well as to recognize and support the women who continue to carry on their legacies. The University of Hartford will recognize Women's History Month 2021 with an offering of virtual programs. The theme for this month-long celebration will be Celebrating Faces of Strength, Faces of Courage, and Faces of Resilience.
March 8 is International Women's Day, so we have appropriately chosen this day to kick off our month of celebrating women! We recognize intersectional identities and the varied experiences of women around the world. UHart is committed to supporting the inclusion of diverse people and populations within and beyond our campus community.
The Office of Diversity and Community Engagement invites you to attend the following virtual UHart events to celebrate Women's History Month. 
See the full lineup of events. 
Celebrating Leaders
Women's History Month is an annual celebration of the many women who have shaped America's history and its future, from the big names to the unsung heroes. The University of Hartford highlights and honors those who made remarkable advancements in our society and spoke out for what is right, even when they had to fight to be heard. UHart shines the spotlight on the following female leaders:
Vice President Kalama Harris – In January 2021, Kamala Harris became the first female, first black, and first Asian-American Vice President of the United States of America.


Ruth Bader Ginsburg – A lawyer, professor, scholar, champion of civil rights, and esteemed jurist, Justice Ruth Bader Ginsburg worked tirelessly to expand rights and protections that positively impacted the lives of all Americans.


Black Lives Matter Leaders – In 2013, three Black organizers Alicia Garza, Patrisse Cullors, and Opal Tometi created a Black-centered political will and movement building project called #BlackLivesMatter. The project is now a member-led global network of more than 40 chapters.
Resources
Book: The Deafblind Woman Who Conquered Harvard Law by Haben Girma
The incredible life story of Haben Girma, the first Deafblind graduate of Harvard Law School, and her amazing journey from isolation to the world stage.


Book: Women, Culture, & Politics by Angel Y. Davis
A collection of speeches and writings by political activist Angela Davis which address the political and social changes of the past decade as they are concerned with the struggle for racial, sexual, and economic equality.
Book: Good Woman by Lucille Clifton
A landmark collection by one of America's major black poets, Good Woman: Poems and a Memoir 1969-1980 includes all of Lucille Clifton's first four published collections of extraordinary vibrant poetry.


Ted Talk: "I got 99 problems... palsy is just one" with Maysoon Zayid
With grace and wit, the Arab-American comedian takes us on a whistle-stop tour of her adventures as an actress, stand-up comic, philanthropist, and advocate for the disabled.


Documentary: "Dolores"
"Dolores" is a 2017 American documentary directed by Peter Bratt, on the life of Chicana activist Dolores Huerta. This documentary centers on Dolores Huerta's committed work to organize California farmworkers to form the UFW, in alliance with the Chicano Movement, the Civil Rights Movement, Gay liberation and US-based LGBTQ social movements, and the late 20th century Women's rights movement.


PBS Learning Women's History Month Collection
This collection from PBS Learning celebrates Women's History Month by focusing on women and girls around the world. The films tell powerful, personal stories; and the activities encourage students to learn and understand international struggles and take an active role in addressing local concerns.


Netflix Miniseries: Self Made
This Netflix Original miniseries chronicles the incredible story of Madam C.J. Walker, who was the first African American self-made millionaire.


GLAAD Resources
GLAAD works through entertainment, news, and digital media to share stories from the LGBTQ community that accelerate acceptance. They offer many resources that celebrate the queer and trans community.


Video: March 8th is International Women's Day
This PBS learning video discusses how the rights of women have advanced since the holiday's beginnings in 1911, however, the day is a special time to acknowledge the struggles women still face today.


Article: March 8th is International Women's Day
This website resource breaks down International Women's Day from its history to the color that symbolizes this day.