Barney School of Business Board of Visitors Alumni Hall of Fame Inducts Two New Members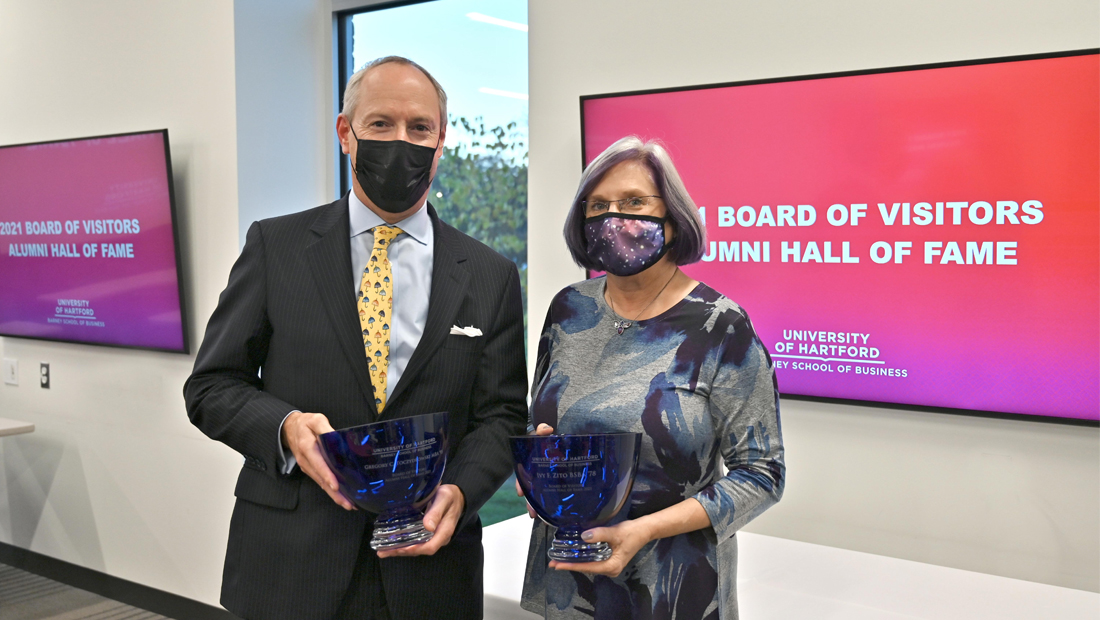 The University of Hartford's Barney School of Business inducted two new members into its Board of Visitors Alumni Hall of Fame on Thursday, Oct. 28.
Ivy F. Zito, former CFO and co-founder of Encore Optics, and Gregory C. Toczydlowski, executive vice president and president of business insurance at Travelers, join the two-dozen other members of the Hall of Fame, which honors the achievements of prominent alumni.

Ivy Zito began her accounting career working part time at a regional public accounting firm in Hartford while an undergraduate at Barney School. Upon graduating in 1978 with a bachelor's degree in business administration, the accounting major accepted a position on Ernst & Young's audit staff. Including her tenure at Ernst & Young, Zito spent the next half of her career as a CPA in public accounting in the Hartford area with several local and regional CPA firms, including her own practice in Marlborough, Conn. She transitioned from public accounting to private industry as the accounting manager at Dutch Point Credit Union before serving as chief financial officer at QSA Optical Co. and, later, at Encore Optics, both located in South Windsor, Conn.

Greg Toczydlowski is a member of the Travelers Operating Committee and Management Committee. He previously served as president of Small Commercial, Business Insurance Technology, and Operations; and as president of Personal Insurance. Throughout his tenure at Travelers, Toczydlowski has performed many diverse roles. His assignments have included leading within a field office, serving as chief financial officer of different businesses, and leading mergers and acquisition analysis. He has also led product management, systems, underwriting, marketing, and business development functions.