Students in the MArch Program Recognized in International Design Competition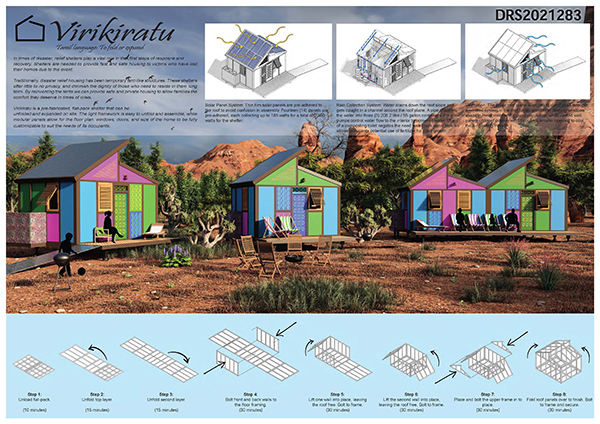 Students in CETA's Master of Architecture Program are honing their craft in design, and it's being noticed internationally. Recently, students entered an international design competition hosted by Mango Architecture, as part of their course work in Architecture 611. The course, being taught by Stephen Charles Smith, Visiting Assistant Professor and Graduate Program Director; and Adjunct Faculty Dustin Lombardi, Associate and Senior Architect at JCJ Architecture, builds upon the program's emphasis on the integration of design principles, engineering fundamentals, sustainable and resilient strategies, and business understanding with the constant exploration of innovative building and urban design. This year's course focus was on Integrated Design and Humanitarian Architecture.
 
The challenge of the competition was, in the words of Mango Architecture —to design a transportable, sustainable shelter that can support a sizable community and requires little maintenance.
 
The students didn't just rise to the challenge, they exceeded expectations. 14 of the 16 enrolled students placed in the competition. With over 350 entries, this is no easy feat.
Top 15 Special Mentions
Dirian Lira-Huerta
Brian Neagle
Katurah Muhammad
Thomas Wall
Bryce Ramsay
Top 25 Honorable Mentions
Melody Iannone
Nariman Hayajneh
Eric Cantar
Elizaveta Kuchuk
Giancarlo Cano
Brandon Fuentes
Engji Skana
Ritu Shiroya
Francesco Lonardo
In this graduate studio, we wanted students to understand the value of humanitarian architecture and sustainable design. It is important for our students to see that their education and expertise can make a global impact and help others in need. This complex task of designing a Disaster Relief Shelter allowed students to research different Indian cultures, climates, local construction materials/techniques, vernacular architecture, and Critical Regionalism by considering people, place, and process. We are thrilled that the amazing student work has received international recognition. It is truly a testament to their hard work, environmentally responsive designs, and incorporation of Integrative Building Systems learned in their graduate studies here at University of Hartford."
Stephen Charles Smith, Visiting Assistant Professor and Graduate Program Director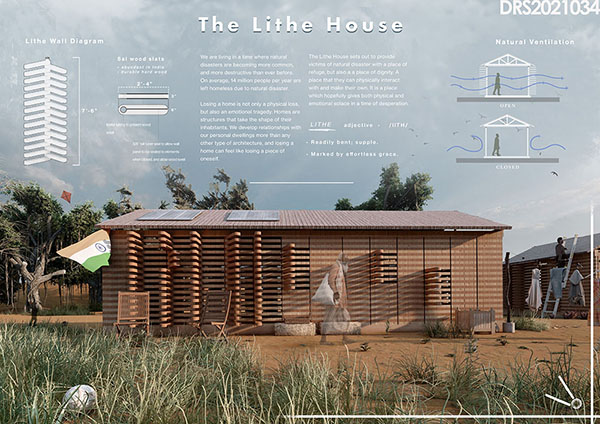 Brian Neagle, who placed as a Top 15 Special Mention, created The Lithe House for the competition. In his competition narrative, Brian describes the structure as being made up of a prefabricated wooden wall panel which is segmented in to 26 different slats. In disaster relief it is important that shelters can be assembled simply, and quickly. All the pieces of this design come in sizes that two or three able bodied people can move and raise.
 
"This project, I think, really brought us all out of our comfort zone. It was all executed in a rather short period of time, and though it was a small project, required a lot of care and thought. A project like this also shows that even temporary housing is complex and deserves creativity." - Brian Neagle
 
Brian's peer, Melody Iannone, walked away from this competition as one of the top 25 Honorable Mentions for her project, Virikiratu . Virikatu is described by Melody as minimalistic in material, and it's completely foldable. The frame structure can collapse on itself for easy transport, and the whole design easily unfolds. Melody was inspired by origami when developing her design.
Beyond the recognition, Melody has learned a lot about sustainability and will take away these skills in her future work. Reflecting on the project, she said "Having the opportunity to work on a project like this while still in school gave me the ability to take a deeper dive into material costs and quality, self-sufficiency and sustainable design, and construction details more than I would normally be able to in an office or field setting. I loved working on this because it gave me an opportunity to solve a specific problem with no creative restrictions, trying to make all of the puzzle pieces connect into one, coherent and effective design."