Author Hanna Halperin Wins Greenberg Center's Wallant Award for Her Novel, Something Wild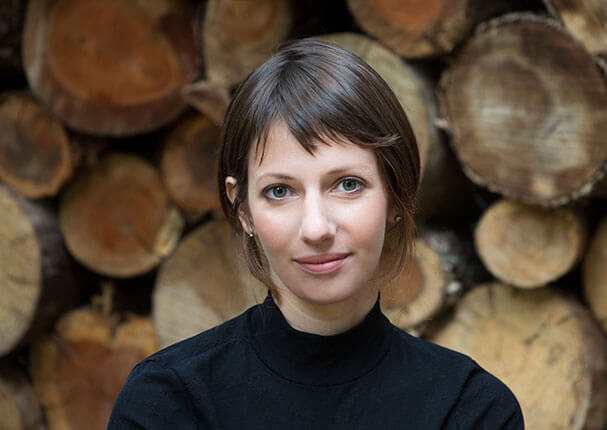 The University of Hartford's Maurice Greenberg Center for Judaic Studies has named author Hanna Halperin the 2021 Edward Lewis Wallant Award winner for her outstanding debut novel, Something Wild (Penguin Random House, June 2021). The presentation ceremony will be held on Wednesday, April 6, at 7 p.m. Based on current public health conditions, the ceremony is scheduled to be held at the Mandell Jewish Community Center in West Hartford, Connecticut. Attendees will be notified in advance if the ceremony is held virtually over Zoom.
The Wallant Award is one of the oldest and most prestigious Jewish literary awards in the United States. Established by Dr. and Mrs. Irving Waltman of West Hartford in 1963, the Wallant Award honors the memory of the late Edward Lewis Wallant, author of The Pawnbroker and other works of fiction. It is presented to a Jewish writer, preferably unrecognized, whose published work of fiction is deemed to have significance for the American Jew.

Halperin tackles a very serious topic In Something Wild—domestic violence—while brilliantly depicting the three women at the center of the novel—a mother and her two daughters. Reviewers have praised the novel for its gripping and compassionate treatment of a family coping with the trauma of abuse. Writing in The New York Times book review, Scaachi Koul noted, "Something Wild creates a compelling, believable, and upsetting portrayal of how trauma ripples through a family. I wish the plot were pure fantasy. But good books sometimes cut to the bone, and this one feels like a scythe." Publishers Weekly describes the book as "bold and surprising" and 'unflinching and brave," and said, "Halperin's story lays bare the characters' nuanced and complicated responses to domestic violence. This haunting portrait of a broken family will stay with readers."

Halperin is a graduate of the MFA program at the University of Wisconsin-Madison. Her stories have been published in The Kenyon Review, n+1, New Ohio Review, Joyland, and others. She teaches fiction workshops at GrubStreet in Boston and works as a domestic violence counselor. Something Wild was also a finalist for the 2021 National Jewish Book Award for Debut Fiction.

For more information on the Edward Lewis Wallant Award and past recipients, visit hartford.edu/wallant.
For more information about, or to register for, the award ceremony, contact Susan Gottlieb at the Greenberg Center, 860.768.4964 or mgcjs@hartford.edu.