Hartford Art School Exhibits Illustrations by John Jude Palencar and Floyd Cooper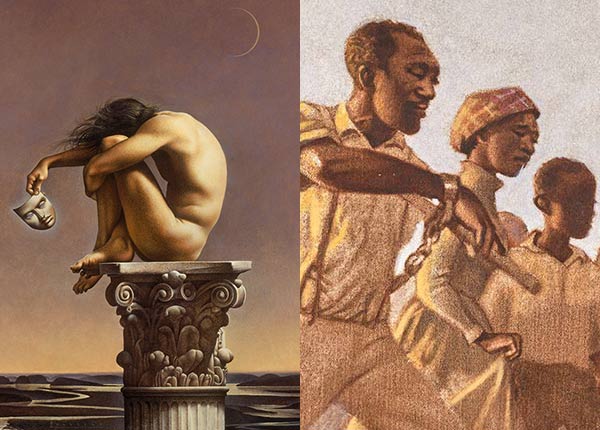 The Hartford Art School is pleased to exhibit illustrations by John Jude Palencar and, in memoriam, Floyd Cooper in the Joseloff Gallery as part of the Georgette and Richard Koopman Distinguished Chairs in the Visual Arts Exhibition.
Since its establishment as an endowment in 1988, the Georgette and Richard Koopman Distinguished Chair for the Visual Arts has honored some of the world's most intriguing contemporary artists, has brought many of them into the University community as resident artists and teachers, and has featured their work on campus.

Although several new methods of visual expression are now regularly part of the art world—digital production most prominent among them—the upcoming endowment focuses on one genre that has been around for hundreds of years and is not likely to disappear anytime soon: book art.

The two artists recognized by the 2022 endowment are book illustrators John Jude Palencar and the late Floyd Cooper.

Palencar began showing his art while still an art student at the Columbus College of Art and Design in Ohio. An author and publisher named Byron Preiss saw some of his work displayed in New York City and contacted Palencar to ask him if he'd like to illustrate a book. It was a book of poetry published in 1982 called The Secret, which featured a dozen Preiss poems and a dozen Palencar paintings. In tandem, the poems and illustrations guided readers to hidden treasures across North America, making it one of the most unique book projects of the time.

Since then, Palencar's illustrations have adorned hundreds of book covers, for almost all the major American publishers, and also around the world. He has won many awards for painting and illustration, has taught at several art schools, and has been an honored guest speaker at many venues that hold exhibitions of his work.

Floyd Cooper had been scheduled to be a Koopman visiting artist prior to his untimely passing in the summer of 2021. With the blessing of his widow, Velma, a memorial exhibition in his honor was endorsed.

Cooper's book illustrations hold a distinctive and very special place in American publishing. Most of his work—more than a hundred books—chronicles African American history and heritage, including true stories that have been conspicuously absent from the nation's classrooms.

In fact, the Tulsa, Oklahoma, native illustrated 2021's Unspeakable: The Tulsa Race Massacre, which details the story of the destruction of Tulsa's Greenwood neighborhood in 1921. It posthumously earned Cooper the prestigious Caldecott Award, given annually by the Association for Library Services to Children to artists who distinguish themselves with picture books for youngsters. (The prize is named after Randolph Caldecott, a prominent 19th-century English illustrator.

Another story Cooper illustrated concerns a youngster in 1955 Alabama trying to grasp the significance of a Black woman's refusal to give up her seat to a white passenger on a bus in which he was riding.

Thanks to the Georgette and Richard Koopman Distinguished Chair for the Visual Arts, works by John Jude Palencar and Floyd Cooper will be on display at the Joseloff Gallery on the University of Hartford campus from now through March 26.