History Student Featured by Fox 61, Hartford Courant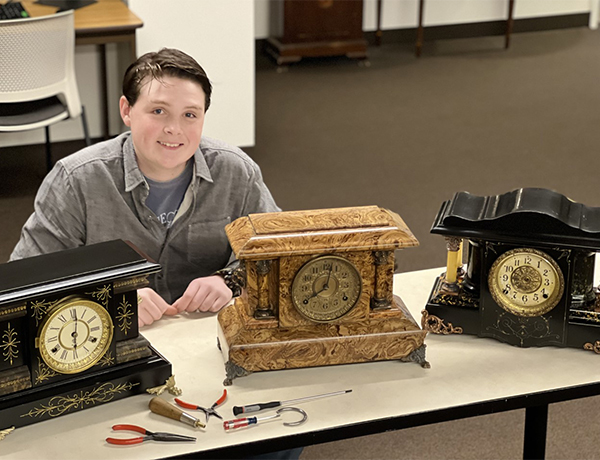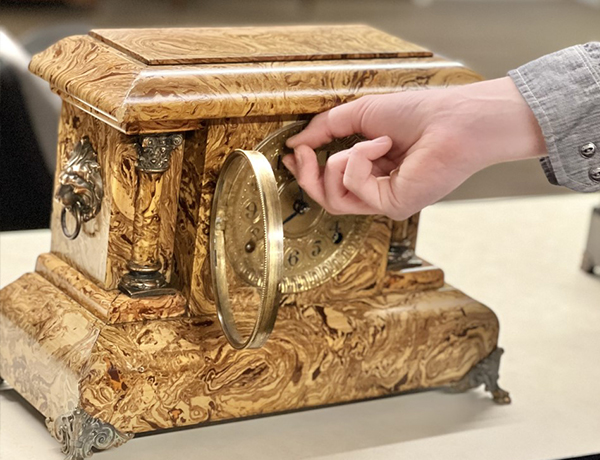 Gage Robertson '26 may be a history major. But he's certainly keeping up with the times.
On a mantle clock made in Bristol, and on some rare wooden clocks from the 1840s he rescued from a landfill, and on another from 1910 made in another Connecticut town.
He restores vintage clocks as a side business, and can tell you a backstory of each and every one. When you chat with him, you quickly understand he's an ideal fit for the University of Hartford's history program in the College of Arts and Sciences.
"Connecticut was a big clock manufacturing state. I go at this with the mindset of preserving the story these old clocks have and preserving the history of people who have owned them, and the beauty of these antiques," says Robertson, whose father is a UHart alum from the Class of 1994. "I think I'll always have a 'side hustle' of fixing clocks, but may go into town preservation work, or building preservation."
His work was also recently featured by Fox 61 and the Hartford Courant.
From helping his dad preserve parts of their early-1900s home, to restoring antique furniture, Robertson has long found ways to maintain tangible connections with the past. But when his family pursued repairs on a 1910 clock that was passed down through three generations, he discovered a passion that's continued into his college years.
Robertson currently has more than 30 clocks in his family's basement, which has become his workshop. "Most of these were made in Connecticut. I'll take these apart, clean all of the gears by hand, stretch the strings and polish them. If there are worn bushings, I'll work on that," he says, scanning his collection.
Mentors in the clock repair industry have gifted him with tools, tips, and endless encouragement. As for the clocks? Those typically come from Facebook Marketplace, and, once, a general store in Rhode Island that was closing. When he completes the restoration process, he sells them on eBay or in local shops. Of course, he keeps some as well.
While Robertson has a variety of classes for his first year at UHart, a philosophy class gave him the chance to complete a project on a philosophical question. Naturally, he chose to focus on time: its societal impact, the mathematical side, personal meaning.
"My first semester, I actually really enjoyed having a mix of different classes," Robertson adds. "My passion for history is what brought me to our school, and I'm hoping to really dive into that as I progress through college."